#Technology
'Bot'ized organizations: The hottest segment in AI
Planning to implement a bot for your business? Read below to find how bots are revolutionizing the HR space.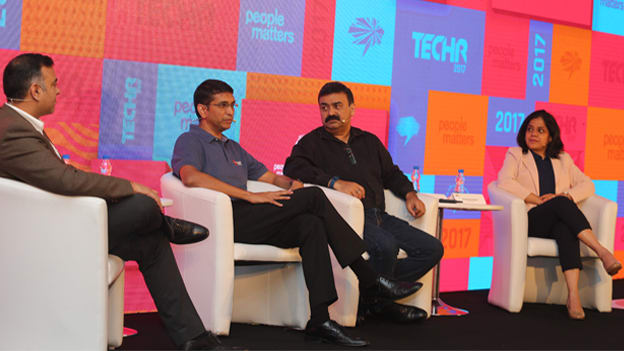 Are conventional interfaces a big deal in the context of employer and employee relationship? How will chatbots change the nature of employee services for an impactful user experience? Here are the key insights from the session 'Bot'ized Organizations: The hottest segment in AI. This session was moderated by Abhijit Bhaduri, Founder of Abhijit Bhaduri & Associates and supported by the eminent leaders like Babu Thiagarajan, Head of Technology at Fidelity International, Subeer Bakshi, Head-HR Excellence at Bajaj Finserv and Sucharita Palepu, Global Head-People Practices at Tech Mahindra.
How bots are revolutionizing the HR landscape
A bot consists of three elements - natural language processing, artificial intelligence, and data analytics. These three aspects help it to gather data, analyze data and process queries. Thus, it can be instrumental in managing HR processes like performance management, employee engagement, query resolution, etc.

Sucharita Palepu shared her experience of implementing bots at Tech Mahindra.
She said, "We are into BPO business where it is imperative for us to ensure timeliness, accuracy, and consistency to deliver the best service to our customers."
Tech Mahindra initially launched Query Resolution platform. Today they have moved from Query Resolution platform to using bots for employee engagement, mood analysis of workers, travel plans, and their learning.
Key considerations before planning to launch a bot for your business
The possibilities of using bots in HR processes are endless. However, you need to consider the following two elements while planning to implement bot for your business.
1. Cost
Today, there are many bots available in the market from various service providers. Budget is a key consideration while implementing a bot for your business. However, in case your budget doesn't allow you to hire service from an external vendor, you can always build your in-house bots to handle day to day activities by leveraging multiple messaging apps like WhatsApp and Facebook.
2. Acceptance
The bots can create an enormous impact on employee experience. However, it is a concern whether employees would be comfortable in sharing their information with bots. So, it is imperative to create awareness and shift mindsets of employees to accept technology before it can harness advantages and profitability to your businesses.