Assessments
The state of psychometrics in India
With the business competitiveness on the rise, HR professionals need to leverage the benefits provided by nuanced assessment methods like psychometric assessments to holistically map talent demands to improve business productivity. A look at the key findings of "The state of psychometric assessments in India" study by Willis Towers Watson.
At its most basic, psychometric assessment is the science of applied psychology which is intended to identify specific personality traits that could highlight the suitability for specific roles. These can be in the form of personality questionnaires, leadership tests, motivation tests and situational judgment tests. Source: State of psychometric assessments in India, Willis Towers Watson
Hiring the right talent can save organizations approximately three times the cost of attrition or wrong hire, and reliable psychometric tools can help in that process.
HR professionals have over the years greatly benefitted from academic advancements in the field of psychology and behavioral economics by applying nuanced concepts of understanding human behavior to real time people management. One such application has been the use of psychometric assessments to better understand workforce preferences. HR's constant struggle to quantify the gamut of qualitative data it finds itself surrounded with was solved to an extent by the introduction of psychometric assessments in the late 1990s. A Willis Towers Watson Study, "The State of Psychometric Assessments in India" highlights this importance of psychometric assessments and explores the awareness, acceptance and application of psychometric assessments in India. Explaining the need for psychometric assessments the report said "Psychometrics add quantitative measures to qualitative assessments to present a holistic portrayal of a candidate's capabilities. These tools can bring new depth to a company's assessment of a new hire or an existing employee's abilities, leadership potential, personality and culture fit. When combined with qualitative assessment, psychometrics can also help determine an employee's potential to take on larger or more challenging roles. A major advantage is also that it measures an individual's ability against a comparison group. This allows the assessors to benchmark the candidate's ability against the available talent pool. "
In this article, we look at the key findings of the report, how can psychometric assessments be leveraged in an organization, and what does HR need to do to adopt a holistic approach to assessments.
Application of psychometric assessments
The report reveals that more than one in three has never explored psychometrics. A majority of organizations though, use psychometric assessments in a variety of ways and apply it across the talent cycle of an individual. According to the Study, as many as 56 percent organizations use psychometric assessment tools.
The dominant area where psychometric assessments are used is while recruiting and selecting talent. The Study reveals that 77 percent organizations use psychometrics for candidate assessment at the senior management level. The number stands at 65 percent, 74 percent and 81 percent for middle management, junior management and entry level candidates respectively.
But there is a huge scope for using psychometric tools in the areas of talent development, High Potential identification and development, and succession planning, as the application of psychometrics is considerably average (see Figure 1).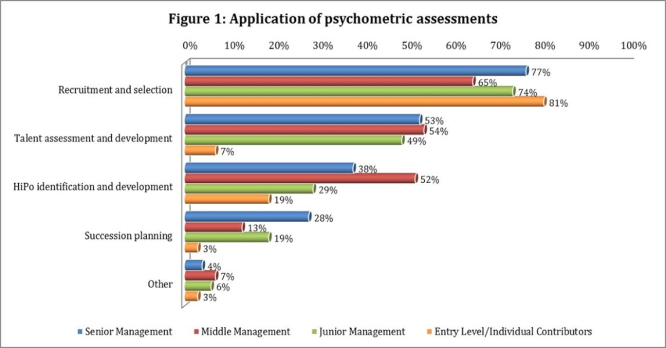 Towards a more mature use of psychometrics
As observed in Figure 1, the application of psychometrics is the maximum at the recruitment stage, and it decreases during the employee life cycle. This can be traced to the overarching objectives of assessments – the Study reveals that the top objective of psychometric assessments is "To assess quality of hire (60 percent)". This is followed by the objective "to identify right job/culture fit (58 percent)". Both these objectives are fulfilled at the recruitment stage, but after recruitment, the application of psychometrics is considerably low. For instance, the application of psychometrics for broad-based employee development stands at 25 percent.
Psychometrics can play a pivotal role in broad-based talent development. Consider this example – A recent report by Willis Towers Watson on 'Reimagining Employee Engagement in India', notes that "Companies are increasingly interested in identifying the fit between an employee's personality, and the culture and values of the company. If we can reasonably assume that the greater such a fit, the more likely one is to be engaged, we have an extremely powerful factor to add to our selection criteria. Imagine how valuable it would be to hire only those employees likely to be engaged at a company, given its unique culture and/or the ideal culture it is trying to build to help execute its strategic goals. " In such cases psychometrics become a valuable assets with HR professionals to plug employees into roles which suit them more comfortably. By having multi-dimensional assessment parameters, psychometric assessment becomes a vital tool for HR professionals.
Psychometrics can add a quantitative layer to a lot of decisions that are taken on instinct, making them more efficient. Another advantage of psychometrics is that they allow for benchmarking a candidate's ability against a talent pool.
Low adoption in Indian markets
The adoption of psychometrics, despite all the tabled advantages, is still considerably low within Indian markets. As highlighted above in the article a major reason for the same is the unavailability of tools other than personality psychometrics. Other major reasons for not utilizing psychometrics are because they come with a high cost and the reliability of the tools available is also a question mark.
But keeping the potential of psychometric assessments in mind, a holistic use of such assessments and deploying a mixture of various assessments that can build upon the insights that a psychometric assessment provides can help organizations understand talent preferences and their behaviors and enable them to perform at their optimum levels. Giving examples of a holistic usage of psychometric assessments along with other assessment tools, Shatrunjay Krishna, Director – Rewards, Talent and Communication at Willis Towers Watson, says, "In most cases, depending on the stakes involved, it should be complemented with assessment tools like competency based interviewing, business games, situation judgment test etc. In a situation involving a large number of candidates, psychometrics can be used for screening. For high potential identification and / or development it can be used along with manager's feedback."
What does HR need to do?
A holistic approach to psychometrics might turn out to be a cost-effective way for companies to create a high performing and engaged workforce. And for HR to drive the adoption of psychometrics across an employee life-cycle, it is important for HR to build its capability. Willis Towers Watson's Krishna says, "Psychometrics need understanding of three factors – human behaviors, personality and behavior interaction in given context (role, organization etc.) and assessment fundamentals – validity & reliability." HR professionals involved in this areas need to be inquisitive about all these to be able to design the appropriate assessment framework, he adds. It is important to have a holistic understanding of the talent cycle requirements. For example, assessment requirements at the time of hiring are very different from assessment requirements for development needs analysis or high-potential identification. By understanding the advantages that different assessments provide, HR professionals can map talent demands in a better manner.
Sources:
i. The State of Psychometric Assessments in India, Willis Towers Watson
ii. Reimagining Employee Engagement, Willis Towers Watson