Background Verification
Probing the white collar crimes
To counter corporate fraud and other threats, the demand for forensic talent & investment in forensic data analytics is surging
More than two-thirds of organizations in India have been the target of frauds of various types, according to a report released last year by Kroll, a corporate investigations and risk consulting firm. With India ranking 76th on the Corruption Perceptions Index 2015 by Transparency International, it doesn't come as a surprise that the cases of fraud and other white collar crimes have caught the attention of organizations that are now aggressively approaching consulting firms for their forensic operations to tackle such incidents.
Corroborating the state of affairs, EY in its white paper 'The changing dynamics of white-collar crime in India' reveals that over the past 10 years, the Central Bureau of Investigation (CBI) has prepared 6,533 corruption cases, of which 517 have come up in the past two years and about 1,593 online frauds have been detected in India over the last three years. Although the case with India has got better with the number of businesses engaging in fraud lowering from 68 percent in 2014 to 58 percent in 2016, it does signal to the changes that the anti-fraud/forensic talent is making, along with a future need of more of such talent. Cyber-crime cases in the country escalated by nearly 300% between 2011 and 2014, which shows the prevailing risks to the organizations.
The Big Four audit & accounting firms are likely to expand their teams by 25 percent by 2017 to deal with threats pertaining to frauds and cyber-crimes
Amidst all this, the EY Global Forensic Data Analytics Survey 2016 reveals that the emphasis on significant Forensic Data Analytics deployments is increasing along with the investment on advanced tools and proactive surveillance monitoring of larger volumes of data. The report states that "the demand for FDA investment has never been higher, and FDA deployments are maturing." As the future of cyber-crime and interrogation becomes more complicated and intricate in a complex regulatory business environment, firms are scaling up for forensic talent. It is indicated that the Big Four audit & accounting firms Ernst and Young, KPMG, PricewaterhouseCoopers and Deloitte are likely to expand their teams by 25 percent by 2017 to deal with threats pertaining to cyber-crimes and frauds. These organizations are set to expand their forensic data analytics capabilities beyond the conventional anti-fraud and compliance functions into areas such as legal, information governance and cyber security. As a result, there has been a growing demand for subject matter experts in this domain in the last couple of years as regulatory scrutiny on fraud risk management practices have seen a rise with a simultaneous increase in corporate fraud. However, forensic talent is hard to find and thus firms are tapping into talent from various other domains such as CAs, lawyers, financial consultants, lawyers, IT professionals, retired bureaucrats, law enforcement professionals, data scientists, psychologists etc. As rapidly evolving technologies pose new threats and risks for companies, managing and mitigating such risks is becoming more challenging day-by-day. Thus, it becomes crucial for organizations to employ tools and talent that can assuage such threats.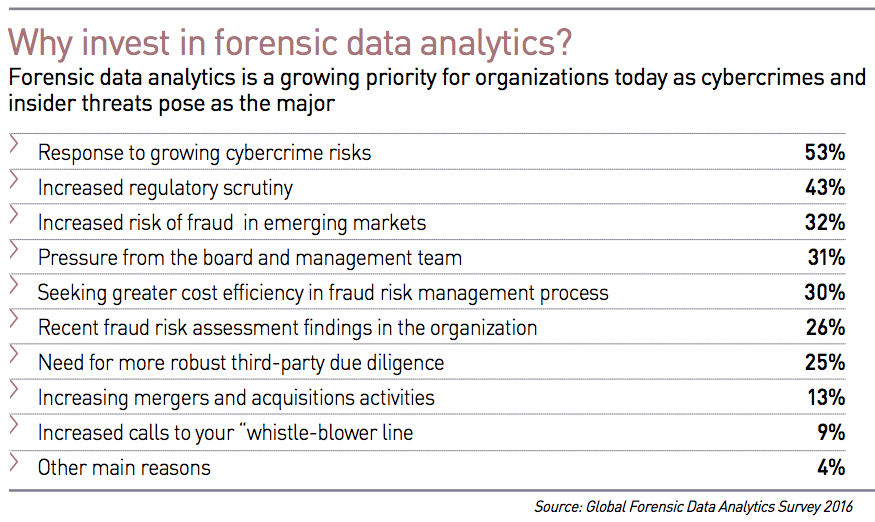 References: Global Forensic Data Analytics Survey 2016
Assocham-PwC Study