Benefits & Rewards
Delivering authentic, impactful recognition at the workplace through AIRe Framework
Companies are now redoubling their efforts to develop a robust R&R program suitable for hybrid work culture.
Organizations need to make a mindset shift when it comes to recognition. Employee recognition is no longer a check-box exercise. It is about making a difference in employee engagement and retention, which is a difficult task in a hybrid work model.
Companies are now redoubling their efforts to develop a robust R&R program suitable for hybrid work culture. They realize that they need to move beyond typical measures such as long service awards or peer-to-peer recognition. They need digital tools that enable recognition in the flow of work. Only then can employee appreciation be continuous, regular, and effective.
What are the tools and technologies organizations can leverage to shape employee recognition?
SaaS-based tools like Vantage Rewards are successfully helping HR automate and simplify their recognition programs.
With their real-time interactive feeds, people can instantly reward their peers for boosting morale.
Employees can take part in recognition activities while on the go.
Data-driven insights make it easy to identify employee trends and gaps in implementation. 
Moreover, with easy cross-channel integrations, employees can identify their peers instantly from the team communication platform. This way, it will be easier for teams to appreciate peers while they collaborate.
But implementing these employee engagement strategies isn't enough. You also need to measure the impact of your R&R policies on engagement and well-being. In this regard, pulse survey tools like Vantage Pulse are crucial to get real-time employee feedback.
What are some of the issues that existing recognition programs face?
Most companies treat recognition programs only as a corporate exercise without planning out the whole process. They don't define the objectives properly, nor do they specify the criteria. 
Leaders need to evaluate their recognition program continuously with questions like: Does it align with the company objectives? Is it boosting employee motivation? How does it correlate to performance and retention?
The crux of the matter lies in the way organizations perceive recognition. We at Vantage Circle believe that employee recognition needs to be an integral ingredient of an organization's culture. It needs to be authentic and at the same time, impactful.
To enable our clients to design and execute Authentic Impactful Recognition programs, we have put our decade of experience and learnings to create a new framework for employee recognition: the AIRe Framework. It is a powerful tool that gives companies a baseline of how to start thinking about designing a recognition program.
How can the AIRe framework be utilized to redesign recognition programs to be more effective?
The AIRe Framework For Employee Recognition helps you build an effective culture of recognition that impacts employee engagement levels. It is based upon Appreciation (A), Incentivization (I), and Reinforcement (R) as the key tenets of recognition, with Emotional Connect (e) as the driving force. In short, we call it the AIRe Framework to signify recognition as the air employees need to breathe upon and thrive.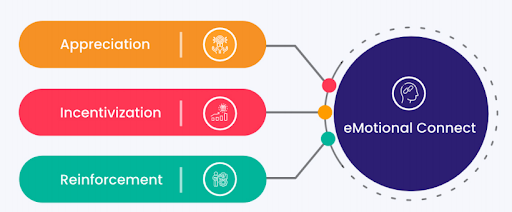 Companies can assess their existing programs based on these themes.
1. Appreciation
Appreciation refers to an acknowledgment of employee contributions. But it is not just about high performance or extraordinary results. It can also be for things like day-to-day tasks and teamwork efforts.
2. Incentivization
It is the practice of including incentives to motivate the employees. Incentives encourage or tend to encourage action. They can be a goal in itself which employees strive towards. These incentives can be both monetary and non-monetary. They may also want to receive recognition simply for social validation and exclusivity.
3. Reinforcement
Reinforcement is positive communication used to inspire employees to demonstrate desirable behavior. It guides employees towards the behaviors that the company wants to promote. Once appreciated, they are more likely to continue doing that work.
4. Emotional Connect
Emotional Connect is the feel-good factor that comes with the act of recognition, both for the one giving it and the one receiving it. It comes from how it is given rather than what is given. It is the key driving force of authentic and impactful recognition.
Applying the Framework
AIRe Framework breaks down each of the themes and drivers of recognition into dimensions. Companies can use these dimensions as a benchmark to measure themselves against the best in the industry.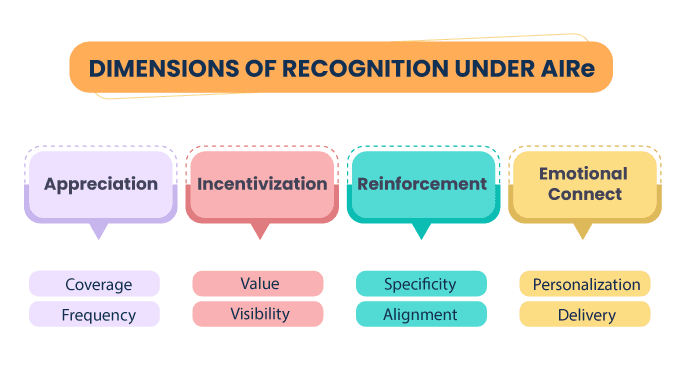 Final Thoughts
When people feel appreciated, they want to contribute more. Thus, recognition programs are essential tools that drive engagement. They strengthen workplace culture and become especially integral during a crisis. To make them more impactful, HR must lead the digital transformation with a growth mindset investing in the right talent and technology. 
With the evolution of Employee Recognition as a must-have tool in the hands of the workforce amidst the transformation from VUCA (Volatility, Uncertainty, Complexity, and Ambiguity) to VUCA(P) with P signifying the 'Pandemic', getting the construct of one's recognition framework right is of utmost importance. A well-designed and implemented framework should be accessible, understandable, and measurable, and aligned to business objectives. The AIRe Framework can help HR create dynamic and effective recognition programs that actually make a difference in the engagement efforts. 
------
Join us for a special keynote address by Partha Neog, CEO & Co-founder Vantage Circle on the 4th of August (10:55 am IST) at People Matters TechHR India & learn how to design, execute, and measure your recognition programs easily and effectively.