Benefits & Rewards
Employees today prefer digital gifts over dry fruits and sweets: Report
A recent dipstick study of Zeta users reveals over 46% employees would prefer an online gift card from their employers compared to chocolates and dry fruits.
Thinking of gifting your employees a box of sweets or dry fruits for the festive season? You might want to rethink that as gifts such as a box of sweets, chocolates, and dry fruits are voted as the least desirable gifts, according to a recent dipstick study by Zeta.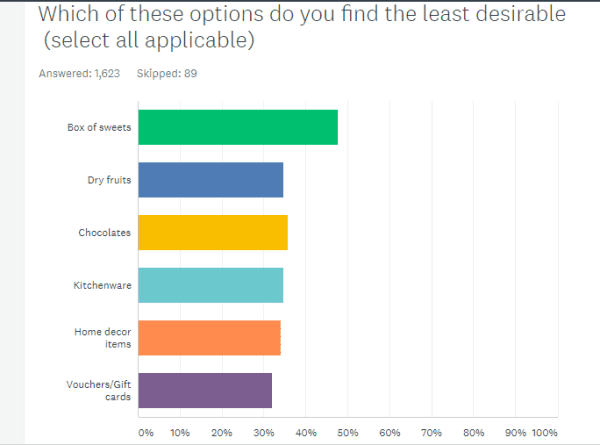 Ironically, a box of sweets is what most of the companies choose to give their employees.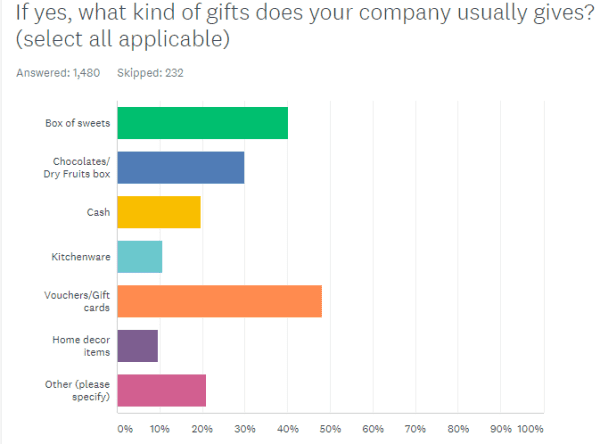 However, over 46% of employees would prefer an online gift card from their employers.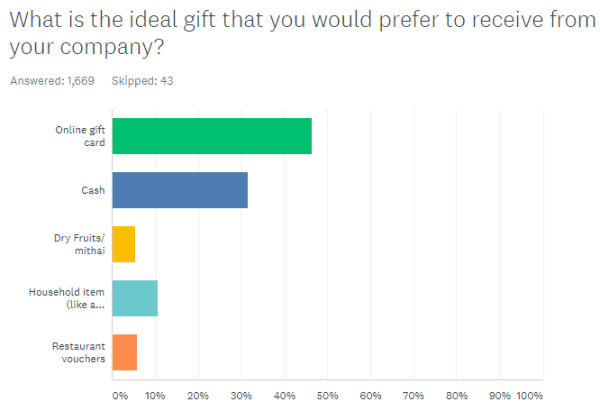 Meanwhile, over 91% of employees look forward to receiving gifts from their companies but only 54% of them receive gifts from their employers, as per the study. Interestingly, many employees also pass on their gifts they receive from their company to others and 42% of them do it because they don't like or have a need for it.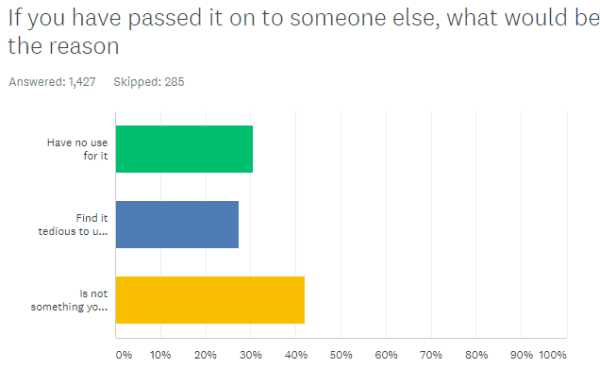 These are some of the revelations as per the dipstick study of around 1700 Zeta users. As the festive season is around the corner, corporates spend a considerable amount of time and resources on planning, procuring and distributing gifts to their employees. However, as the study results show, not all gifts hit a home run with employees.
No wonder companies like Zeta are adding multiple options under their digitized gifting suite, Zeta Spotlight®. The on-demand gifting solution helps corporates manage employee and channel gifting with ease. This is because in sync with employee expectations, the suite offers the flexibility to choose from digital gift cards, e-cards, cash or brand vouchers of popular brands such as Amazon, Flipkart, MakeMyTrip, Crossword, LifeStyle and more.
Ramki Gaddipati, Co-founder and CTO, Zeta, said, "The corporate gifting market is estimated to be worth $1.7 Bn and is growing at over 200% per annum. Traditional gift cards and vouchers have gained traction over the past few years but with growing smartphone usage in India and the evolving and savvy Indian customer, digital gifting is gathering steam. We are thrilled to be part of this growth story."
He adds that Zeta spotlight has already witnessed 279 % growth over the last two years and as of today we are working with 1600 corporates and more than 2 lakh employees are on the platform.
Digital gifting: A win-win for both corporates and employees
Ramki is quite on point about the growing popularity of digital gifting. According to a report by Technopak, a management consulting firm, in India, digital gifting contribution will scale three-fold claiming eight percent share of the gifting market of about $6 Bn.
A digital gifting solution has nothing to do with the woes of logistics or last mile delivery hassles. More so, digital gifting helps in bringing transparency and easy administration ensuring zero pilferage, thus saving many a headache for corporates. The biggest USP of such solutions is that a corporate can run multiple gifting & R&R programmes on one platform with each programme having its own set of rules.
Smriti Somani, Marketing Head, Zeta, reiterates the same. 
 "There has been a paradigm shift in corporate gifting in India over the last few years. Conventionally, items like homeware and physical gift cards were the norm but with the introduction of digital payments and access to smartphones,  digital or e-gift cards and vouchers are more convenient and preferred options. Furthermore, among all the gifts employees received - a mithai or sweet box is the most dreaded and least desirable one."
Festive gifting has always been huge and special for corporates and employees and doing it right matters more than ever.  Also, with new challenges for companies like diverse workforce presence in multiple cities and sometimes remote locations, finding a right gift can be quite a challenge. A digital gift card is a great option where employees can enjoy the freedom to choose their own gifts and corporates can ensure gift cards can be personalized and delivered to employees well in time - all digitally.
In an earlier interaction with People Matters, TP Pratap, Co-Founder and Chief Marketing Officer, Qwikcilver, had also reiterated that the gifting landscape would continue to adapt significantly to leverage the disruptive adoption of technology in multiple corporate and institutional use cases. As per a report by Qwikcilver, the market is expected to touch $84 Bn by 2024 from the $65 Mn at present. The global gifting market is estimated to be $475 Bn and India is expected to be one of the strongest contributors by 2024.
The report adds that the proliferation of smartphones has led the millennials in the country to embrace digital gifting on a large scale and almost 66 percent prefer sending or receiving e-gift cards as compared to physical cards.
This high-speed, queue-busting, seamless, friction-free experience of digital gifting not only removes opportunities for shrinkage and pilferage for the vendors but also enables corporate admin and HR teams to track and manage their spends and budget controls far more efficiently. 
For employees too, it is a win-win situation given that a significant portion of them do not normally like the gifts doled out by their organizations. The flexibility of choosing their own gifts through digital gifting means a better and personalized experience, which ultimately is the aim of corporate gifting. No wonder, for today's employees, dry fruits are out and digital gifting is in!