Benefits & Rewards
How India Inc. is approaching salary increments in 2021?: A detailed look at the Aon Salary Increase Trends Survey 2020-21
While quite a few companies froze increments this year, 2021 looks highly positive as 87% of companies in India plan to give a salary increase with a projected increment of 7.3%, which is one of the highest among the geographies in the world. Let's delve deep into the salary increase trends projected by Aon for the year 2021.
The year 2020 has been a critical year. To ensure business survival,  companies around the world resorted to cutting costs, and many have resorted to slashing salaries and laying off staff. Others have put employees on indefinite leave without pay or put freshly hired staff on hold. An earlier survey conducted in May 2020, highlighted that two in five employees in India are facing salary cuts. Today, when India Inc has started to reinstate the salaries, there are a lot of questions that arise:
What will salary increments look like in 2021?
What job levels will get a better increment?
What are the drivers that are compelling these increments?
How do organizations move ahead to keep up with the trends?
According to the Salary Increase Trends Survey 2020-21 by Aon, businesses are putting together recovery plans for days to come and Rewards and Benefits have been observed to be the most important factors for 2020-21.
Aon surveyed 1,050 organizations across more than 20 industries and across different industry sizes and unveiled the latest insights from Aon's Salary Increase Trends Survey 2020-21, covering over 1000 organizations from India Inc.
Here is a detailed look at how India Inc. is approaching salary increments in 2021:
The tailwinds & headwinds for salary increments
While businesses faced hardships in the year 2020, there seems to be a light at the end of the tunnel as we see a lot of tailwinds against the headwinds with respect to salary increase. The Purchasing Managers' Index (PMI) has risen to 56.8 which is the highest in eight years and a second straight monthly rise. Increased GST collection, festive season, and stimuli package by the government are some of the factors that increase the possibility of a salary raise. However, some of the forces that might hinder the increment percentage, i.e. headwinds would be the second wave of the COVID-19, geopolitical factors, and Non-Performing Assets (NPAs).
| | |
| --- | --- |
| Tailwinds | Headwinds |
| Increased GST Collections | Geopolitics |
| Monsoon (Additional farmland cultivated) | COVID-19 Second Wave |
| Festive Season | Non Performing Assets (NPAs) |
| Stimuli package by the Government |   |
| Improved Purchasing Managers' Index (PMI)  |   |
Salary Increments 2021: Key numbers
87% of companies plan to give a salary increase in 2021 as compared to 71% in 2020
The projected salary increase in 2021 is 7.3% as compared to the actual 6.1% increment in 2020
Hi-Tech/ IT, Pharma & Life Sciences, and ITeS are projected to receive increments at a higher rate
Hospitality, Real Estate, and Engineering Services are the sectors which will experience the lowest increase
Increment trends 2021 
Organizations with increment cycles ending in Jan to Dec were most insulated from the full-blown impact of COVID-19 and gave the highest increments. With lockdowns and restrictions, the increment went down further.

Reduction in companies giving zero increments
The survey findings found a positive insight when increments were compared between 2020 and 2021. It was found that there was a sharp reduction of about 15 percent in companies giving zero increments.  Comparing the increment brackets, about 61 percent of the organizations are projecting to offer an increase between 5-10 percent as compared to the 46% organizations in 2020 who have given increments between 5-10%.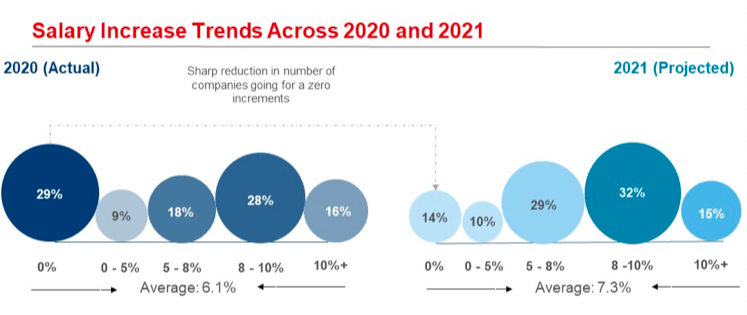 Salary increase by the level of management
In the year 2021, it is projected that junior management is expected to get a rise of approximately 7.6% which is 1.3% higher than the top and senior-level management. The gap across the levels of management with respect to salary increase will continue across 2021 with a similar percentage differential across the levels over the last three years.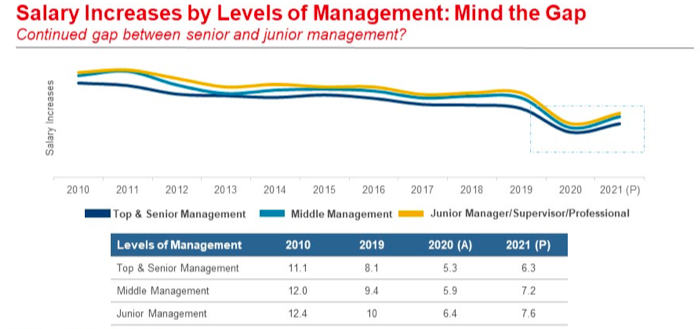 The business impact of COVID-19 and salary increments
There was a strong correlation found between business performance and salary increments. Organizations have used business performance to determine 2020 increments and aim to market competitiveness vs. their peers for 2021 projected increments.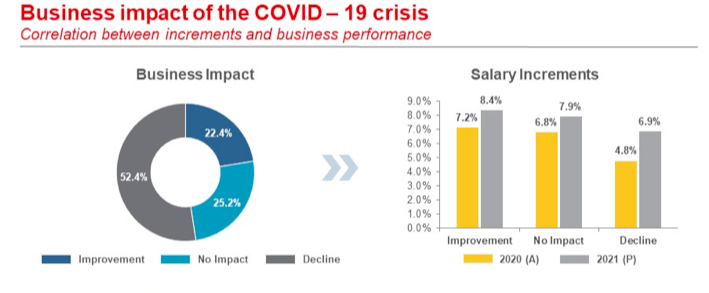 The future of rewards:
Going forward, based on the survey, Aon has suggested the following key trends that will shape the future of rewards:
Increased investment into key talent: The performance of the company depends on how effective its employees are in driving growth. Investing in talent development is thus a critical element to ensure sustainable growth. 
Pay for skills: Just like pay for performance, skill-based pay refers to a pay system in which pay increases are linked to the number or depth of skills an employee acquires and applies, and it is a means of developing broader and deeper skills among the workforce.
Investment into benefits: The effects of COVID-19 could be felt even after a widely forecast recession (or even depression) has come and gone. Left to their own devices, people's propensity to plan for retirement and other long-term financial goals will be eroded. All of this points to a strong need for employers to take a key role in investing in benefits like insurance, retirement security, etc. 
Location-based pay differentials: Pay differentials can reward employees by making salary more equitable based on work shifts, job hazards, or work location.