Performance Management
Salary increase for India Inc. expected to be 9.4% in 2022: Aon
The projected salary increase has risen to 9.4% in 2022 as compared to 7.7% in 2021.
India is in a post-vaccination period. The economy seems to be recovering, and the future of work is happening clearly. There is less disruption in the business market because of COVID-19 but things are moving at a steady pace.
Though 2021 is more like a 'road to recovery for everyone, the market research is pointing towards more growth and stability in 2022. As industries plan to induct 'Return to Work'' schedules, 20% attrition in all the sectors highlights a renewed war for talent.       
With that in mind, Aon has released the first phase of the India Salary Increase Survey 2021-2022 to share the recent insights from their study. 
The theme of this year's study is on how much can companies give out a salary increase in 2021 and what kind of market sentiment will pester on as India Inc. moves to 2022. The highlights of the conference are below:
Forecasted Business outlook for 2022: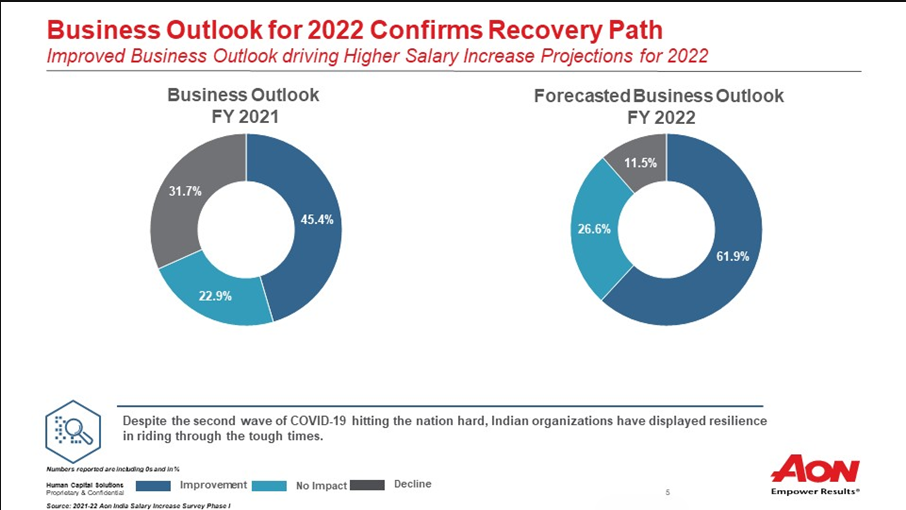 As the survey suggests, the business outlook for 2022 has been on the road to recovery since 2021. With an improved business outlook, the companies and sectors have projected an increase in salary trends for 2022.
Key points from the survey : 
The decline in business outlook has decreased from 31.7% in 2021 to 11.5% in forecasted 2022 numbers.
Human capital solutions have been subject to increase 16.5%, from 45.4% in 2021 to 61.9% in 2022.
Projected sector-wise increment in 2021-2022: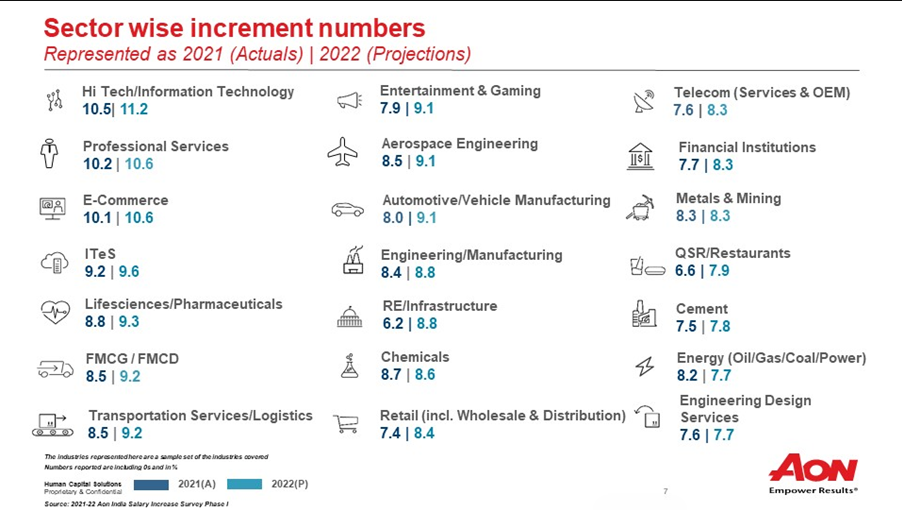 India Inc has displayed resilience despite the second wave of COVID-19. This shows organisations were better prepared for the post-vaccination period. The companies have learned to bounce back from the business rut and numbers of forecasted business outlooks share the same.
The projected salary increase has risen to 9.4% in 2022 as compared to 7.7% in 2021. 
The tech talent has impacted the numbers and diminished the great divide in India Inc's industrial sectors.
ITeS, Infrastructure, Entertainment & Gaming & IT sectors are still going strong with regular increments to employees   
Life science and Pharma sectors have grown in 2021 and are hiring talents too for expansion purposes.
Expected performance ratings for 2021-2022
As per the study, organizations need to be more ambitious to encourage retention and reward benefits in 2022. An important point to note is that top employees may receive 1.7X - 12.3% (salary increment) as the organizations will aim to reward employees who have far exceeded expectations. Also, the employees who often exceed expectations may receive a 1.4X-10.2% salary increase. The idea employed by India Inc. is to focus more on buoyancy and steady encouragement for business to progress. 
Almost 98% of companies are planning to give salary increments in 2022 as compared to 88% of companies in 2021.
With a projected salary increase reaching 8.1% in 2021, companies may encourage the employees to raise their performance standards and exceed expectations. Considering the expected salary increase to 9.4% in 2022, India Inc. may make more changes in its reward setup.
With employees still preferring remote working, chances are that the employees who want to return to work will have far more benefits in managing expectations.
Like 2020, companies will try to reduce attrition by focussing on salary increments and employee wellbeing.
The AON survey concludes that sectors like IT, Gaming, Pharmaceuticals, Life Sciences, and Professional services will experience salary increments as companies prepare themselves for both the third wave and the onset of the talent war. The attrition has been among the largest in the recent time and sadly, it will increase as the businesses progress. The question that arises to India Inc. is if it's sustainable for the long run or if this can be smartly handled? Anyways, one thing for certain is that 'war for talent ' will continue as pandemic risk continues though India Inc. seems to be much better prepared now.