C-Suite
Major HR movements from April 2020 to June 2020
We have seen multiple senior leadership exits across the industry and despite the pandemic, there have been some major appointments of senior HR professionals. In this article, we highlight some of the major movements which took place from April 2020 to June 2020.
The last three months have been quite tough on jobs across the globe. We have seen multiple senior leadership exits across the industry and despite the pandemic, there have been some major appointments of senior HR professionals. Some moved to a new organization, some of them got elevated while others headed toward the entrepreneurial route.
Read on to highlight some of the significant movements which took place from April  2020 to June 2020. 
Yogi Sriram- Yogi Sriram, Senior Vice President – Corporate Human Resources and Member of the Executive Committee, Larsen & Toubro Limited has superannuated from the services of the company effective from 1st April 2020, after an illustrious career of 43 years in HR. One of the senior-most HR persons in the country in service, Yogi headed the Group HR function in L&T for 8 years in his last role. 
Vishpala Reddy - Philips has appointed Vishpala Reddy as its new human resources head for the Indian subcontinent, replacing Armaan Seth who had been associated with Philips for more than 8 years. Prior to this, Reddy was serving as the regional HR director for APAC with Uber. She had joined Uber in 2017 as the Chief People Officer for India and South Asia region. 
Sapna Sukumar- Payment gateway firm Cashfree has appointed Sapna Sukumar as the Head of Human Resources. The announcement was made by Sapna Sukumar on one of the social media platforms. Sapna comes with over 15 years in the field of Human resources. Prior to this announcement, she was actively working Medlife as the HR Business partner since June 2015. 
 Maneesh Menda - RBS India, the innovation and operations hub of the Royal Bank of Scotland (RBS), announced the elevation of Maneesh Menda as Head of HR, RBS India. In this role, Maneesh will build the organization's talent strategy and capabilities, supporting the Bank to achieve its goals. Maneesh, an HR veteran, and a Chartered Accountant, has over two decades of rich experience where he has held several global and regional roles. 
Rajesh Padmanabhan-  Rajesh Padmanabhan, Director, Group CHRO of Welspun Group has stepped down after four years of stint with the company.  The industry veteran is taking the entrepreneurial route after working with Welspun for more than four years. 
Díaz de la Fuente- She joins Tupperware Brands as the Chief Human Resource Officer. Following successful careers in human resources at multinational companies including GE and Herbalife Nutrition. Most recently, she was head of human resources at El Palacio de Hierro, a worldwide recognized retail group based in Mexico. In that role, she led the company's organization redesign strategy to deliver year over year savings and recruited the talent base needed to execute the company's strategy. 
Santanu Banerjee- Santanu Banerjee joins Bajaj Allianz Life as Chief Human Resource Officer, effective from May 2020. Prior to joining, he was working as Executive Vice President & CHRO at Star Union Dai-ichi Life Insurance Co. Ltd.  In his entire career of more than 20 years, Banerjee has spent maximum time working with Aditya Birla Group. He was the engineering force behind the set-up of Aditya Birla Health Insurance (ABHI). He helped build a workforce of 1,700 employees, 12,000 distributors, 60 branches spanning 36 locations in one year's time frame.
Varun Bhatia- Reali, the real estate technology company transforming home buying and selling, announced the hiring of Varun Bhatia to join the leadership team as the company's first Chief People Officer. Bhatia, who will play a critical role in accelerating Reali's momentum, has more than 30 years of experience spearheading people strategies and leading entire HR organizations for publicly traded and high-growth, global companies.
Anne Lebel- Capgemini announced the appointment of Anne Lebel as Chief Human Resources Officer (CHRO) and Group Executive Board Member, effective July 20, 2020. Anne brings to the Group over two decades of experience in leadership development and talent management on a global scale. She takes over from Hubert Giraud, who recently moved to a new role at Altran, part of the Capgemini Group. Anne will report to Aiman Ezzat, CEO of Capgemini.
Sumit Neogi- Sumit Neogi, who had joined Reliance Industries as Vice President, Human Resource, Services in March 2018 has quit and joined The Lubrizol Corporation as the HR Director for South Asia and the Middle East geography. With this, Neogi ends his second stint with Reliance Industries where he had earlier worked in 2011 and rose to become the Head - Group HR Capability Development in four years.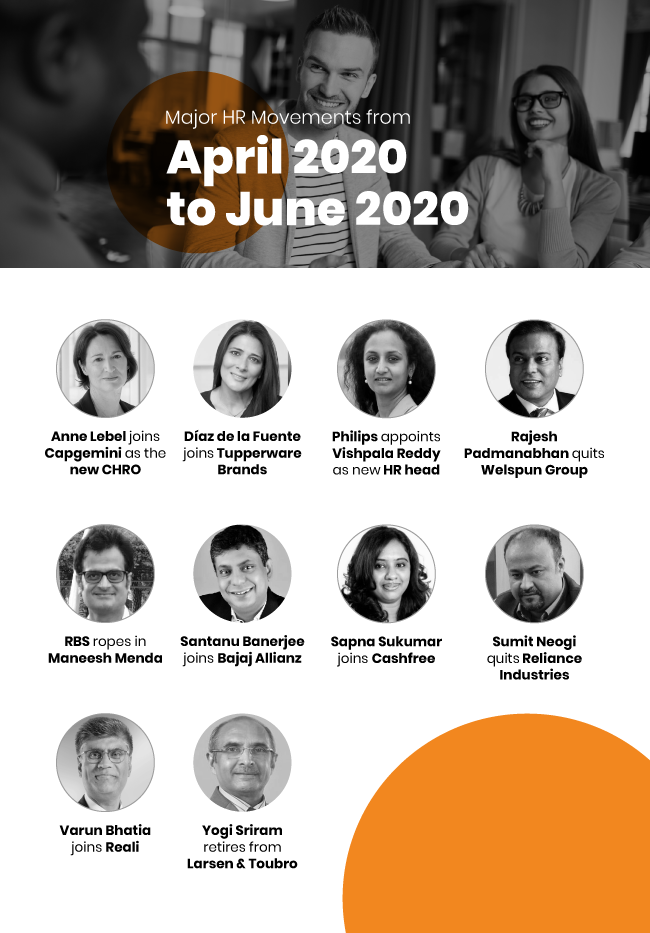 Also read- Major HR movements from January 2020 to March 2020