C-Suite
Major HR movements from January 2020 to March 2020
In this article, we highlight some of the major movements which took place from January 2020 to March 2020.
We have just completed the financial year 2019-20 and also stepped into the first quarter of this year with high hopes from the industry. The industry is going through a rough phase since the beginning of this quarter, and currently, the situation has got worse with pandemic COVID-19. India and other countries are under lockdown, which impacting the people and work hugely. 
Though the industry is continuing on the rough road the last quarter of the fiscal year 2019-20 witnessed some significant HR movements in this domain and industry leaders from top to mid-level shifted their companies, some got elevated, and some started new innings. We highlight some of the significant movements which took place from January 2020 to March 2020.
January
Alok Verma - Hindustan Aeronautics Limited has appointed Alok Verma as Director (Human Resources) of HAL.  Prior to this, he was General Manager (HR) at the Corporate Office.  Verma joined HAL in 2006 after serving National Fertilizers Limited for 19 years. He has vast and diverse experience of over three decades in the HR function. Verma was instrumental in transforming the employee management relations at Hyderabad Division and played a key-role in settlement of the workmen wage revision and signing of the MoU.
Umanath Nayak- Wakefit has appointed Umanath Nayak, Head – HR, Armed with over 13 years of cross-domain industry experience in the HR domain, Umanath will be managing all HR functions – from talent acquisition and talent management to HR analytics and business partnering. His prior work experience with diverse businesses, such as Global Franchise Architects, Papa Johns, Gionee mobile and FreshMenu, is expected to bring in agility to the company and its workforce.
Heeru Dingra - Dentsu Aegis Network's digital agency WATConsult has announced the elevation of Heeru Dingra as the new Chief Executive Officer (CEO) of the agency. Dingra, who is currently the Director, HR & Finance, will now have a new role and added tasks, overlooking the entire executive duties of the agency. Before joining WATConsult she was associated with ICICI Bank for ten years in multiple roles.
February 
Donna Morris- Executive Vice President and Chief Human Resources Officer of Adobe, Donna Morris stepped down from her role. Under her leadership, Adobe's workforce has increased by 226% to more than 20,000 employees and its real estate/facilities presence has grown to more than 75 locations around the globe. She championed innovative workplace policies, including the introduction of expanded family leave, gender pay parity, and opportunity parity, all of which helped grow Adobe's global diverse employee base.
Eileen Naughton- Google's Vice President of People Operations, Eileen Naughton stepped down from her role. Google added more than 70,000 employees during Naughton's time as head of human resources, according to Pichai. Naughton joined the company fourteen years back as Director. Before joining the company, she was working with Time as a Strategy & Finance Director. 
Chanchal Gupta- Zolostays, has appointed Chanchal Gupta as the Chief Human Resources Officer. In his new role, Gupta is managing the strategic direction that the company would embark upon in terms of people management, employee engagement, retention, organizational effectiveness, diversity and inclusion, learning and development, in addition to succession planning. Gupta has previously led HR teams at Amazon, Accenture Services Pvt. Ltd., and Citibank Global Services Limited. 
March
Tracy Layney - Levi Strauss & Co has announced the appointment of Tracy Layney as Senior Vice President and Chief Human Resources Officer of the company. Most recently, Layney was Senior Vice President and CHRO at Shutterfly, Inc. where she was responsible for recruiting, employee engagement, talent management, compensation and benefits, HR technology, corporate communications, and the Shutterfly Foundation.
Shelly Morales - Cybersecurity posture transformation company Balbix has announced the addition of Shelly Morales as the company's new Vice President of People. Morales brings over two decades of industry experience to Balbix, formerly leading the multinational Human Resources (HR) group at Quantenna Communications.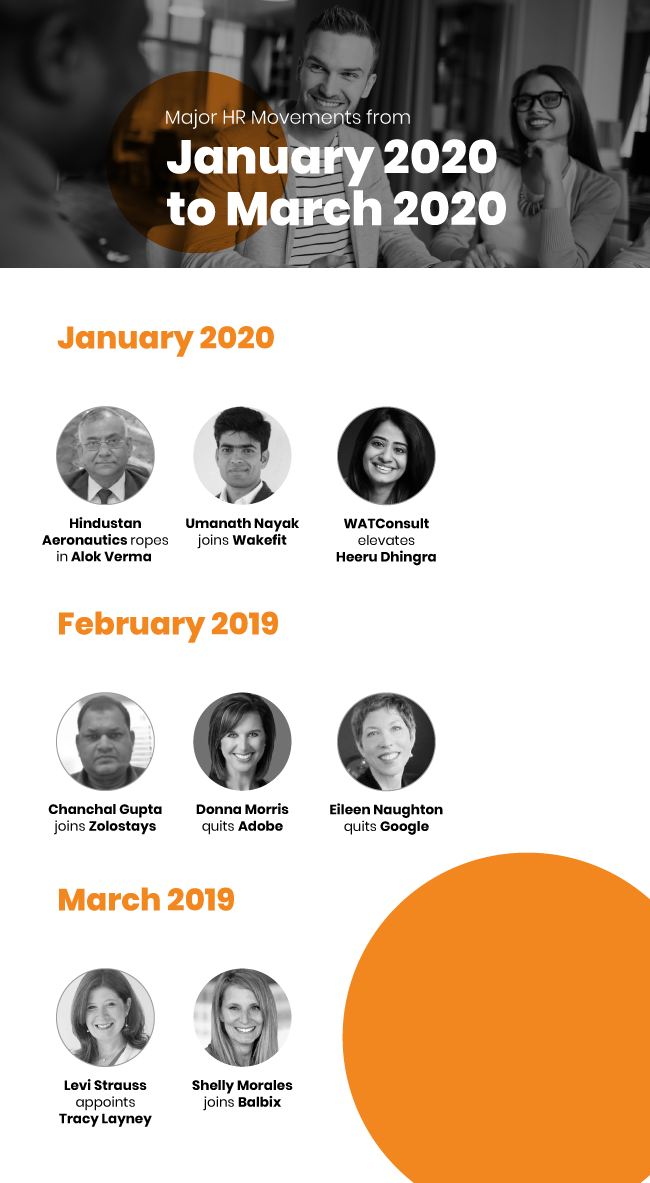 Also read- Major HR movements in 2019
Note: We have tried to include all the essential movements among the senior HR leaders. If we have missed anyone, please let us know and we would be happy to add it to our list.