C-Suite
Major HR movements from July 2020 to September 2020
The industry has witnessed multiple senior leadership exits across the industry and despite the pandemic, there have been some major appointments of senior HR professionals. In this article, we highlight some of the major movements which took place from July 2020 to September 2020.
The last three months have been quite tough on jobs across the globe. We have seen multiple senior leadership exits across the industry and despite the pandemic, there have been some major appointments of senior HR professionals. Some moved to a new organization, some of them got elevated while others headed toward the entrepreneurial route.
Read on to highlight some of the significant movements which took place from July 2020 to September 2020. 
 July
Satish Kumar- Accor announces the appointment of Satish Kumar as Senior Director Talent & Culture, India & South Asia. He succeeded Ashwin Shirali as he departed for his retirement. In the past, Ashwin has immensely contributed to the growth of the organization. During his tenure, he successfully spearheaded many pathbreaking employee and CSR campaigns which has helped the company nurture its talent.
With more than 20 years of experience in talent development, Satish in his new role will handle India hotel operations management teams. He will be responsible for driving a team of 9500 employees in 50 hotels.  
Swaminathan Subramanian- Power transmission firm Sterlite Power has appointed Swaminathan Subramanian as the group CHRO effective. In his new role, he is leading the human resources function as the group CHRO and will report to Pratik Agarwal, Managing Director of Sterlite Power. Prior to this, Swaminathan was working as President and Chief People Officer with Reliance Capital Ltd., wherein he worked from December 2017 to June 2020.
Subir Sinha- NetCom Learning has named Subir Sinha as its new Director, Human Resources. Subir will head the HR function for the organization based out of India and will be responsible for ramping up operations in India and the US. Subir brings with him around 30 years in the HR function, having worked with an array of organizations such as the Creative Group, Arvind, Reliance Retail, ITC – Agrotech, and Reliance Communications. 
August
Jasneet Kaur- BharatPe, merchant payment and lending network company, further strengthened its leadership team by appointing Jasneet Kaur as Chief Human Resource Officer. Jasneet's appointment comes at a time when BharatPe is going through a massive expansion phase. 
Jasneet will work closely with the leadership team to ensure the rapid growth of the company through strategic talent management and dissemination of the company's core values and culture across the organization.   
Harsha Jalihal- MongoDB, which deals in modern general purpose database platform, announced the appointment of Harsha Jalihal as Chief People Officer. Jalihal will oversee the company's human resources operations globally, supporting 2,100+ people in 29 countries. In this role, she will lead workforce strategy, talent acquisition and development, diversity and inclusion, total rewards, and employee engagement, and will join MongoDB's executive leadership team.
September
Kameshwari Rao- Publicis Sapient announced the appointment of Kameshwari Rao as Global Chief People Officer.  Rao is entering her new role rich with experience, having served in multiple People Success leadership roles prior to this position. As part of the company's global talent leadership team, she has been responsible for providing strategic leadership for its people agenda and building Publicis Sapient as an employer of choice.
Nigel Vaz, CEO at Publicis Sapient, said, "Kameshwari has an exceptional track record as a leader within Publicis Sapient, driving forward People Success and the impact that we make for clients."
Palash Aggrawal-  LT Foods announced the appointment of Palash Aggrawal as Group Head HR. Palash is an industry veteran with three decades of HR leadership experience across diverse industry segments. In his previous roles, Palash was instrumental in designing & implementing strategic people management initiatives across IT, ITES, FMCG & Manufacturing sectors. He also brings in a strong blend of domain knowledge & hands on experience in Business HR, OD, Change Management, Culture Building, Leadership Development, Employee Engagement & Talent Management.
Zoheab Rehaman- To expand its pool of talent, Pocket52 has on-boarded talent Management veteran, Zoheab Rehaman as its Chief of Staff and has previously worked closely with Cisco, Mu Sigma, and multiple high-growth start-ups.  Zoheab brings over ten years of experience in talent management, talent acquisition, and HR. He has continually showcased his skills and abilities in various multinational companies and has a proven track record of scaling multiple start-ups from their inception to maturity. different levels in addition to Cisco and Mu Sigma. 
Nickle LaMoreaux- 
Arvind Krishna, CEO, IBM announced major leadership changes in the company. Diane Gherson, who has been IBM's Senior Vice President of Human Resources for the past seven years, has decided to retire. 
Nickle LaMoreaux succeeds Diane as the Senior Vice President of Human Resources and Chief Human Resources Officer. Currently responsible for HR in Cloud and Cognitive Software, Nickle is a seasoned HR leader who has a deep understanding of our business and the needs of our clients. Nickle has held a variety of HR leadership roles around the world and has worked on many large transformational projects while at IBM, such as the acquisition of Red Hat.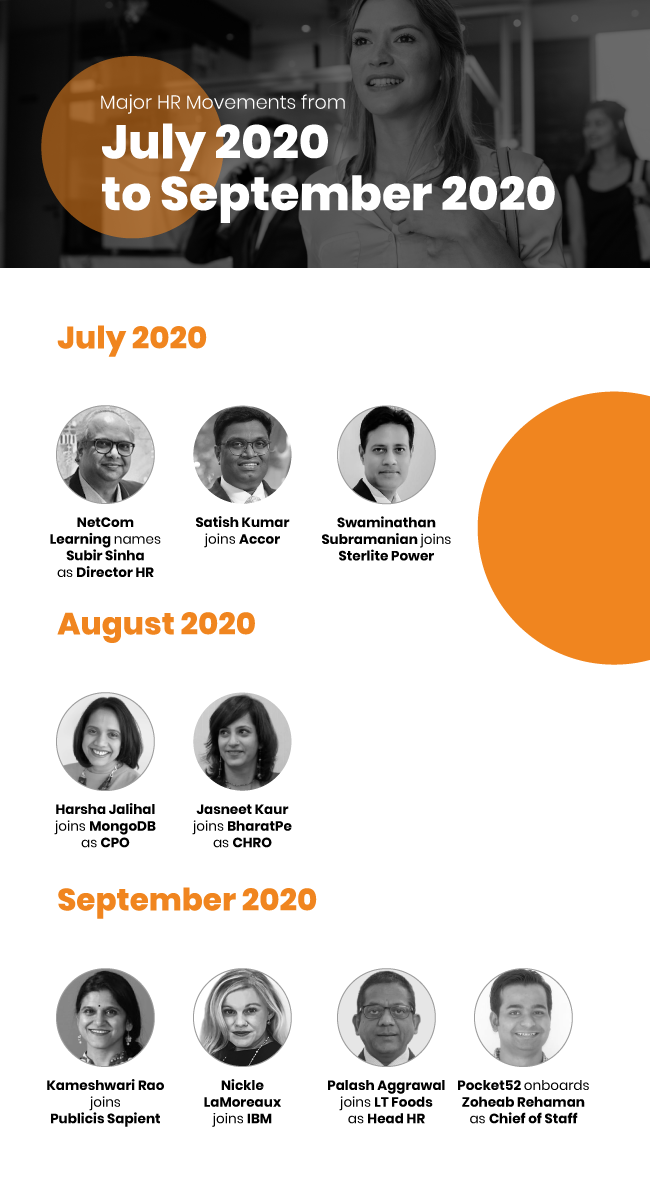 Note: We have tried to include all the essential movements among the senior HR leaders. If we have missed anyone, please let us know and we would be happy to add it to our list.