C-Suite
Rapid-fire interview with Anjali Menon, Head of Talent Center of Competence - Asia, Oceania, & Sub-Saharan Africa, Nestle
In a candid conversation with People Matters, Anjali Menon, Head of Talent Center of Competence - Asia, Oceania, & Sub-Saharan Africa, Nestle shares with us her personal and professional secrets.
Originally, a graduate as a Computer Engineer and post graduate in Human Resources, Anjali Menon has carved out her career path to being an incredible HR expert known for her result focused, collaborative and inclusive initiatives. Anjali is described by her co-workers and many of her collaborators as an attentive, calm, adaptable and pioneer of diversity and inclusion. She is also praised for her resilience and leadership in every role she has taken on. 
Anjali's career started in 2005, where she landed a role at Infosys, an IT company based in Bangalore, India. Her first role at Infosys, a workplace that she describes as a "non-hierarchical, networked work environment" provided her with key learnings on having an entrepreneurial spirit, empowerment, and how to take ownership. After a short sting there, Anjali moved her career to New Delhi to work for the largest Food and Beverage Company, Nestlé.
Her career picks up quickly, trailblazing through various parts of India for her different roles within Nestlé, expanding her expertise across five different roles in the South Asia region that comprised of six countries where she led many key and notable initiatives in her profession. She has been a proponent of diversity and inclusion by being a Gender Balance Champion as well. 
In 2017, Anjali moves to Bangkok, Thailand where she drives the Change, Organization Design and Communications for Global Transformation Project for the Indochina region that consisted of four countries. While out in Bangkok, Anjali also supported the implementation of People Plan and HR Capability Building in the region.
Anjali's proven her expertise in Talent and Organization Development, Change Management, Leadership Development, Employee Engagement, Diversity & Inclusion, Organization Design, Rewards, HR Business Partnering and Employee Communication. Her extensive knowledge and ability to deliver the initiatives with great results is what makes her a recognized and notable HR expert in the industry.
In last two years, Anjali has setup and is leading the Nestlé's, Talent Centre of Competence for APAC and Sub-Saharan Africa, that covers 40+ countries. She has culturally diverse team of members from nine different nationalities working in semi-virtual environment delivering Talent Acquisition , Recruitment Marketing , Employer Branding , Leadership, Coaching, Mentoring, Diversity & Inclusion, Professional and Functional capability building solutions.  She is currently based in Kuala Lumpur, Malaysia.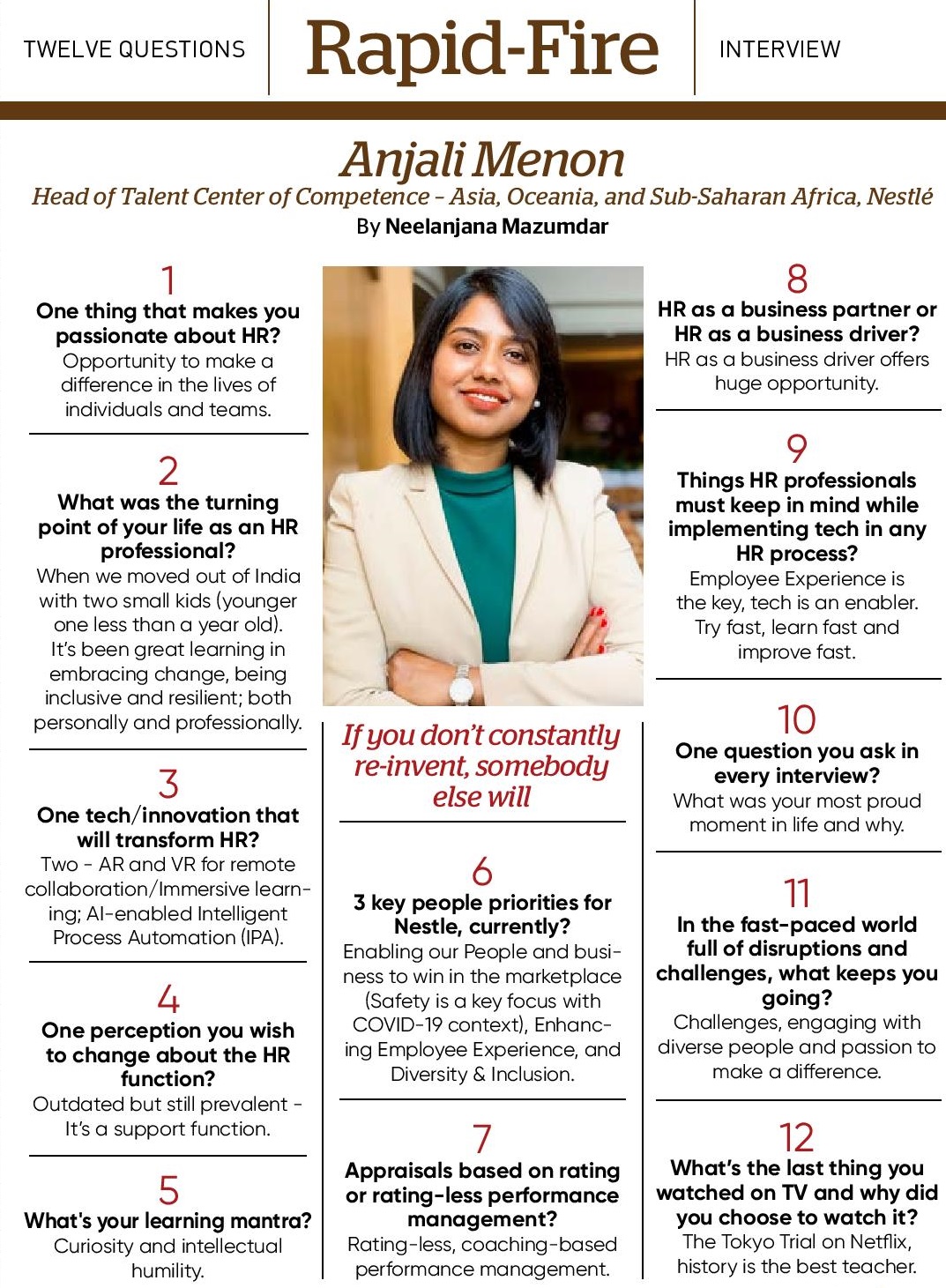 Follow the tag #RapidFire to what leaders from various organizations have shared with us...