A Brand Reachout Initiative
Compensation & Benefits
Here's how Zoho is simplifying payroll for employees & employers
Zoho Payroll aspires to make payroll the easiest thing on the to-do list of recurring business tasks. Here's how they are solving traditional payroll challenges with a modern approach and technology and empowering both employees and employers.
Even though the practice of paying employees is age old, payroll is still one of the challenging tasks for business and HR leaders as well as employees. The sheer volume of variables in calculating payroll, the ever-changing tax laws (there were over 20,000 payroll regulation changes globally last year), and the serious damage on an employee's morale when done wrong, are some of the many challenges of managing payroll.  
"However, this is just the tip of the iceberg," exclaims Prashant Ganti, Head of Product Management, Global Tax, Accounting, and Payroll solutions, Zoho. There are numerous stories every year about businesses paying hefty fines upwards of 200 to 300 crore for non-compliance to payroll laws.
The team at Zoho aimed to address these challenges of managing payroll. They realized that existing technology is fundamentally not flexible enough to accommodate the rapidly changing payroll landscape. To help businesses solve this multifaceted problem, Zoho Payroll was built on the foundation of 'cloud'. 
"At Zoho, we are constantly looking for harder problems to solve, that will make life easy for small businesses," says Ganti. 
Modern approach to traditional payroll problems
Zoho Payroll was built with a religious focus on developing a world-class payroll product that ticks all the challenge boxes with innovative solutions deeply rooted in technology. "We want businesses to feel that payroll is the easiest thing on their to-do list of recurring business tasks, so they can focus on making their workplace better," asserts Ganti. 
To enable business leaders in every aspect of the payroll process - from onboarding an employee to the payroll system until exit is thought-out in detail.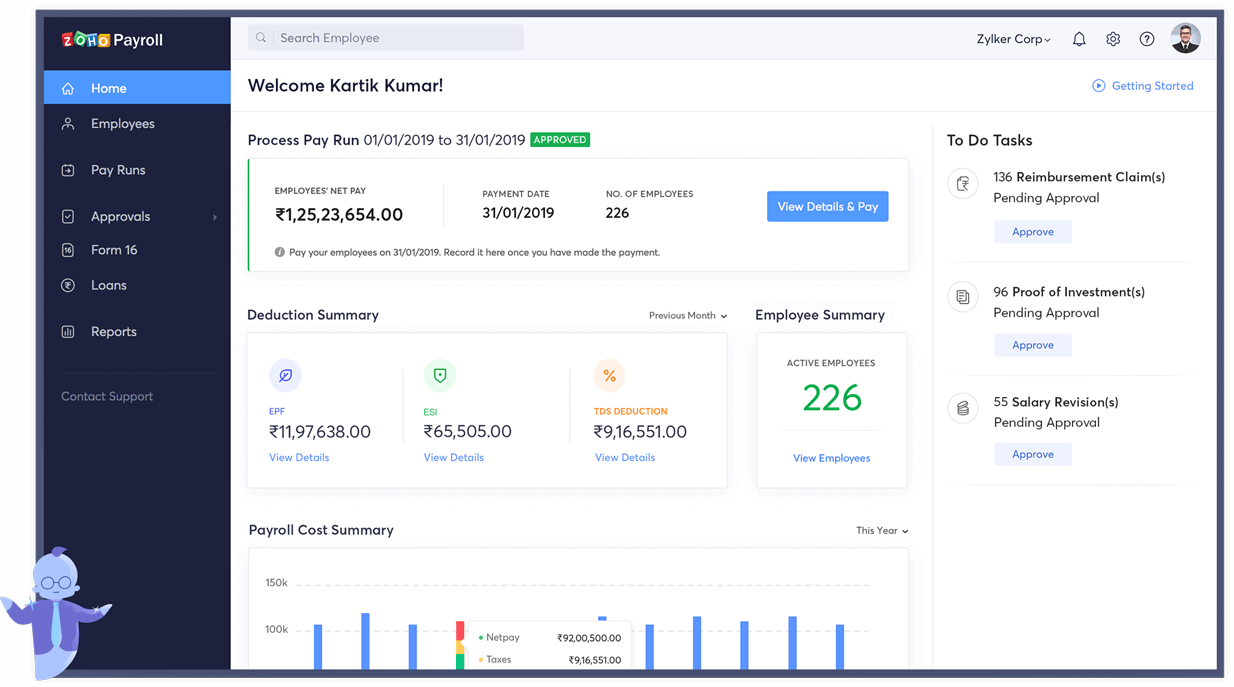 "Most of the organizations have some or the other payroll process in place, but their underlying system does not give them the ability to scale up to the present day expectations," shares Ganti. 
For instance, currently amid the COVID-19 crisis, most teams are working remotely which means all payroll related tasks have to be managed remotely with zero contact. Further, government norms and policies are revised almost every day, and the system needs to be flexible and nimble to handle these fast-paced changes. With spreadsheets and other traditional systems, these changes become tedious to manage and lead to delays. 
Through a modern approach, Zoho Payroll hence, aimed to solve the traditional payroll challenges with strong emphasis on 'user experience', 'continuous innovation', and 'data privacy' as key pillars. 
User experience
The Modern UI of Zoho Payroll stands out - especially for its unambiguous clarity, concision, consistency, aesthetics, and efficiency. The user experience design is so futuristic that the data does not look cluttered even after years of using the system. "Not many payroll products can say this with confidence," says Ganti.  
Continuous innovation
With technology at its core, Zoho Payroll seeks to ensure that the systems and technologies used by businesses and HR departments are at the top of their game. Contextual help within the product, timely payments with direct bank integrations, real-time employer and employee collaboration are things that set Zoho Payroll apart. 
Data privacy & data security 
"Choose privacy, choose Zoho," says Ganti. Zoho, has a privacy-first approach. The team believes that it is a fundamental right to protect businesses from violations. For payroll, businesses collect highly sensitive information about their workforce as it is essential for timely, accurate, and legal payroll processing. Zoho Payroll sticks to a comprehensive data privacy framework that ensures complete security of highly sensitive employee data. Businesses can continue doing payroll without being susceptible to security risks.
Further, at Zoho, they follow top-notch international security standards to safeguard payroll data. Zoho Payroll has a finely-grained multi-user access to facilitate cross-department collaboration, yet eliminating unauthorized access. 
Rich analytics
Payroll data is crucial to make informed business decisions. However, payroll leaders all over the globe face a lack of readily available data for them to make these decisions. Zoho Payroll provides real-time data on the overall cost, tax liabilities, and more, making life easy for business owners. The ability to produce instant insights between the HR, Payroll, Finance, and other closely working teams also helps in better decision-making. 
The Zoho ecosystem
While most companies offer integrated HR platforms, it is either a multi-vendor system or an in-house suite that lacks depth. Zoho Payroll's strength is the number of apps within the Zoho Ecosystem that it can talk to, to revolutionize your payroll processing operations.  The interconnected Zoho Ecosystem gives an edge to Zoho's Payroll solution and makes it stand out among its competitors. 

Empowering both employers and employees through/with tech
Zoho Payroll is cloud based, and it helps business owners and employers to access their payroll data from anywhere in a secured way. 
"Zoho Payroll self-service portal is easy to use and utilize. It is particularly easy to update the Form 16 and the investments declaration in one/two clicks. Also, accessibility of payslips is very easy," shares Rohan Singh, Software Engineer.
From an employer's perspective, Zoho's tech solution helps: 
Automate all salary calculations and ensure compliance with local laws.
Handle all statutory components like PF, ESI, LWF, PT, and IT in India.
Direct deposit salary/pay to employee bank accounts. Zoho already has partnerships with a few banks which are rapidly expanding.
Digitize crucial payroll tasks.
Make collaboration between different departments easier.
On the other hand, through the employee self-service portal (mobile and web app), employees get to follow their payslip, career growth, tax projections, submit reimbursements, submit IT declarations and more. 
"The Zoho self-service portal has been simple and easy to learn. It has been a very different experience from my previous payroll experience where I had to take an appointment with the payroll team to understand any discrepancies in my payslip. The Zoho Payroll dashboard is quite dynamic and helps me understand different components of my payslip easily and I do not have to depend on any external entity," shares Surabhi Joshi, Business Development Manager. 
Way forward: Simplifying payroll with consistent innovation 
Zoho Payroll's vision is to consistently innovate to keep up with the changing landscape, and to revolutionize the way payroll processing is done. 
"The problem remains the same, however, by adding innovations into the product that is not necessarily a core part of payroll, but adds immense value if given, is something that we constantly work on. The deep expertise in offering products across different domains lends that much-needed fresh perspective to solve payroll challenges," shares Ganti. 
For example, earlier, when you collected reimbursement proofs or investment proofs, even if the system allowed you to validate it, the feedback had to be sent through emails. By incorporating real-time feedback, employers and employees can collaborate better and move faster together. Small innovations like these matter to Zoho Payroll. The team believes that these innovations make a big difference in payroll processing and will allow businesses to future-proof their payroll operations. Now, and for the next decade. 
Cloud-based payroll systems for the new normal of work
As per the recent report by Insight Partners, the cloud-based payroll software market valued at US$ 7.34 Bn in 2018 is expected to grow at a CAGR of 10.3 percent during the forecast period 2019-2027, to account for US$ 17.39 Bn by 2027.  An edge that cloud-based payroll software has is their ability to offer just about any HR management need. Such benefits are expected to fuel the cloud-based payroll software market growth globally.
"Cloud is inherently capable of handling remote work. Because with cloud technology, wherever you are is the new workplace now. No wonder payroll teams that already use cloud-based payroll software are already at an advantage," says Ganti. 
Building on the opportunity, Zoho Payroll will go deeper in the India market to help businesses solve payroll through cloud-based systems, and also offer payroll for new regions.