Diversity
How Adobe achieved its pay parity milestone
Earlier in January, Adobe announced that the organization has achieved 100% pay parity between men and women. Read on to know the key action plan from Adobe's journey to manage gender pay equality.
Women will wait 217 years for pay gap to close, says a report by World Economic Forum.
The World Economic Forum, best known for its annual gathering in Davos, said it would take 217 years for disparities in the pay and employment opportunities of men and women to end. According to the WEF 2017 report, The Global Gender Gap Report 2017, India stands at 108 out of 144 countries in terms of Gender Gap.

According to a recent study by Monster, men earned a median gross hourly salary of Rs. 231, compared to women, who earned only Rs 184.8. This means, women in India are earning 20 percent less than men, indicating that gender plays an important parameter while determining salaries in India. According to Abdul Jaleel, Vice President, Employee Experience, Adobe India, "Despite being one of the world's fastest-growing economies, the gender wage gap in India is a matter of concern and corrective measures to address this has been long overdue."
Earlier in January, Adobe announced in media sharing the organization has achieved 100% pay parity between men and women. Jaleel shares, "At Adobe, we believe that employees perform best when put on a level footing and valued equally, and are proud to have achieved our goal of pay parity in India."
Here is the key action plan from Adobe's journey to manage gender pay equality:
Awareness:
India is a strategic market for Adobe and is among the company's fastest-growing markets globally as well as in the APAC region. The country is a significant contributor to Adobe's worldwide innovation agenda. India is the second-largest location for Adobe globally in terms of people with over 5,200 employees, over a quarter of its global workforce.
Achieving Gender Pay Parity was a business imperative for us. As equal pay is just one step in a long-term commitment to ensure our workforce is diverse, inclusive and full of opportunity for everyone.
Strategy & Action:
Adobe took a holistic approach to addressing issues that affect pay equity. The company started to work on closing the gender pay gap in 2016. The company conducted a gender pay audit globally by an external third party to establish a benchmark to understand the existing pay gap and the distance to be covered. While reviewing the pay gap, the company conducted similar job role comparisons and looked at the pay levels for male and female employees, and with all criteria – experience, performance, etc. – being equal. As part of the regular pay review process, the management team investigates any differences in salary by job and by grade and corrects individual salaries where necessary.
After the analysis, we realized the pay gap existed in the company. For every one dollar that the man employee received, the women were getting 96 cents!
This called for presenting a business case to the business leaders and getting their buy-in for funds to adjust pay inequalities.
As a next step, we did a Job Architecture study, wherein, we studied each job descriptions for each role. This helped us in detecting the anomalies in the Job Descriptions and come up with new Job Descriptions validated by various stakeholders. We mapped each male and female employee with the new JDs and subsequently filled the pay gap.
This was followed by the company-wide change management campaign to promote a culture of inclusion and to reduce gender bias in performance and pay decisions. As a part of this campaign, we undertook following strategies:
Sensitizing the people managers and employee:
By hosting a program called, "Breaking Bias", where we generated dialogue from employees in order to address various conscious and unconscious bias and how we can eliminate it.
Putting end to historical compensation decisions:
We took a step to avoid asking historical compensation to determine the offered salary. We educated and sensitize recruiters to consider pay equity of commencement salaries.
Review & Refine:
Achieving it (pay parity) is probably an easier task than sustaining it.
To avoid pay gap to inadvertently creep back, every month the compensation team and the talent attraction team perform an audit to ensure that every incoming employee is offered a pay that is in line with the organization's pay practice. The compensation data is audited on an ongoing basis. Additionally, it is also made sure that elements like Pay for performance, merit pay and rewards are strictly based on the performance and capabilities of the employee and no disparity exists.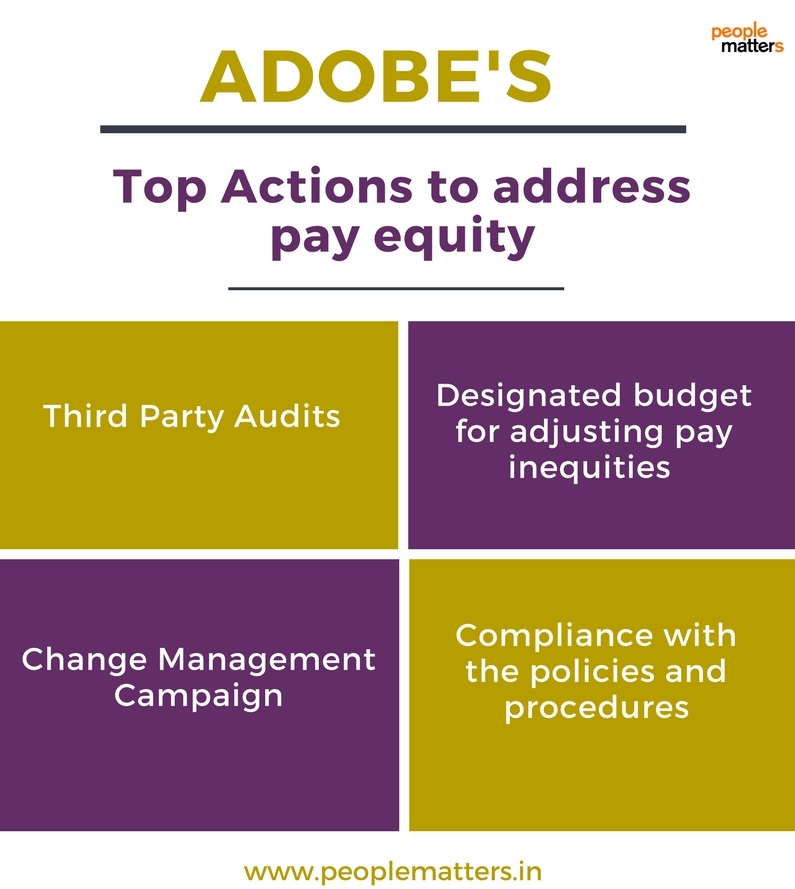 Jaleel shares, "Organizations looking to create pay equity was that there are no quick fixes and if gains are to be made and maintained, everyone has to work in tandem to monitor changes and adjust strategies, policies, and procedures accordingly.
Impact:
In January 2018, Adobe achieved the pay parity in India after having closed the gender pay gap in the United States of America in 2017. The program helped us in generating the dialogue and very positive vibe across the company. These short-term measures will help us in achieving our long-term goal of accomplishing the high degree of engagement, better satisfaction among employees, and overall retention.