Compensation & Benefits
How Earned Wage Access platform Refyne aims to bolster financial wellness of India's workforce
Given that a big portion of the Indian workforce has weak financial footing and added to that the havoc brought about by the COVID-19 crisis, Earned Wage Access (EWA) has a fair shot in the Indian market. Here's how Refyne aims to enable employers to reduce financial stress of employees for a happy and productive workforce.
What brought together Chitresh Sharma and Apoorv Kumar to establish Refyne-a mobile-first Earned Wage Access (EWA) platform - was converging observations about India's financial ecosystem. For starters, it stood out that India's fintech landscape is broadly defined by two options – UPI and lending. The country has historically lacked a standard credit score system, affecting the unbanked and underbanked populations, which are not the primary focus of premium banks and lenders. Mid-month cash crunch is more common than we think it is among people, and the lending system's drawbacks prevent it from adequately serving the needs of these individuals. 
Based on their survey on 10,000 people Refyne found, 85% of the time, their cash needs are a fraction of their salary, but due to the predatory credit model, they are forced to take more money than they need and for a much longer time. This dependence pushes people into debt traps without them being aware that the consequences of such borrowings are going to be an even bigger problem for them. This adversely affects their financial and mental health, causing loss of productivity, increase in absenteeism, irregular behaviour and high employee churn. The absence of formal education on personal finance, among other factors, has also led to masses often falling prey to predatory loan sharks and payday lenders, exposing themselves to a quick but costly solution. 
Reveals Chitresh, CEO, Refyne, "We started building an instrument that allowed people to access money whenever they needed it, without being penalised for it with disadvantageous terms. The second important factor here was trust. The involvement of a trusted party for accessing finance is necessary to work towards financial inclusion. And who's a more trusted entity than your employer?" 
And this is how Refyne came into being- powering employers with tech and ethical finance to enable power of pay to employees. 
Earned wage access under a minute
Refyne's service is rigorously centred around on-demand access to pay any time. It partners with companies typically with an employee base of more than 1000. The plug and play software ensures companies don't have to make any changes to their existing HRMs or ERPs or their existing payroll process. The ISO 270001-certified software guarantees complete data security and privacy protection of any data in Refyne's system. 
Employers set the cap on the percentage or upper limit of the earned salary withdrawals employees can make. And then, Refyne automates the entire process, eliminating the need for any additional work from the company's HR personnel.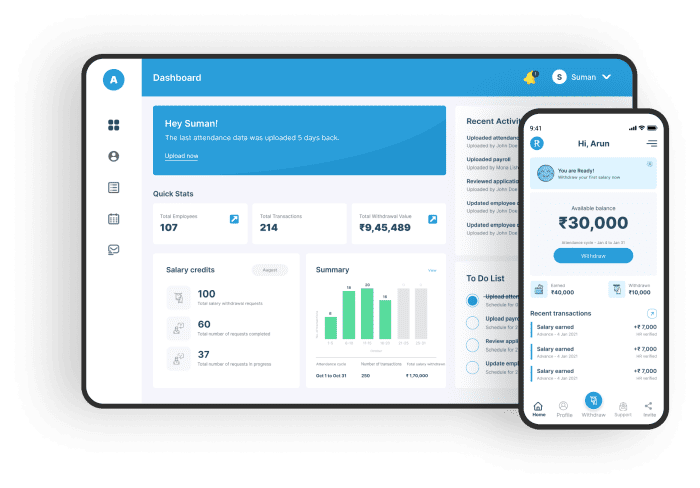 Refyne conducts both virtual and onsite launch processes for employees, after which they can sign up on Refyne's app and start withdrawing their earned salary immediately with 0% interest and 0% processing fee. They are charged a nominal, flat per-transaction fee, allowing them to transfer their earned salary to any bank account or digital wallet. The end-to-end process takes less than a minute and is available 24x7, 365 days or the transaction is deemed free for the user. And the balance salary is credited to their salary account on the scheduled payday. 
Reducing financial stress for a happy & productive workforce
The most obvious benefit of Refyne for employees is the easy and affordable access to money that they have already worked for and earned. Replacing the month-long wait with less than a minute to get paid can have a significant impact on a salaried person's financial health. The 60-second experience - starting from sign up, paperless processing and verification to the withdrawn salary hitting their bank account - allows employees to take control of their money any day of the month. This real-time visibility helps them envision their short-term financial position, providing them with a psychological safety net and enabling them to make confident decisions with their finances. In addition, the feeling of watching your work translate to money on an app itself makes for a rewarding experience.
For employers, the benefits are manifold. First, it offers a free, zero-risk solution for which they don't have to change their existing software. The rollout is a hassle-free experience, with each partner company being assigned an account manager for addressing all issues, along with a 24x7 support team. Since Refyne fronts the earned salary withdrawals by employees, companies can conserve their working capital and have more liquidity movement for the month. This also cuts down the burden of running an in-house earned wage operation which can be very expensive with an additional team to develop the tech, run the finances as well as the added cost of funds.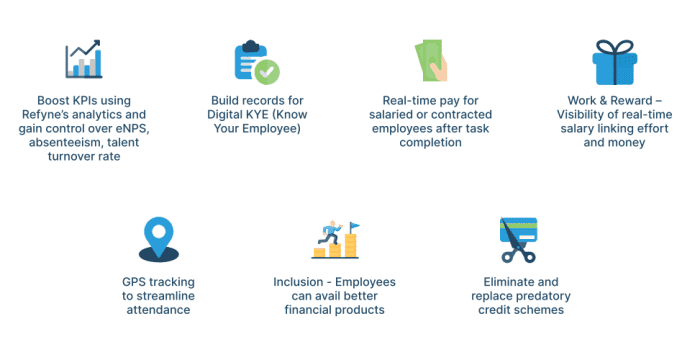 In addition, Refyne also provides employers with analytical insights into employee behaviour. For example, preliminary data of a partner company that adopted Refyne suggests that the attrition rate of their employees who signed up for Refyne stood at 5.66% in July compared to 4.75% in June. By comparison, the employees who did not sign up for Refyne, the attrition rate jumped to 8.37% in July, up from 4.94% in June. Meaning the first group are relatively 'stable' employees. Organisations gain complete control and visibility into their employees' EWA usage at all times, ensuring 100% transparency. Given that EWA is an innovative employee financial wellness platform, companies that adopt the solution appear as progressive players, thus adding to their employer brand. But most importantly, it enables them to be caring employers who help their employees to reduce their financial strain, making for a happy & productive workforce.
Financial wellness for over 300k employees
Since its inception, Refyne has partnered with more than 100 companies with over 300,000 employees in India. Typically, the average employee sign-up rate for Refyne's service ranges between 50% to 70% within 15 days of launching with a partner company and keeps growing steadily month on month. Some of the prominent brands that have partnered with Refyne include CARS24, Rebel Foods, Cafe Coffee Day, Hira Group, and Wow! Momos, among several others.
The company also recently closed its US$16Mn Series A funding round from new investors, including partners of  DST Global and  RTP Global, existing investors QED Investors and Jigsaw VC, which led a seed round in December worth US$ 4.1M, and XYZ Capital. Till date, it has raised a total of US$ 23Mn, which is being deployed to expand the technology team and scale growth initiatives. 
Differentiating through instant access and affordability
When it comes to competition, Refyne believes it does not have any direct competitors in India. Indirect competitors include payday lenders, loan apps, salary advances or early salary platforms that are essentially short-term credit schemes. It aims to differentiate itself on instant access, affordability, and zero-interest features. 
Adds Chitresh, "Debt management is a historical practice, but we're equipping people to deal with their expenses with their very own money, eliminating the "lending" factor."
The product has been priced keeping in mind that just about any employee can afford to use the app and retrieve their earned salary in less than 60 seconds. Moreover, a simple user interface that tells employees the exact details of their transactions ensures there are no surprises at the end of the month. On the back of these features and EWA's adoption, Refyne plans to cover more than 1 million workers this financial year.
Banking on the rising importance of financial wellness
While EWA as a concept has taken off in several geographies, it is yet to be tested in India. Enterprises in the US, Europe and Southeast Asia are increasingly implementing EWA to modernise their employee financial wellbeing plans and achieve sustainable business growth. Given that a big portion of the Indian workforce has weak financial footing and added to that the havoc brought about by the COVID-19 crisis, EWA has a fair shot in the Indian market. Especially since the COVID-19 crisis has changed lives forever, and people will have a dramatically different view on personal finance. The pandemic has underscored the importance of having a robust emergency fund, sound financial plan and a sustainable financial wellness scheme.
Financial and physical health has emerged as the top stressor for Indians. 50% of India Inc. employees have reported that an uncertain future is their topmost source of stress, followed by personal finances (40%) and career growth (40%), in a survey concluded by The7thFold, a boutique HR and Wellbeing firm. Amidst the current situation, salaried folks are working to replenish their depleted savings, cover unplanned health expenses and prepare for the future. To add to the complexity, factors like remote workers and poor accessibility are forcing employers to rethink their approaches. Hence a no-fuss employee-centric product like Refyne's EWA has a big chance for higher adoption as employers become more conscious of employee wellness and more proactive towards ensuring financial wellness of employees for a happier and productive workforce.
Hear Chitresh Sharma, CEO and Co-founder Refyne, speak at People Matters TechHR 2021. Click here to register.