Compensation & Benefits
How EWA can impact financial inclusion and employee well-being in India
Every employee should have a right to a better financial future and this is what EWA aims to enable, shared Chitresh Sharma, Co-Founder and CEO at Refyne, in an insightful session at People Matters TechHR 2021.
Given India's health and social crises, workplace financial well-being has emerged as a critical aspect for organizations and HR leaders. Reports suggest around 52% of Indian employees think they're less efficient at work due to financial stress. And the pandemic has further exacerbated this crisis. So what can employers & HR professionals do to elevate workforce wellness?
In an insightful session at People Matters TechHR 2021, Chitresh Sharma, Co-Founder and CEO at Refyne, India's first & largest Earned Wage Access (EWA) platform threw light on how employers can leverage EWA to reduces employees' financial strain, attract & retains talent,  enhance productivity, and ultimately help employees build financial resilience.
Sharing about his journey, Chitresh shared that one of the tipping points for starting Refyne was to provide a solution to the manifold challenges the Indian workforce faces. India is a credit starved country and very new to credit system and lack of personal budgeting knowledge is a big impediment. What this results in is that majority of employees have limited credit score coverage and in times of mid-month crisis, are forced to take money from loan sharks and micro financing apps for a much longer period of time. This leads to a debt trap situation and makes them vulnerable to predatory lending. This has further been amplified by the pandemic, leading to increased financial stress. 
This is a concern for HR as financial stress impacts regularity, productivity, performance, and churn at work. It makes it difficult for employees to being their 100% to work, impacting theirs as well as organizational performance.
Earned Wage Access is all about giving the power of pay to people
Here is where Earned Wage Access can help by giving employees the access to their earned wages what they have worked for instantly, when they require it. This can happen in a matter of 60 seconds, without any documentation, at all times, at all days, thus helping them calibrate their income and expense cycle.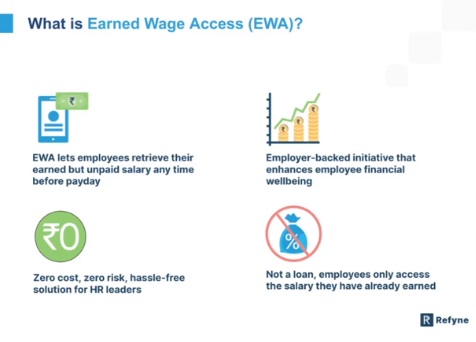 What are some of the benefits of EWA for both employees and employers? Let's take a look.
Giving employees the power of pay on the go
Research shows that 46% of urban Indians have been the most stressed about their financial health causing loss of productivity, irregular behavior, high churn, and high absenteeism. EWA unlocks new liquidity for employees and reduces their financial stress, fostering further trust between employees and employers. If someone has worked for a number of days, they should be able to access their salary according to their needs. EWA gives employees the power of pay on the go, giving them a safety net when it comes to financial inclusion.
Building a better employee experience
EWA helps employees feel their company is an employer first company. Employer's participation in employees' financial wellness shows intent, builds trust, resulting in better employee experience. Moreover employers need not change anything about their pay cycle. The plug and play platform is simple to implement, helps employees build sound financial health, thus providing added value to the employee-employer relationship.
Reduce attrition and irregularity
Data has shown that companies noted lower attrition rates among employees who signed up for Refyne compared to those who don't. Chitresh shared that one firm noted that attrition in July stood at 5.6% for employees who used Refyne compared to 8.37% for those who did not. Thus by building greater trust between employees and the management, EWA leads to uptick in productivity, reducing attrition and irregularity. Ultimately it helps in enhancing employer branding and attracting top talent.
Financial freedom for all
Every employee should have a right to a better financial future and this is what EWA aims to enable. India's financial health is taking a hit due to growing debt and depleting savings. Financial well-being fosters a psychological safety net for employees. In this direction, EWA helps employees to build their credit score. Hence efforts to inculcate community-level wellbeing with EWA can help the Indian workforce take advantage of a psychological safety net, reform their financial resilience, and attain financial inclusion.