Culture
Aegis: A progressive workplace
Happy Employees, Happy Customers and Happy Shareholders, the mission statement of Aegis provides the right employee experience thus making it an employer of choice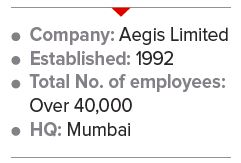 With a presence in 44 locations across 9 countries and with over 40,000 employees, Aegis manages almost half a billion customer interactions every year for over 150 clients across diverse sectors. With a company culture as diverse as its people, Aegis empowers its employees to achieve dynamic results. And this comes with a commitment towards the social, economic and intellectual growth of all its diverse stakeholders in an evolving business ecosystem. Aegis implements a four-point strategy — a sense of purpose, involvement of employees in CSR activities, enthusiasm and ownership, to ensure that employees enjoy and learn at work. The ideas that the "company belongs to the employees" and that employees need to be passionate about what they do have been ingrained intentionally at the workplace. 
The 'Get, Set, Go' program at Aegis caters to the end-to-end talent needs of the organization and appeals to a diverse workforce as it provides guidance with a progressive and enabling learning environment. Diversity and inclusion practices at Aegis are framed with a focus on improving employee gender ratio, catering to the needs of differently-abled, along with attaining economic, social, cultural and linguistic inclusivity. Today, 1.7 percent of Aegis's global workforce is differently-abled, 1.5 percent is over the age of 45 years, and 35 percent belongs to economically and socially disadvantaged regions.  The Global Talent Exchange Program ensures that employees can exercise their freedom, and gain the advantage of global exposure and experiences.

The organization also maintains the practice of facilitating open, honest and direct employee communication with the senior management, and applies the framework of 'CEO's Club' to bind employees across geographies and roles. 
Aegis' HR vision is "to create a progressive workplace that enables partnership for prosperity" while providing the right employee experience.