Culture
Creating post-pandemic work culture with human and tech
As HR and talent leaders rethink talent management and build a cohesive culture for the hybrid era of work, they must strike a balance between technology and human touchpoints, according to a panel of experts at People Matters TechHR Singapore 2022.
The early days of automation were about taking over intensive routine manual tasks, which also entailed machines replacing certain jobs. During the pandemic, we saw an accelerated adoption and modernisation of technologies in a significantly compressed implementation timeline. In the post-pandemic era, organisations are striving to declutter and balance the use of technology to enhance what humans bring to the table—innovation and experience. With a focus on the intersectionality of putting the two work together, leaders are following an intentional approach to tech adoption, asserts a penal of experts at People Matters TechHR Singapore in a session moderated by DN Prasad, Senior Director - People, Strategy and Operations at GovTech Singapore. 
For HR and talent leaders, one of the top focus areas in the hybrid era of work is achieving people and culture alignment, according to a Gartner survey. They are using technology to personalise people's experiences and allow people to have choices. At Coca-Cola, there is an established principle of 3Cs: co-creation, collaboration, and celebration. "Instead of mandating our people to be in the office three days a week, we encourage them to collaborate, co-create, or celebrate. Those are the moments when they should be present in person because of the relationship component," says Lisa Chang, CPO, The Coca-Cola Company, in a panel discussion at People Matters TechHR Singapore 2022.
For Shaswat Kumar, SVP, Customer Success and Delivery, Darwinbox, it's critical to boost empathy in the workplace and empower individuals to make choices to ensure sustained performance and bring a competitive advantage to the business. The workplace today is more than a place for people to sit at their desks, it's about meaningful collaboration and social interaction, remarks Shaswat.
Leveraging technology to optimise experiences
Exploiting technology to automate a task is one thing, "blending the use of tech and human skills to be able to make an optimal impact" is what organisations are struggling to achieve, says Alex Badenoch, Group Executive -Transformation, Communications and People, Telstra.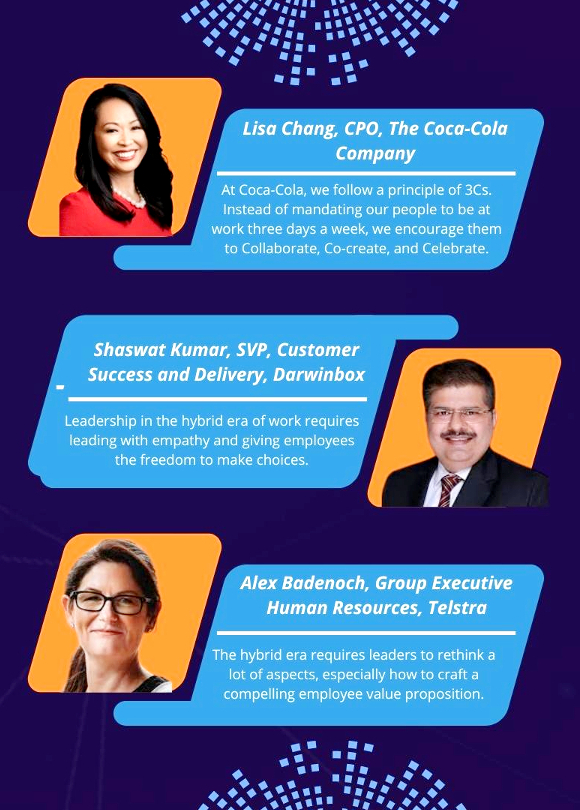 With employees in across 200 countries, "we are trying to figure out how to blend people and technology so that it's not one or the other," says Lisa. "We are still transitioning to an environment that leverages technology to enable seamless experiences for all our employees. There is a physical divide in the way technology is used in the office that makes it difficult for someone who is not in the office to feel included in a conversation." It's difficult to get a sense of the texture of the company and the leadership virtually. Not being physically present in the office does have its inherent challenges in developing and sustaining a culture, argues Lisa, making it hard to be a successful leader in the hybrid era. "I am very worried about the next generation of hybrid leaders, especially in how they address the challenges of their workers and ensure job satisfaction, motivation, and performance," says Lisa. 
How to rethink talent management in hybrid era
Close to 70% of 181 companies in Asia-Pacific are struggling to attract talent, especially those in Japan and China, according to a global study by Mercer done in July. As leaders across organisations prepare for the hybrid future, attracting and retaining talent remains a key concern. 
"Leaders are forced to rethink a whole range of aspects, especially crafting a compelling employee value position in light of the light labour market," says Alex. To be able to adapt and "catch up fast and innovate more quickly, leaders need to reweigh how they continue to possess critical skills and develop competencies" at all organisational levels, adds Shaswat. They need to invest in employees' growth, learning and development opportunities to retain them, which workers increasingly value as a reason to stay on a job or switch jobs. Chief human resources officers (CHROs) should do no less than reinvent the basic principles of managing talent and ensure that the organisation is living its purpose and values. "Talent leaders need to lead the change in terms of people, culture, and leadership. It's time for us to get ahead and to be focused on what's coming, not what has already happened," concludes Lisa.