Culture
The openness quotient: Companies on LGBT inclusion
It is a fact that societies and cultures that are open, inclusive and diverse are conducive to business and economic growth. But are organizations open to LGBT inclusion? Is this openness, or lack of it, having an impact on business and economic growth?
Despite the obvious advantages that come with a diverse and inclusive workforce, many organizations struggle to prioritize the same in their overall talent management strategy. Very few organizations have policies and programs that promote LGBT+ inclusion in their culture and workspace. Open For Business, a coalition of global companies that promotes LGBT+ inclusion, recently released a report that presents a comprehensive picture of the current state of LGBT+ inclusion globally and also demonstrates that successful businesses thrive in diverse and inclusive societies.
The report drives home the point that the spread of anti-LGBT+ policies runs counter to the interests of business and economic development. While the inclusion of members of the LGBT+ community has been a social-developmental issue for decades, the report reframes LGBT+ rights in organizations as an integral economic issue. It covers different geographies and sectors to bring forth globally relevant themes and presents a strong evidence base to show the connection between LGBT+ inclusion and business and economic growth. The evidence base is presented as 27 propositions on three levels — economic performance, business performance and individual performance.
Interestingly, the report mentions that in India, despite anti-LGBT laws, some of the major organizations, like TATA, Godrej, Infosys, Mahindra & Mahindra, Apollo Tyres, Reliance, Tech Mahindra, Dr. Reddy's, Lupin and Sun Pharma, back LGBT+ inclusion and have been vociferous in embracing workplace diversity. Companies are increasingly recognizing that cultivating inclusion and diversity can unlock business performance and boost competitiveness in the global marketplace.
Let's dive deeper into the findings of the report from the standpoint of India and try to understand how open Indian organizations are towards LGBT+ inclusion and how this openness, or lack of it, may have an impact on business and India's economic growth:
Cities: Creating an environment of innovation, entrepreneurship, and inclusion in major cities has become a top priority for policymakers around the world because of their potential to drive economic growth. The report presents evidence that open and diverse cities are more competitive, innovative, boast of a better quality of life with greater concentrations of skills and talent. The report also computes the 'City LGBT+ Inclusion Score' on the basis of various parameters like openness towards LGBT, the presence of visible LGBT community, public stigma, etc. The results for Indian cities were dismal, and barring few exceptions, most of the cities in the country were found to be hostile towards the LGBT community.
The report also explored the connection between inclusion and the economic performance of the city and discovered that more inclusive cities tend to have higher GDP per capita. An open city has low barriers to setting up and running a business, a transparent system of governance with strong digital infrastructure, a hub for skills and talent, a healthy "innovation ecosystem" and a dynamic cultural environment. 121 cities around the world were ranked and it was observed that Indian cities like Mumbai and New Delhi are only partially open for business with staggeringly low scores; whereas cities like New York, Berlin and Chicago are the true global players in terms of being 'open for business'.
Economic Performance: The report presents a rich base of data that explores the connection between inclusivity and economic performance. It collected comprehensive data to list 11 propositions which indicate that more inclusive economies are performing better. In all, the evidence points out to the fact that open, inclusive and diverse societies are better for economic growth and that discrimination can hamper long-term economic prospects of the economy.
The report showcases that LGBT+ inclusive countries are more competitive, have higher levels of entrepreneurship and innovation, and are associated with higher levels of direct investment. Furthermore, the report also notes that there is a notable rise in emigration or 'brain drain' in several countries, including India, as a result of anti-LGBT+ environment. Indian software professionals are opting to relocate to western countries where the LGBT+ environment is welcoming and accommodating. This choice that talented individuals are increasingly opting for translates into a loss of a capable resource for the country, industry, and economy. Similarly, the failure to provide effective healthcare facilities to members of the LGBT+ community adds to the negative economic consequence. Countries that do not support LGBT+ inclusion generally tend to have higher barriers for the members of the community in accessing health care services, resulting in a reduction in the overall level of workforce participation due to poor health. A World Bank study in India estimates that health disparities due to homophobia cost India's economy as much as 1.2 percent of its potential GDP in 2012.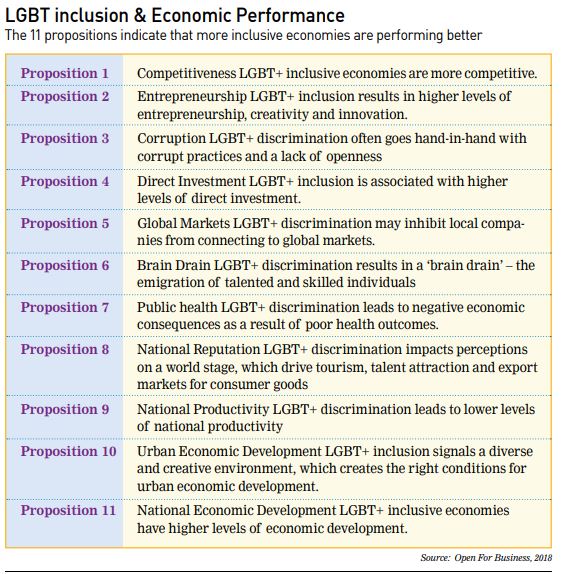 Business Outcomes: The impact of LGBT+ inclusion was seen on business performance through 8 propositions. The war for talent will intensify in the years to come, and companies which are LGBT+ inclusive would have an edge over others, simply because such companies are considered more progressive and meritocratic and, thus, will attract and retain more talent. LGBT+ inclusive companies are also found to have more innovative cultures. Studies point out to the fact that greater "network heterogeneity" leads to improved productivity of R&D teams. Also, companies that are more diverse and inclusive build better brand images and customer base, by anticipating customer needs and integrating their value systems more effectively. Some of the Indian companies like, Infosys and Tata which support LGBT+ inclusion are highly innovative, customer-favorite and consistently deliver superior financial performance.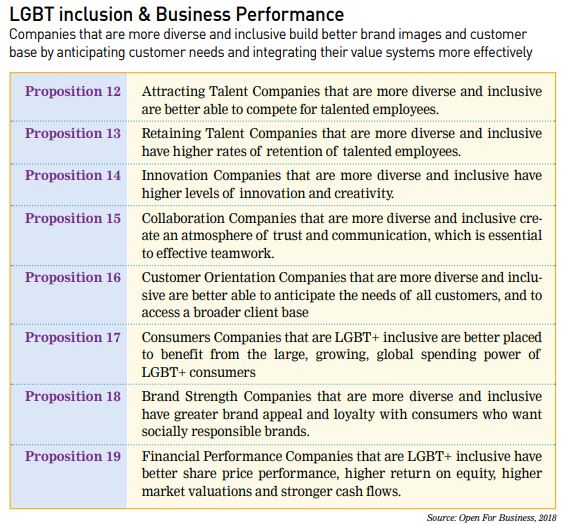 Individual Performance: Concealing one's true identity at the workplace can be an emotionally taxing and discouraging experience, which may have an adverse effect on individuals and their performances. However, members of the LGBT+ community in India are unlikely to be vocal about their identity owing to conservative value systems and fear of backlash. In India, 40 percent of LGBT+ people report that they have been harassed in the workplace, which is evidence enough to initiate the process of repealing archaic laws which are coming in the way of inclusivity, economic growth, and productivity. Research suggests that LGBT+ (and ally) employees at inclusive companies are significantly more likely to "go the extra mile" for company success (84 percent versus 73 percent) than those at companies that have a negative attitude toward LGBT+ employees.
Development and progress, if expected to be sustainable, must have inclusion and cohesion at its very foundation. While the inclusion of LGBT+ employees is still a reluctant affair, the fact that organizations are beginning to work in this direction is worthy of notice. Organizations need to work together to create an open, welcoming and favorable environment for members of the LGBT+ community, or risk being rendered inaccessible to a portion of the talent pool.