Culture
Treading with caution: India Inc. still wary of resuming work from office
As India Inc. prepares for offices to open post the lockdown, employees expect their employers to take responsibility to ensure a healthy and safe environment for them. How ready are they and what are some of the challenges in their way? Here are some pain points that every HR leader today is struggling with.
The COVID-19 epidemic has irrevocably changed the nature of work. As India Inc. prepares for offices to open post the lockdown, they are still wary of resuming work from office. Especially so, when employees and employers both are hugely worried about safety. A survey conducted by  MindMap Advance Research reveals that an overwhelming 93% of employees are anxious to return to the office on account of the fear of their health being compromised. Nearly 85% expect their employers to sanitize the office space, implement and enforce safety guidelines and advisories, and seek out new and innovative ways to protect their health while they are in the office. 
In addition, 82% said that they would agree to participate in measures that require them to be monitored, while 18% said that they would comply if the privacy of their data was assured. A high sense of solidarity and doing the right thing by their co-workers emerges strongly among employees, with 96% confirming that they would embrace and comply with health monitoring initiatives, despite the inconvenience.
The survey findings clearly reveal that as India Inc. prepares for offices to open post the lockdown, employees expect their employers to take responsibility to ensure a healthy and safe environment for them. While employers also obviously want the same and are taking a host of steps, nevertheless it is a tough situation for them given the many factors at play and the numerous pain points in their way.
Designing the Post-COVID workplace
Infection control is a new priority.  Employees will not return to an office that doesn't feel safe, and most of today's high-density workplaces, with extensive reliance on hotelling and shared ancillary spaces will need to be modified. Sensible strategies including physical distancing, like moving desks apart and removing chairs, adding barriers, enhancing cleaning and safety measures, as well as supporting those who are working from home longer.
Companies will try ideas such as making batches of employees and allowing about 30 percent of the employees to work from home by rotation. This will ensure lower occupancy in offices and more space for all. 
For example, Axis Bank will take a precautionary view and open up our offices in three phases, basis the situation and the guidelines from the government: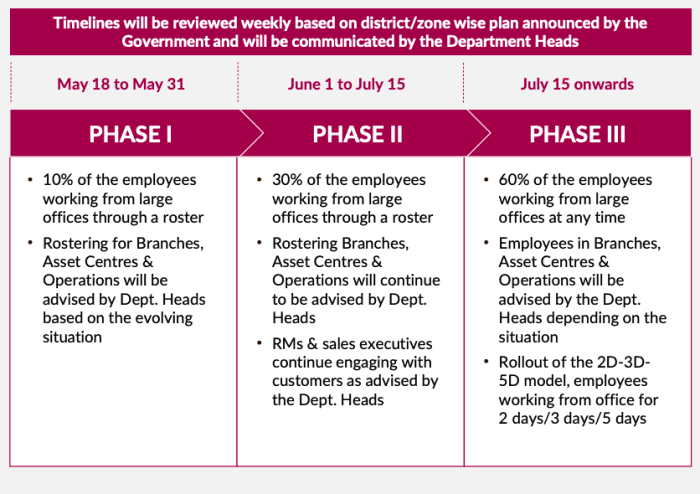 Delving deeper into designing space, US-based furniture company, Steelcase has suggested few measures when it comes to designing new workplaces:
Design for disinfecting: Select smooth surfaces that are easy to clean and fabrics that can be cleaned or washed. Consider materials that don't degrade with continuous cleaning. Utilize sensor systems to provide information about which rooms have the greatest occupancy and require and more frequent cleaning.
Introduce standing meetings: Open areas can become the new conference room by using flex screens with stools to create a space where people can naturally distance themselves and meet without being stuck in an enclosed space. The extra advantage is that standing and moving is proven to boost creativity by 60%, making it easier to get back to innovation work while maintaining an appropriate distance away from others.
Reduce density: To encourage physical distancing, consider removing chairs and spreading workspaces so people are at least 6ft/2m apart. For benches, consider a checkerboard pattern – removing spaces directly beside or in front of where employees might sit. 
Change geometry: Arrange and re-orient workstations away from a standard linear approach. Reconfigure freestanding desks to reduce sitting face-to-face without a barrier; rotate desks 90-degrees to face in different directions. 
Add division: Adding screens or panels is especially important when a minimum 6ft/2m can't be achieved. Add screens in front, beside and behind people - the higher, wider, and more easily cleaned, the better.
Hotelling shift: From allowing desks to be shared by multiple people throughout the day, to a single-use per day. Reinforce a "clean in, clean out" policy. 
Rejigging lunch breaks
Then there are questions regarding whether organizations should ask employees to bring food from home or should they change the infrastructure of their cafeteria? Many organizations have taken both routes. The Trident Group, for instance, is encouraging employees to bring food from home till the situation improves. It has mandated social distancing to be practiced in the canteen during serving of food as well as during eating. 
More so, in canteen areas members must sit on alternate diagonal chairs to ensure a minimum of one meter of distance between them. In addition, it has mandated that a checklist-based health monitoring of the canteen workers is to be made before commencement of operation and the admin team has also been tasked with ensuring periodical kitchen audit to ascertain cleaning and sanitizing of utensils, food containers, counters, table, chair, basin, etc. in canteens.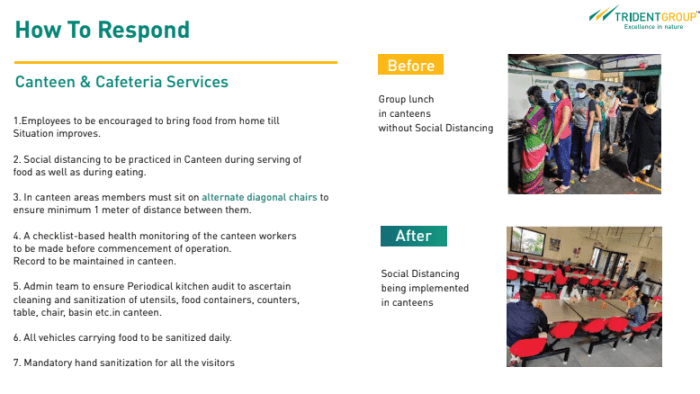 The Aarogya Setu App conundrum
In the recent guidelines for resuming operations, the Government of Haryana has mentioned that "It is mandatory for everyone to use the Aarogya Setu app." But, why is downloading an app advised mandatory for the employees? Employers are finding it difficult to introduce this as a mandate for their employees because it is difficult to check if they have downloaded it or not and second this also comes under breaching the private space. While a debate is on about the security concerns of this app, a security researcher Robert Baptiste tweeted about the issue and mentioned that the privacy of 90 million Indians is at stake. 
On the other hand, Communications and Information Technology Minister, Ravi Shankar Prasad has rubbished all the reports raising questions on privacy and security concerns over the Aarogya Setu app. He shared that the app is completely safe and that all stored data would be deleted after the COVID-19 crisis.
The minister said, "This app is completely safe and secure—data is secured for a very limited purpose and for a very limited period of time. And this is a completely COVID-centric app."
Talking to People Matters, Rahul Pinjarkar, CHRO, Trent Hypermarket said, "We have communicated to all the employees to download the app and we have also suggested that if others around you download it then it will be effective."
When asked about the security concerns, he replied, "No doubt, it's a debatable issue but we have to see the positive side of downloading the app. Since we come under the essential services category we are prone to risks." 
On the condition of anonymity, an HR professional from a global service provider mentioned, "We are not even attempting it right now. Since employees are working from home and resuming office in the coming few months are uncertain. If we are repeatedly asked then we can request our employees to download it."  
Earlier today, Aarogya Setu released a statement on the data security of the App.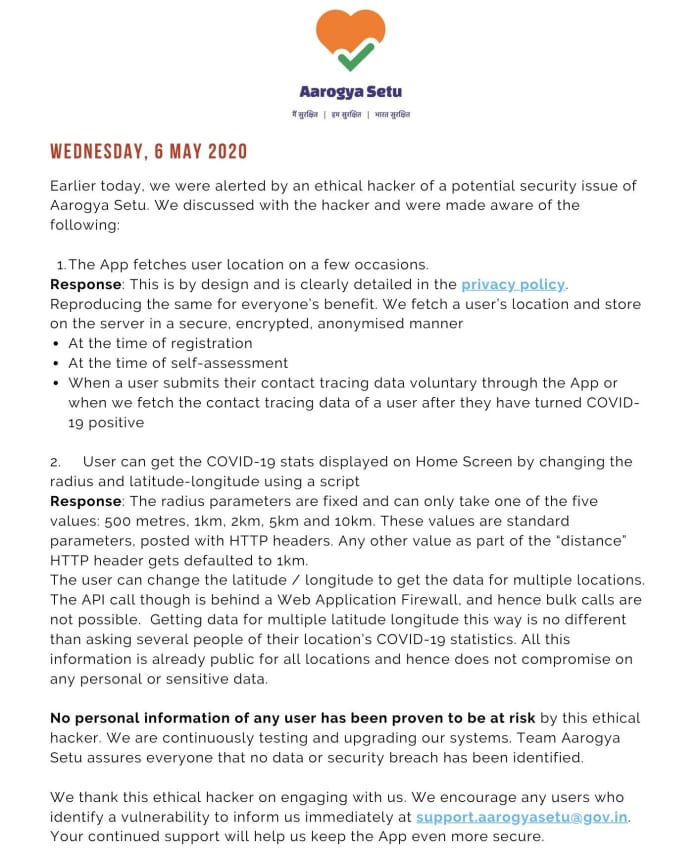 Challenges in onboarding while adapting to the new normal
 IT firms are adjusting to the new norm of virtual and distributed workforces while ensuring employees coming in to work at the office are safe by putting multiple provisions in place – such as maintaining social distancing, reorganizing of the workspace/office, re-evaluating how conferences and meetings are conducted and finally testing all staff members. However, one area where they are experiencing considerable pain is the onboarding of new hires. Many companies have resorted to virtual onboarding but they are still worried about the engagement quotient through this method. 
Vikram Ahuja, Co-Founder, Talent500 by ANSR reveals, "What we are seeing for new hires at our clients is that the process of onboarding is becoming challenging as it is a largely virtual process. Of course, this is all unprecedented and there are a lot of learnings. Companies are also concerned about the first impression a new joiner has given the physical and work culture constraints."
Relaxations may work for some, but not all
Many of the IT companies have now comfortably settled in the WFH mode and are planning to go back to the office in a phased manner only even after the lockdown is lifted. Hence the relaxations will benefit them the maximum. They can continue to operate in that mode while engaging most of their employees. Some are even considering exploring work from home for parents with children below 5 years to reduce reliance on external creches and also for people with caring responsibilities (young children, aging parents) to be called last.
However, the same cannot be said of a traditional manufacturing setup, which does not have the luxury of operating from homes. While factories have started complying with putting hygiene measures in place, distributing lunch and tea timings in order to avoid crowding of workers, and implementing social distancing measures even while ferrying them to work, however, for them, limited production and a labor shortage are still a problem and will continue to be for the coming months. 
Dr. Deepak Deshpande, Senior Vice President & Chief Human Resource Officer, NTT - Netmagic throws more light on this. He says, "The relaxations are conditional and come with restrictions to avoid the spread of infections. Adhering to the social distancing norms and yet ensuring the business is conducted as usual is a Himalayan challenge. Those companies that have successfully migrated to work from home model will be able to leverage these relaxations to the maximum as they have by now figured out the best ways to support their customers. Only where one needs to go to an office where physical presence is required for a few hours will be able to benefit the most from these relaxations. For brick and mortar companies these relaxations may not mean much. But as they say, every drop makes an ocean. So looking positively, something is better than nothing."
While these pain points will persist for some time as organizations smoothen out the new ways of working in the post lockdown phase, hopefully with time, India Inc's worries will fade out as both employers and employees get accustomed to the new normal.