Culture
Zoho believes that culture is something you grow from inside
In an exclusive interaction with People Matters, Rajendran Dandapani, Business Solutions Evangelist at Zoho Corporation gives us an inside view of the culture of India's most celebrated startups.
Zoho Corp is one of India's most respected SaaS startups. Founded by Sridhar Vembu, the 22-year-old cloud-based startup is one of India's most celebrated bootstrapped startups, famous equally for its products spanning all areas of business-from sales to finance to HR as much for its culture of learning. One crucial aspect of Zoho's culture is building talent from inside through its Zoho University.
Zoho University is a 13-year old institution ensconced inside Zoho which trains and employs high school graduates to become professional programmers. Starting from just six students in 2005 to now supplying as much as one in ten of the Zoho workforce, this learning initiative has come a long way in becoming a cornerstone of Zoho's success
Or as Rajendran Dandapani, Business Solutions Evangelist at Zoho Corporation says, "It ( Zoho University) is, in some ways, our secret sauce to talent acquisition and retention." In an exclusive interaction with People Matters, Rajendran gives us an inside view of the culture of India's most celebrated startups.
Zoho Corp is one of the oldest startups and most successful startups spanning over 20 years. How has the culture evolved at the company over the course of these years?
Culture, like Jason Fried, put it in his book ReWork, is not paint, it is patina. It is not something that you "apply from the outside," it is something you "grow from the inside." And the longer it is around, the deeper it is, the more profound it gets. So, yes, while many things have changed over time, most of our core values have stood the test of time, and we are happy to say most of our customers (who have been with us for that long too!) fondly acknowledge and appreciate that state of permanence in us.
It has evolved, too. We have learned the power of collaboration, the lack of importance of paper credentials, the importance of marketing, the benefits of deep integration with other product building companies.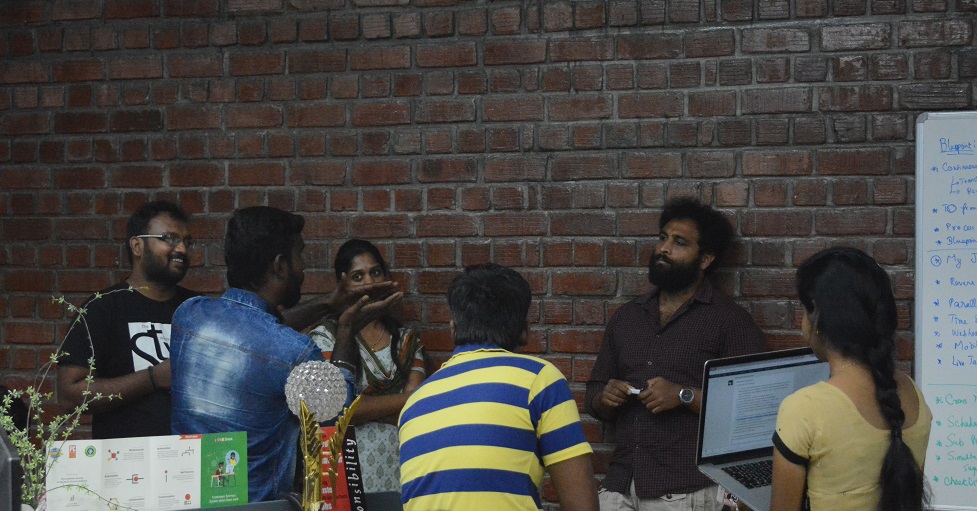 What are the few key core values which drive Zoho's culture?
We believe in building the best products. Our endeavor remains to
Make it world class


Refine them continuously


Plan for obsolescence
Then we believe in offering unbeatable customer value. This means
Always have free/trial products


Allow customers to make risk-free investments


Offer the best value, at any price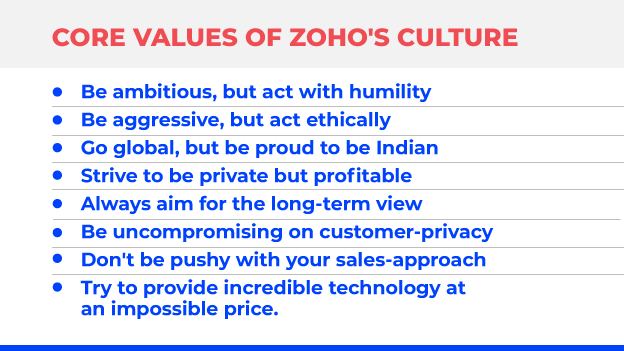 Further, we believe in being ambitious, but acting with humility; being aggressive but acting ethically; going global, but being proud to be Indian; striving to be private but profitable, and always aiming for the long-term view.
We also believe in being uncompromising on customer-privacy; on not being pushy with your sales-approach and trying to provide incredible technology at an impossible price.
The IT industry is dynamically changing, with reskilling becoming a pressing issue. How does Zoho invest in reskilling of its employees?
The most important thing that employees want, to reskill themselves, is time.

They don't want formal training--they can do a better job if left to do it at their own pace, in their own way. So, Zoho encourages fun projects, weekend-hackathons, mentorship models, and side-initiatives that let employees in all streams to wear the learning hat.
What do you think is going to be the effect of AI, automation, machine learning as far as the tech talent in Zoho is concerned?
As more and more of our products get AI-powered, we will need to build them so customers can sift through the results and pick the right insights.
So, the work is cut out, for the next couple of years, to bake AI/ML into every product, to redesign them so the insights bubble up naturally, and to deeply integrate them into other products so that the collective wisdom proves to be way more important than just one data point thrown up by a single product observation.
How does the Zoho product suite address the needs of today's HR managers?
The most important thing the Zoho product suite does is to liberate the managers from the chokehold of mundane processes that keep them busy but unproductive, efficient but not effective.
Releasing time and automating the regular processes, these tools (Zoho People and Zoho Recruit) help the HR managers to focus on the only thing that really matters - Human Resources Development!
How does Zoho build a culture which is more attractive to tech talent as compared to its peers? What are some of its approaches to retain tech talent especially since attrition is a big challenge in these times in the IT industry?
Daniel Pink talks about it in his book Drive. We aim to give people a sense of autonomy--nobody wants to be "told" daily what's to be done. We want to set up an environment so that the employee feels that they picked what they loved to do, and they are thrilled to be PAID for it.
We aim to provide a learning environment poised for growth, because nobody, however skilled and satisfied they are, wants to do what they are doing today, for the next ten years! So, we plan for a growth path and constantly refine it.
Finally, we strive to give our employees the sense of the big picture. What is the large edifice they are helping to build? What is the legacy they will be leaving behind, that will stand the test of time, long after transient movements between teams and companies have happened? When we instill that sense of big-picture, employees tend to feel inspired that much more.
Zoho is one of the Gold Partners at People Matters TechHR Conference 2018. Click here to register.