Leadership
225 years old State Street wants companies to take diversity more seriously
In an exclusive interaction with People Matters, Kathy Horgan, Executive VP and Chief Human Resources and Citizenship Officer at State Street Corporation speaks about the hiring focus of the 225 year old legacy company.
In March 2017, the iconic bronze statue of the Fearless Girl by Kristen Visbal became globally famous when it was placed temporarily in the Financial District, Manhattan, in front of the Wall Street icon Charging Bull. Fearless Girl was commissioned by investment firm State Street Global Advisors, the investment management division of State Street Corporation to advertise for an index fund which comprised of gender-diverse companies that have a relatively high percentage of women among their senior leadership cadre.
The plaque below the statue says, "Know the power of women in leadership. SHE makes a difference." Incidentally, "SHE" is also the fund's NASDAQ ticker symbol.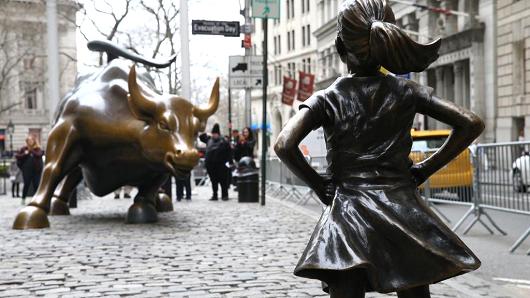 Image credit: Cnbc
Given the fact that the statue was commissioned by the 225-year-old State Street company, which is one of the world's leading providers of financial services to institutional investors, and a big champion of Diversity and Inclusion globally is no surprise. Take for instance, Ms. Kathy Horgan, who is the Executive Vice President and Chief Human Resources and Citizenship Officer at State Street Corporation and has over 22 years of experience, having worked in various HR roles across companies such as Old Mutual Asset Management, Mellon Financial Corporation, Boston Scientific Corporation and Baxter Healthcare Corporation.
Kathy is a member of the company's Professional Women's Network global advisory board and "Leading Women," a sponsorship program for senior women across the company. Kathy was also named to Profiles in Diversity Journal's annual list of "Women Worth Watching" in 2017.
In an exclusive interaction with People Matters, Kathy speaks about the hiring focus of the 225-year-old legacy company, its efforts to champion diversity and inclusion, and how it is leveraging technology to reskill employees.
State Street is a legacy company and on the list of the banks that are too big to fail published by the Financial Stability Board. How has the hiring focus at State Street changed over the years?
With about 225 years of legacy in the financial services sector, today I would say we have evolved to become more of a technology company than a traditional bank. As digital transformation takes over sectors, financial institutions like ours must adopt solutions that look to improve efficiency and enhance client experience to keep their data secure, organized, current and accurate. With this in mind, our focus today is on hiring great tech-talent that can bring in expertise in emerging technologies like AI and Blockchain to strengthen our offerings and financial solutions across the globe.
In India, we have three offices, in Bengaluru, Hyderabad, and Mumbai respectively, which are key talent markets for us. We focus on hiring skill sets that can contribute to three kinds of operations:
A technology development team that has the expertise in emerging technologies such as AI, Data Science etc.


Corporate shared services where we are hiring across functions such as compliance, risk management, finance among others


A business operations team that is servicing customers globally, ranging from investment management to technology roles


In comparison to other geographies, we have one of the highest levels of engagement in India and one of the biggest drivers of this engagement is the management training that we have invested in, as that is what ultimately motivates employees and their growth.
How is State Street investing in reskilling and upskilling people? What are some of the practices you follow to engage and retain top recruits?
The workforce today is witnessing rapid change across every dimension. As work continues to transform, people need to adapt and grow with the changing needs and processes. To make sure our employees possess relevant skills, we conduct enhanced training programs to build competency in areas such as data analytics, AI etc.
We are in the process of launching a new Learning Management platform called CornerStone in the latter part of the year, which will give our employees access to internal and external curriculum which they will also be allowed to personalize.
People will be able to identify content they find relevant for the work that they are doing or envision doing in the future. Along with on-the-job training, we will continue to let our employees have access to the right kind of training content and be a part of various projects and initiatives so that people can familiarize themselves with new applications.
What are State Street's core people strategy drivers?
At State Street, we are invested in providing our employees the very best. To drive efficiency on a consistent basis, we are perpetually training managers to help create a more supportive work environment. We believe that managers are the key to the ecosystem an organization has and it is for this reason that we have invested in training them on a consistent basis.
We understand that, eventually, it is the managers who will create the environment for inclusion with techniques that work across various work setups as this allows for more creativity, better problem solving, better risk management, along with a whole consort of other productivity related functions.


Technology is impacting all fields including financial services. What do you see will be the impact of technology on the financial services space especially when it comes to HR?
Technology is impacting all sectors, and the financial services sector isn't far behind. Tech disruption in HR is universal across industries and is already undergoing innovation across functions such as employee engagement, talent retention, competitive compensation, and developing the organizational leaders for tomorrow. With a more digital workforce, there needs to be a change in how organizations engage with its people daily.
At State Street, we have already started the transformation process by using technology platforms for recruitment, onboarding, learning and performance management. HR practices such as recruitment and onboarding, payroll, compensation, performance appraisal have become smoother because of the integration of technology in this space. Automation is increasing productivity, simply by taking away from the redundant tasks and bettering efficiency.
How is State Street creating a culture of diversity and inclusion? Could you throw more light on your global and Indian diversity initiatives and inclusion goals?
State Street is a champion of Diversity and Inclusion globally and is paving the way for more companies to take this more seriously. We are committed to building a diverse and inclusive culture within our own organization, a focus that comes from the need for diversity in thought and the fact that different people bring with them different experiences.
We're certainly focused on various aspects of diversity including gender diversity and continue to grow women in leadership roles globally and in India. We have a lot of initiatives that we leverage on a global scale, for example, we have a Professional Women's Network, a global network with a big presence here in India, to drive a culture that develops, values, and creates advanced opportunities for State Street women.
In 2012, State Street set three year and five-year diversity goals for the company globally so that we stick to metrics and increase the headcount of women leaders in the company.
We're also launching a pilot mentoring program where we plan to hire 20 women from different backgrounds in June for a six-month internship program to develop a pipeline of women talent. We have already collaborated with organizations like CFA, for this program to gain access to different types of talent for specific roles we have here. Through this program, we will not only be providing them with an opportunity to work with us, we will also mentor and sponsor these women.
Facilities such as day care centers and flexible work timing have also been incorporated to support women working in the organization and ensure that they have a smoother work life. Most importantly, we have broadened the spectrum and have been engaging the men working with us to understand diversity and inclusion on a larger scale.
We are committed to ensuring that diversity is not just a concept that organizations should implement, but a mindset change that should be ingrained into every individual's thought process.
Last year, State Street Global Advisors commissioned the Fearless Girl statue by Kristen Visbal which became globally famous as it was placed temporarily in the Financial District, Manhattan, in front of the Wall Street icon Charging Bull. What was the thought that went behind the initiative?
Fearless Girl is an important campaign for us and has sparked important conversations around the world, resulting in increased shareholder action on the issue of gender diversity. In the past year, State Street Global Advisors identified and reached out to 787 companies in the US, UK, and Australia that had no women on their boards through direct engagement, a letter writing campaign or using our vote to address their lack of board diversity. We've seen real progress as a result of these efforts — 152 of the companies we identified as lacking a single woman director have added a woman to their board and another 34 have pledged to do so.
We know our efforts can't stop at the board level if we truly want companies to adopt policies and practices that will help strengthen gender diversity throughout their organizations and ultimately contribute to a greater pool of female directors qualified to serve on a board. To build on Fearless Girl's impact, State Street Global Advisors is now calling on portfolio companies to create more transparency and share more data about the number of women they have at all levels of management.