Diversity
A 5-year outlook on the future of jobs in India
Answering a divisive question, the Future of Jobs in India: A 2022 Perspective by NASCOMM, FICCI, and EY reveals that the future of jobs will be determined by the countrys response to the inevitable impact created by the interplay of three primary forces - globalization, demographic changes and the adoption of Industry 4.0/exponential technologies by Indian industries
A lot has been said and written about how jobs will look like in the near future, but most reports and surveys tend to stick to global perspectives. There is a dearth of reliable and valid research works that study the future of jobs in the Indian context, with the country's unique advantages and challenges. However, the 'Future of Jobs in India: A 2022 Perspective' report, put together by NASSCOM, FICCI, and EY dives deep into gauging the scale of the impending change and establishing its causes and effects while answering questions about the future of jobs, workforce, and skills in India.
Drivers of Change
The report notes that over the past few years, a slowdown in the employment in core sectors alongside the concurrent emergence of new engines in job creation has reshaped the Indian job market. This evolution will continue for coming years, and the report identifies three main drivers of change that will determine how we work tomorrow. "The future of jobs in 2022 in India will be determined by the country's response to the inevitable impact created by the interplay of three primary forces — globalization, demographic changes, and the adoption of Industry 4.0/exponential technologies by the Indian industries. The impact of these three primary forces is expected to be disruptive on sectors such as IT-BPM and BFSI and relatively lower on core manufacturing sectors such as apparel and leather." The framework of these three evolving forces can be used to make the best sense of the future. These three megatrends have been further broken down into 12 key trends, which have been extensively studied individually. They also serve as handy indicators and parameters to evaluate the scale of impact they can impose on a bigger level:
Globalization: level of exports of Indian-based companies, adoption of exponential technology in advanced markets and its impact of offshoring, changes in the overseas job market for Indian workforce and levels of FDI flow in India.


Demographic Changes: rising middle-class, a high proportion of the young population and increasing urbanization.


Adoption of exponential technologies by Indian industries: the launch of smart connected products/services, the creation of highly optimized supply chains, business innovations, demand for resourceful planet and sustainability and new work arrangements.


The report concludes that this mix of factors will lead to a scenario in 2022 wherein 9 percent of the workforce will be deployed in new jobs that do not even exist today, 37 percent would be in roles that have radically changed skill sets, and 54 percent would have their job unchanged. "...despite globalization and adoption of exponential technologies, the majority of respondents still believe that demographic changes will have a significant impact on the future of jobs in India by 2022. The interplay of these three forces is leading to new business models in some sectors while redefining others, and as a result, driving the creation of new jobs in the economy."
The report also states that of the estimated 600 million workers in India in 2022, around 10 percent will be in the organized sector (compared to 8 percent today) and new-age methods in the agriculture and a sustained growth of the manufacturing and service sectors are likely to add a variety of new and restructured jobs. The new forms of employment would include contract employees in the infrastructure sector, micro-entrepreneurs, employer-entrepreneurs in technology-enabled models (like freelancers, SME artisans, delivery workers, employees in start-ups) and employer-entrepreneur models in the agriculture sector.
Industry-wise Predictions
The sectors of Automotive, Textiles and apparel, BFSI, Retail, and IT-BPM were chosen to be studied individually, owing to the high number of workers they employ and their proclivity for technology adoption. Over 130 business leaders, academicians and representatives of industry associations were interviewed to understand the challenges and trends unique to their sector. The following is a glimpse of the findings from each sector:
While BFSI has been increasingly providing digital and cloud based services, automotive and textiles are ahead in automation and IT-BPM is reportedly undertaking the reskilling exercise very seriously and diligently
Automotive
The report reveals that for the next 2-3 years, abundant and low-cost labor will continue to sustain India as an attractive manufacturing hub, post which, "with the introduction of connected cars, big data, and Cloud computing, new skill-sets will be required in design, operation as well as other elements of the automotive value chain in the next five years." The report suggests that the sector would continue to hire at a rate of 2-2.5 percent year-on-year (as opposed to the norm of 3-3.5 percent) and employ 14.3 million workers in 2022, of which 60-65 percent would be requiring new skills.
The jobs of welding technicians, painting technicians, press machine operators, inspection assistants and in-plant material handlers are at maximum risk. A demand for automobile analytics engineer, 3D printing technician, machine learning based vehicle cybersecurity expert and sustainability integration expert will be created; whereas the role of design engineers, operations excellence managers, mechanical engineer, clay modeler and customer care executive will witness a change into interaction designers, continuous improvement experts, mechatronics control engineer, 3D clay modeler and customer care expert, respectively.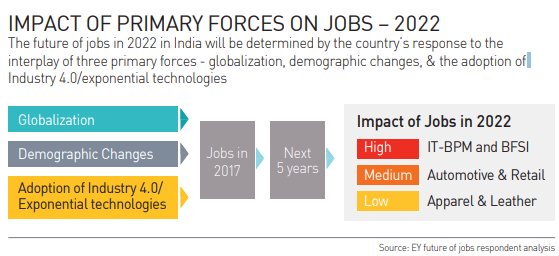 IT-BPM
There is no doubt that the IT-BPM sector will undergo a transformative change in the next few years. In such a scenario, 97 percent of the respondents view reskilling as a key initiative to be prepared for tomorrow. "IT-BPM sector would continue to hire at a rate of 3-3.5 percent year-on-year against a historical growth rate of 6-6.5 percent to reach 4.5 million in 2022. 70-75 percent of the jobs in 2022 would require new skill sets... Of the 4.5 million jobs of 2022, 10-20 percent would be new jobs." Some of the new jobs that will gain currency will be: computer vision engineer, wireless network specialist, embedded system programmer, AI research scientist, language processing specialist, migration engineer, RPA developer and cloud architect.
Similarly, of the 4.5 million jobs in 2022, some 60-65 percent is expected to undergo change. Some of the roles that would witness a change are: database administrator (into database based service analyst), software developer/designer (into UX designer), data mining/warehousing expert (into data analyst) and marketing manager (into digital marketing manager).
Textiles and Apparel
The rise of the middle-class and the increase of exports in the sector are the two biggest factors which will determine its trajectory in the coming years. Both are expected to help the sector maintain a healthy growth rate. While automation has already begun for roles in spinning and weaving, it is set to intensify and take over the job of helpers, fabric cutters, packers, pressers etc. The report says that industry experts estimate that one robot can replace around 100 workers in a typical Indian textiles plant. "The weaving and garmenting sub-sector would continue to hire at a rate of 8-8.5 percent year-on-year against a historical growth rate of 9-9.5 percent to reach 40.7 million in 2022. 45-55 percent of the jobs in 2022 would require new skill sets."
The roles that are at the risk of being obsolete are that of the packer, checker, folder, helper, and material handler. New jobs for environmental specialists, apparel data analyst, IT process engineer, PLC maintenance specialist and e-textiles specialists will come to the fore. Simultaneously, the roles of merchandizer, fabric cutter, and pattern master will become increasingly digitized, and involve more machinery.
BFSI
While the growth of the banking and insurance sub-sector is expected to be around 3.5-4 percent year-on-year, as opposed to 4-4.5 percent, it will have employed 2 million workers by 2022. The rise of FinTech companies has industry experts anticipating at least a 15 percent growth in hiring. However, 70-75 percent of the jobs in 2022 would require new skill sets. It doesn't really come as a surprise then that changes in the existing processes (84 percent) and reskilling of current employees (74 percent) are the top industry initiatives. Robotic/automation (84 percent) and social and mobile technologies (79 percent) will be the technological trends dominating the growth of the sector.
With the introduction of big data and cloud computing, new skill-sets will be required in design, operations, as well as other elements of the automotive value chain in the next five years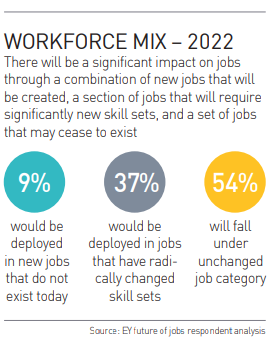 New and upcoming roles in the sector are likely to be cybersecurity specialist, credit analyst, robot programmer, blockchain architect and process modeler expert, while the job of a data entry operator, teller, cashier, underwriter and data verification personnel are expected to be worst hit. Furthermore, the profile of a loan associate will transform into that of an investment fund manager, much like that of a customer associate to issue redressal specialist and chief technology officer to chief digital officer.
Retail
The new and changed jobs in retail would include working with big data and blockchain, and their importance would only increase with the adoption of technology. While the growth of food and grocery sub-sector is expected to fall to 0.5-1 percent against the present 2-2.5 percent, by the year 2022, of the 22 million employees working in the retail sector in India, 5-10 percent will have a job that doesn't exist today and 25-35 percent will require a new skill set. Nearly 15-20 percent of the current jobs in the sector are threatened, and the maximum impact of adoption of the technology of jobs will be felt in warehouse management. With robotics transforming the working of the sector, the focus of 90 percent of the respondents in the sector is on reskilling their employees.
The roles of the cashier, sales representative, inventory associate, and stock boy could also be threatened, whereas some new roles that will come up will be: retail data analyst, digital imaging leader, IT process modeler, digital marketing specialist and customer experience leader. The jobs that are most likely to transform are: sales associate (into fashion consultant), store assistant (into product facilitator), warehouse coordinator (into inventory management and logistics specialist), and package sorter (into package sorting machine operator).
The report takes cognizance of the fact that a few of these sectors have already made headways in certain domains of technology. While BFSI has been increasingly providing digital and Cloud-based services, automotive and textiles are ahead in automation and IT-BPM is reportedly undertaking the reskilling exercise seriously and diligently. In addition to exhaustively examining the sector in its entirety, the report also discusses the most important technology developments, key industry initiatives taken and barriers to adoption of the same.
The report includes a set of recommendations for the government to initiate favorable policy reforms, undertake skilling and reskilling initiatives efficiently, create a conducive environment for start-ups and focus on employment-creating sectors. It suggests that for the industry to be ready for Industry 4.0, embracing the online economy, reskilling employees and forming partnerships with the government are essential. For the academic, the authors of the report recommend focusing on cognitive and judgment-driven skills and introducing tailored courses with flexible completion timings. However, the most important advice it has for the individual who will be scouting for jobs in 2022 is to take ownership of life-long learning and embrace the online economy. More importantly, it provides a blueprint to achieve the mentioned objectives and provides a starting point to be prepared in time for 2022.