Diversity
Is India Inc's growth inclusive?
The Making Growth Inclusive 2018 Report gauges how socially and economically inclusive Indian organizations really are and asks if organizations are responsive towards the disadvantaged, vulnerable and marginalized
In a bid to make Indian businesses and companies more responsible and aware of their role in the progression of the society, the Ministry of Corporate Affairs released the National Voluntary Guidelines (NVGs) in 2011 with nine principles ranging from consumer value, environmental protection, ethics, responsibility, and transparency to sustainability, human rights, advocacy, and lobbying. While their nature is progressive and comprehensive, NGVs have struggled to build a stable Indian narrative on corporate citizenship and responsible business practices in the country. Today, as India grapples with an acute disparity in wealth levels, inadequate employee safety, the detrimental impact of business on communities and environment, and lackluster job growth, it becomes imperative to ask, how inclusive is the India Inc. when it comes to growing and progressing as an economy? What is the role of the top companies in making this growth equitable and beneficial for all?

The 'Making Growth Inclusive 2018: Analyzing Policies, Disclosures and Mechanism of Top 100 Companies' report, prepared jointly by Praxis, Oxfam India, Partners in Change, and Corporate Responsibility Watch, provides an unequivocal picture of just how inclusive our progress has been. The report has a unique India Responsible Business Index (IRBI) as its core constituent, which analyzes disclosures from the top 100 listed companies on the Securities and Exchange Board of India (SEBI) on the following five parameters: non-discrimination in the workplace, respecting employee dignity and human rights, community development, inclusiveness in supply chains and community as business stakeholders.

All of these elements cover the nine principles of the NVGs and IRBI measures voluntary disclosures, policy commitments and mechanisms made by companies in line with the NVG principles. Information and disclosures in the public domain are recorded and sent to the company for verification. Each company is then given a score, which includes the composite value of policy and knowledge scores, against a total of 1. Here a look at the findings of this report with regard to the five elements of the Index:
Non-Discrimination in the workplace
More than half of the top 100 companies in India have specifically identified women (61), persons with disabilities (56) and religious minorities (53) as vulnerable groups, with regard to recruitment and career employment. While 48 consider SCs, 32 of them also identified sexual minorities as a vulnerable group and only 18 having done the same for scheduled tribes. However, 24 of the organizations have not even publically committed to non-discrimination as a feature of their recruitment process.

Furthermore, despite what the law says, policies related to differently-abled people find mention in only 19 organizations, and anti-sexual harassment policies are not disclosed in the public domain by at least four companies. Only 27 companies were found to have disclosed their policy on board diversity publically, and only 7 go onto reveal the actual steps and mechanisms to ensure their commitment to the same. Non-discrimination at the workplace, which forms the basis of the third principle of NVGs, is an integral part of ensuring a level playing field for individuals. Compared to the previous year, the element of non-discrimination in establishing an inclusive workplace has progressed in a few parameters and faltered in others.
Respecting employee dignity and human rights


Principles three and five of the NVGs safeguard employee rights and interests against exploitation. Despite the elements related to this component of the Index witnessing an evident improvement since last year, it is pertinent to note that 7 percent more companies are not being transparent about the wages they give to their employees. Additionally, the lackadaisical attitude with which organizations look at contractual employees, and in many cases even refuse to identify them as such and deny them social benefits, is likely to become a rallying point in the future.

While most top organizations in India recognize the association of employees (68) and collective bargaining (52) as the rights of their workforce, only 16 of them have made known the systems and processes to ensure the same. In a continually worrying trend, assessment of workers' rights and labor issues continues to take a backseat, with 90 of the 100 companies not disclosing their internal systems to undertake the same. Surprisingly, the number of organizations having no comprehensive policies on neither minimum nor fair living wage has gone up from 64 last year to 69, and only 6 companies continue to commit to providing a fair living wage to their employees. While a healthy number of organizations (91) report a strong policy commitment to health and safety of their employees, 40 of them need to disclose internal systems and mechanisms to assess it.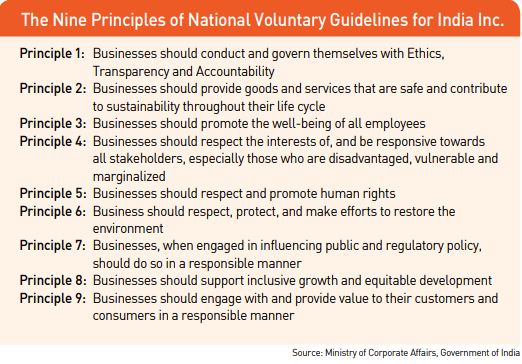 Community development
With an unmistakable improvement over last years' findings, top Indian companies seem to be more aware of their responsibility towards community development and are undertaking corporate social responsibility projects more seriously. While the number of companies identifying specific marginalized groups for targeted interventions has moved up from 81 to 86, a few challenges remain. For instance, 81 organizations did not disclose information regarding the identification of backward region as a key aspect for the implementation of their CSR projects. Additionally, 84 of the organizations fail to assess the needs and aspirations of the community before planning their CSR projects, and not a single one of them undertake stakeholder consultation for formulating their CSR policies.

While there is credit to the fact that India is the first country to introduce a legal mandate for CSR, there is also recognition of the compliance-based mindset that has manifested itself. Additionally, the focus of organizations has been limited to a few categories and an absence of mechanisms to measure their impact and community validation are some of the bigger challenges highlighted in the report. Despite inclusive growth and equitable development being enshrined in the eighth principle of NVGs, the report takes cognizance of the allegations against a few pharmaceutical companies that were found to be running health camps in the garb of CSR projects, reported use of CSR activities for money-laundering, and to use CSR activities for reinventing the business brand image.
Inclusiveness in Supply Chain
In a significant jump, 57 companies (7 more than in 2016) have displayed increasing recognition to local suppliers for their businesses. However, those providing systems to recognize local suppliers have reduced from 18 to 15. Similarly, disclosure related to recognition of procurement of raw products at a fair price has gone down from 6 companies last year to just 1. In a perturbing trend, 34 organizations have made no disclosures extending their child labor policies to their business supply chains. Likewise, most companies are yet to extend their human rights and employment policies to supply chains as well, and compared to last year, fewer organizations are doing so. Furthermore, the fact that workers in supply chains are not getting their due attention is established by the finding that only 6 companies (3 up from last year) have systems to assess the local needs of local suppliers, vendors and others stakeholders. Only 4 organizations have disclosed assessing issues related to workers' rights in supply chains.

Of the top 100 companies studied, 26 have publically published Modern Slavery Statements, yet, except in a few instances, the report says, all these statements are published on companies' global websites and do not explicitly mention the extension of the same to their Indian operations. Overall, the performance of the companies has been rather abysmal, and the marginal development that has taken place over the last year indicates the glacial speed with which the social and economic inclusiveness are being embedded in supply chains.
Community as Business Stakeholders
More companies today (70) acknowledge judicious use of local resources than last year (62), and 44 of them also provide systems to ensure the same. 54 organizations also recognize the need for conducting impact assessment with communities while only 35 have stated provisions for the same; only 9 mention public hearing or communication with them. More disappointing, however, is the fact that 95 of the companies do not recognize their responsibility for providing similar or better-living conditions and services to project affected people. 96 of the companies also do not recognize free and prior commitment through discussions for land acquisition and displacement. Only 13 companies, one more than last year, stated a commitment to respect the local culture and systems, indicating that Indian organizations have largely failed to recognize and create knowledge systems to promote local culture and environment.

On this parameter, Indian organizations are undoubtedly doing the worst. They fail to recognize communities as important stakeholders in their businesses and downright ignore the impact it creates on them. Only 2 companies disclosed information on the number of people displaced in 2017, and not a single one stated the number of people rehabilitated or employment generated from the local area.

While some positive progress is visible in community-related development and non-discrimination in the workplace, other three elements fare rather poorly. These sentiments also vary greatly across different sectors and industries, but, overall, PSUs disclose a higher level of commitment on the index elements than private companies. The report aptly states, "The overall data, especially when seen alongside the profits of corporate India, continue to reflect a distance between the interests of business and shareholders and those of communities and workers. There is a need for a push from State, Civil Society, as well from leaders within industries, to bring due focus to the conditions and processes of production, rather than simply treating communities as recipients of business profits."

History has been witness to the fact that if the benefits of progress aren't shared uniformly, sooner or later, disruptive episodes of regression have followed. The disparity of power, wealth, and accountability between corporations and individuals today has already reached unfathomable levels, and if not consciously reversed, it will set the stage for a problematic showdown sooner or later. Inculcating willingness for an equitable and just growth, one which benefits maximum individuals, if not all, is the only comprehensible solution on the horizon.