Diversity
'We change the world with our examples, not our opinions'
Making way for a 'movement', instead of an initiative in the space of inclusion, senior leaders at Godrej Agrovet got together for a virtual event on the occasion of International Women's Day for some gripping conversations, and thought-provoking reflections, with a special Chief Guest.
In a first-of-its-kind virtual women's day celebration, Godrej Agrovet Limited (GAVL), a diversified agribusiness organization, set the stage for conversations and reflections as it launched its very first employee resource group on the occasion of International Women's Day, to enable and empower women at the workplace.
Kick starting the "WeForShe" virtual event, leaders from Godrej reflected on how the journey of gender inclusion has evolved for the traditional agribusiness setup, followed by a powerful and inspiring conversation between Godrej's Head of Diversity and Inclusion Parmesh Shahani, and award-winning Filmmaker and Director (Lipstick under my Burkha, Bombay Begums), Alankrita Shrivastava, on how representation and allyship accelerate inclusion.
Read on for highlights from the session.
Shifting thinking before numbers
The virtual event began with Abhishek Kumar, AVP HR, GAVL talking about the genesis of the "WeForShe" idea and how the concept was co-created with inputs from the women employees at every stage. This was followed by an interesting conversation between Parmesh Shahani, Head - Diversity and Inclusion, Godrej Industries Limited and Godrej India Culture Lab, and Balram Singh Yadav, Managing Director, Godrej Agrovet Limited, on how Godrej Agrovet has transformed over the years as an inclusive business and what diversity goals the organization is working towards.
Balram shared that while Godrej Agrovet is highly geographically diversified, it was initially a challenge to onboard women at remote locations, given the industry is predominantly represented by men. This challenge was overcome by making efforts to transform the thinking and approach to inclusion and creating equitable opportunities.
For GAVL, while it is one thing to have quantifiable goals for diversity, the philosophy isn't number driven but instead a strategy to embed diversity across levels and functions. The reason for limiting women to selective roles and geographies in the early stages of boosting diversity, noted Balram, was not to restrain but to ensure that the firm is providing the right ecosystem and facilities to enable women. The steady progress in this direction, said Balram, enlightened the younger workforce and illuminated the older workforce.
GAVL has committed to increasing women representation to 10% of the current workforce.
Getting to 2.5x the numbers in four years has already been an educational journey for the leadership, shared Balram, understanding the role that regional and internal policies and thought processes play in creating a bigger strategy. "We understand that we have to create an enabling environment, while also understanding what is acceptable and not acceptable."
Balram added, "Our effort for the next phase is to demonstrate success. We are a diversified company and we are identifying if we can have all women sales teams, or all women factory teams. We are set to deliver an example in this space." Beyond representation, the organization is also working towards capability building as a critical piece in preparing women for senior leadership and decision making roles.
Balram brought to fore an interesting reflection. While the informal sector has witnessed tremendous participation of women in the workforce, it is in fact the formal sector that is struggling.
Sharing how COVID has enabled the government to open their eyes and develop existing regulatory ecosystem towards being accepting of virtual work, he pointed out that this development is likely to create greater employment opportunities for women, which will cascade to policy reforms, underpinning the impending pivot to greater inclusion for women at the workplace.
Highlighting that the economy will see change and it will be much faster than it has been in the past, Balram said, "The stage is set. We have to recruit faster." 
An ally pledge, making way for cultural transformation
Concluding the first segment of the program, Parmesh encouraged the attendees to take a pledge that the organization has designed to eliminate bias and foster inclusion. Here's what the pledge says: 
    I pledge that I will not discriminate against any team member or applicant for employment, or any external vendor on the basis of nationality, race, colour, religion, caste, gender, gender identity/expression, sexual orientation, disability, social origin and status, indigenous status, political opinion, age, marital status or any other personal characteristic or status.
    I further pledge to respect the uniqueness of each individual I interact with and to be humble to challenge my own biases and learn and grow in the process. I will be bold to call out biases and challenge inequities whenever I encounter these, in others as well as in my own self.
    I will add my voice to support diverse opinions, ideas and ways of being to help forge an inclusive Godrej Agrovet; an organization where everyone can be themselves and bring their whole selves to contribute to the success of the organization.
'Women are not mere objects in a male world'
In the second segment of the "WeforShe" virtual event, Parmesh Shahani invited award winning Filmmaker and Director Alankrita Shrivastava to share her experiences as a woman storyteller and the challenges she faced both by being a woman and for wanting to narrate women centric storylines through her craft.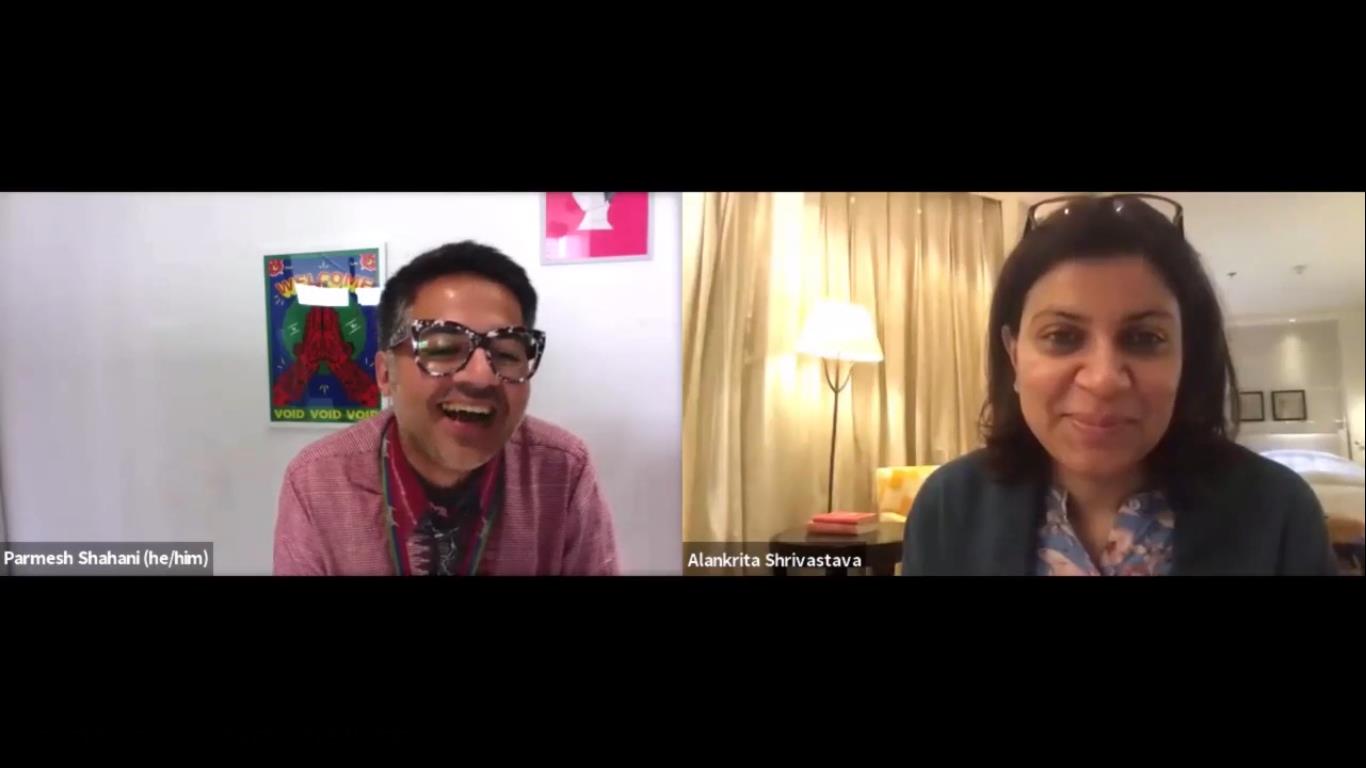 Recalling a statement by Alankrita made two years ago - Women are not mere objects in a male world - Parmesh sought Alankrita's thoughts on if she sees any shift in how women have been portrayed in Indian cinema since then. Alankrita noted that the space indeed is opening up. "Streaming platforms are increasingly making space for women led work. There's much more understanding and openness to stories of women, given the presence of women in executive roles across OTT platforms."
Exposure has helped the audience be more receptive and open to women focused stories, she added. This goes to show how exposure to ideas and awareness around gender parity at the workplace can also be instrumental in making the larger workforce more inclusive in thought and practice.
Reflecting on her experience curating women focused stories, Alankrita recognized the presence of an inherent systemic bias, or "institutional bias", in the media industry, establishing that "the system isn't geared to air stories that challenge patriarchy."
Sharing how she overcame gender driven obstacles, Alankrita highlighted how even in the media industry, the presence of women in executive roles is imperative to be able to put women at the center stage, and this is crucial to not just provide opportunities but also build a community of allies. "It's interesting when women bat for each other," said Alankrita as she shared that the one person who was open to taking a chance on her idea was another woman.
Alankrita reiterated the need for 50:50 representation to reinforce the need for equity. "The importance of having women at all levels and in all teams is undeniable as a lot of men are unable to see their perspective." On being asked about the popular perception of women being competitive among themselves, Alankrita shed light upon how patriarchy has enabled such animosity, and not just for women, but has also impacted men by putting them in boxes.
"Patriarchy has survived because of the collective might of cisgender men. As watchdogs of patriarchy, women have been led to look at other women as competitors instead of looking at men as competitors."
She acknowledged that the fear to lose out on the little they have has become a trigger pitching women against each other across fields. She insisted that if women want to see change, they need to ally with each other. 
Walking the talk on diversity
Committing to take the diversity agenda forward with the launch of the Women's employee resource group in the final segment of the virtual event, GAVL's Head HR, Salil Chinchore encouraged women at GAVL to actively participate in the ERG to stay connected, and leverage the platform to build confidence and capabilities. 
He also encouraged the workforce to nudge their fellow women colleagues to participate in the ERG connects and take the time to be a woman, beyond being a peer or leader.
Inspiring the workforce to walk the talk on diversity and move beyond lip service, Salil advised, "The world is changed by your example, and not by your opinion."
With employers and leaders being on their individual journeys of understanding diversity, overcoming bias and enabling inclusion, it is crucial to provide a platform for uncomfortable conversations and break down the ceiling and myths limiting individual accomplishments in any form. Any such change can suffice only on the back of strong leadership support and consistent action(s) to eliminate bias and foster inclusion.