Diversity
Partnerships at home for Professional and Personal success
Successful partnerships require a shared goal of creating a positive, collaborative environment that brings out the best in each member.
An enabling eco-system at work and home along with Knowledge, Skills, Competence and Attitude are important ingredients for a successful & fulfilling professional career.
Many books, articles, self-help guides, courses discuss factors for enabling career progression, building effective professional partnerships etc. Progressive organizations have structured programs for skill building, networking, career progression, mentoring and coaching. Employee Resource Groups (ERGs), Allyships are also available to employees for enhancing career progression.
Essential partnerships at home that significantly contribute to successful careers, specifically for women professionals seldom get discussed and often get overlooked in discussions.
This article focuses on Identifying, Building and Leveraging the key partnerships at home   
What are partnerships
Partnerships are arrangements between two or more people who agree to share responsibilities, ownership, take an active interest in the other and combine resources and skills for shared success. It requires commitment, investment from each party to ensure long lasting, impactful, satisfying and fun relationships. 
Partnerships are not just an issue of fairness and equality but one of efficiency
Identifying key partnerships 
The primary aim is to enable a healthy, supportive, and harmonious environment that brings out the best for each member. 
This requires intent, commitment, skill, self-awareness, and awareness about the important others in the eco-system. 
There are several partnerships that can meaningfully contribute and enable personal & professional lives.
At home 
A host of stakeholders form the partnerships required at home around domestic chores, child/ elder care, repair, and maintenance, managing finances, bill payments, planning and organizing social and leisure activities.
At work
Workplace stakeholders enable an individual's to perform current role effectively, become impactful, grow successfully in their careers, establish credibility with personal branding, and having a good network for professional visibility. 
Building Partnerships
A high level of commitment persistence, transparency & trust between partners is essential for sustained mutual respect that allows honest and authentic communication. This also requires each partner to co-create a collective "We" that fosters collaboration for achieving shared goals. These in fact can be fun, enlivening, immensely creative which also allows each partner to grow and be their best versions.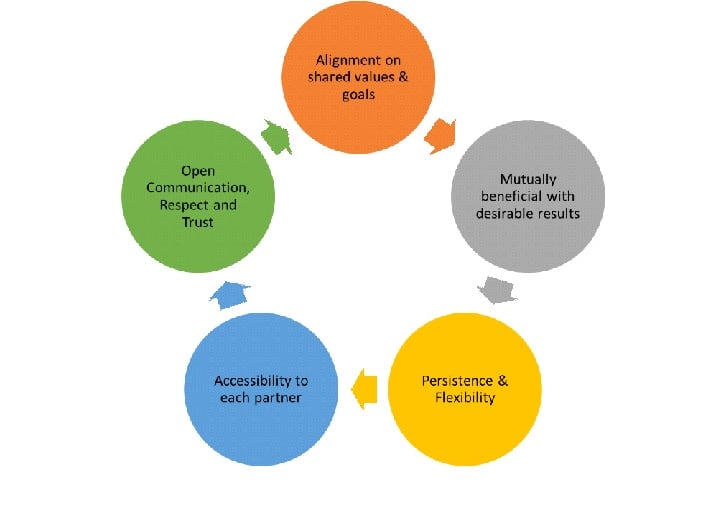 Key ingredients of successful partnership
When is a partnership considered equal between spouse/ partner/ co-parent/ significant other?
While this article focusses on the key partnership that is usually with a Spouse/ Partner/ Co-Parent/ Significant others, for the singles, key partnerships could be with their immediate families, friend, neighbourhood, household help.
Removing norms around gender and relationships helps in discussing power and control, hopes and fears, and expectations about the roles partners should play in each other's lives. It requires navigating the barriers of social expectations.
The likely positive outcomes are:
Roles get fulfilled based on individual strengths and interests & not based on individual genders.
Dual-career partners split up paid work and unpaid household work that include parenting and managing domestic chores.
Helps create a safe, non-judgemental, non-competitive, supportive environment to discuss psychological and social issues & for reaching mutually beneficial agreements.
Having Career choices that are interdependent and not parallel.
 Leveraging partnerships at home
Domestic chores, Parenting, Managing Finances, Care Giving, Leisure & Self-care are usually the most important areas that have the potential to become roadblocks in relationships and in careers. Expectations around these aspects need to get negotiated and managed for mutually satisfying outcomes between partners. Having an honest conversation for building consensus, supporting each other around the common shared outcome is the key.

Various Partnership Activities at Home
Sharing Responsibilities 
Routine chores can cause friction between partners. Like at workplace, the essential management principles (Planning, Organizing, Time Management, Delegation, Decision Making, prioritizing etc.) are equally applicable at home.
Here are a few pointers to navigate towards better outcomes and reduced stress in relationships. 
Including family and making chores a family activity builds positive association around chores even among children.
Setting clear expectations helps divide responsibilities, assigning tasks clearly.
Breaking chores into chunks helps release time for important activities around self- care, leisure, health, hobbies etc.
Refraining criticism and respecting partners way to tackle tasks as long as task gets done.
Prioritizing is critical to decide important versus what can be let go. 
How & when to have conversations: a few pointers
Choosing an appropriate time: Picking time when both partners are calm and open to hearing each other in a non-judgmental and safe ambience can make discussions productive. 
The intent and attitude during the conversations:  Moving past the "Right/Wrong" mentality, dealing with the present and not dredging up the past is more likely to get desired outcomes.
Being tolerant to mistakes helps to share vulnerabilities with each other, thus ensuring  a stronger bond and commitment to the partnership. 
Accepting that disagreements will occur. Understanding & mutual respect will help to move on from disagreements and or breakdown in communication.
Bringing out the best in each other
Here are some simple tips that can help both partners find time and space together and separately. 
Be honest with yourself and your partner with what are the individual boundaries that need to be respected.
Continue to take an interest in one another (growth goals, checking in good and bad days, follows up)
Schedule space and time with each other (dates for movies, dinners, spirituality, meeting friends, community service, short breaks if possible.)
Self-Care: Give yourself space to grow together, and separately. Take time for hobbies, physical fitness, interests, meeting personal buddies/ friends, office colleagues, shopping, beauty parlor visits etc.
Investing in paid support/ outsourcing help (nanny, domestic help, buying rather than making at home etc) based on the funds available. Treating such expenses as SIP for high ROI in the long term with respect to better career progression, quality of relationships is worth considering.
Invest in cultivating reliable friends in neighbourhood and local community. Extend an offer to help so that they reciprocate in case of an emergency. 
Conclusion 
Partnerships enable mutually beneficial & shared success. Each partner can add value in fostering harmony, building strong relationships that help lead a fulfilling personal & professional life. This can nurture and help build strong positive families and societies, a win-win for everyone.
Reducing rigid gender stereotyping, breaking systemic barriers and personal mindsets. This helps in equitable sharing of housework and child care responsibilities that increases the physical, psychological well-being of the entire family unit.
Children and all family members learn democratic family values leading to well-rounded and confident individuals.
It lowers violence within families and society.