Employee Engagement
As HR, the key to productivity is supporting people's success: Alstom's Eo-Kyung Moon
HR's role in driving productivity is first and foremost to support and develop people so that they can contribute their best to the business. Eo-Kyung Moon, Vice President of HR, Alstom Asia Pacific, explains what this means in practice.
Even as the broader working world changes, the needs of the business remain the same, and so does the definition of performance and productivity. What evolves, however, is the way performance is measured and supported.
People Matters asked Eo-Kyung Moon, Vice President of HR for global rail transport firm Alstom in the Asia Pacific, about the best approach to performance in a business that is an essential service in a changing work environment. Moon has been with Alstom for over 26 years, holding regional HR leadership roles for most of that time, and her greatest expertise is in the development of people solutions that meet the needs of business performance – especially during times of change and broader shifts in the business environment.
Here's what she shared about the Alstom team's approach.
Do you find that the meaning of productivity and performance has changed with the evolution of the business environment?
The traditional meanings of "productivity" and "performance" are still valid. Both are directly related to satisfying customer expectations – it is all about prompt and efficient delivery of what has been promised. What is changing is the environment in which people operate in order to meet targets for performance and productivity. Spending eight or nine hours a day in the office is a practice of the past; so much work is now carried out virtually or in a hybrid mode.
But the ultimate benchmark doesn't change – we must meet the expectations of our customers.
Tell us how you've calibrated the productivity and performance models within Alstom's business lines to match the changes of the last few years.
The new way of working calls for new ways of measuring performance – Alstom applies a flexible process of continuous dynamic feedback. We invest substantially in Leadership Development which includes understanding the expectations of our managers and requirements of our business needs.
The AIM 2025 (Alstom in Motion) strategy is core to our business success, and we have developed a People Strategy to enable our employees to meet the targets set under this strategy. There are many pillars to our People Strategy, with Employee Development and Competency Enhancement among the key focus areas. We are always looking at ways to make our employee experience better and more aligned with key focus on our younger employees, our future leaders. We recognise that the Gen Y and Gen Z are motivated differently from earlier generations, and we set out to ensure they are engaged and therefore productive.
In the past, people sought "work-life balance". Now that so much work takes place remotely, and given the changing attitudes and expectations of the younger generations, there is no more "work-life balance." Work is part of life, and they need to be in harmony with each other at all times.
We have a unique approach to Employee Engagement, which we call our Engagement Wheel. It works like this: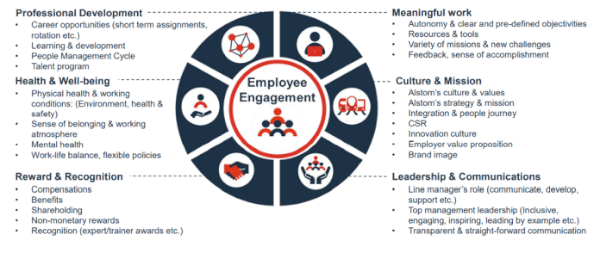 The Alstom Engagement Wheel: professional development, meaningful work,
health & well-being, culture & mission, reward & recognition, leadership & communications
Image courtesy of Alstom
In practice, productivity definitions tend to change depending on which business function or which level of an organisation one is looking at. What are your thoughts on this?
This is absolutely true. The focus of HR function is internal – our job is to do whatever is necessary to help our leaders and their teams succeed. This means we in HR must cultivate a deep understanding of every aspect of Alstom's business. We can then evaluate if we have the right people with the right skills for our particular technologies. Is there a cultural fit? Do the leaders demonstrate the empathy that their teams thrive on?
Ultimately everybody's productivity comes down to whether they can contribute to the success of the organisation.
In our business, contracts are very high value and typically come with heavy penalties for late delivery and unhappy customers – something to be avoided at all costs.
We monitor project performance very closely and ensure timely intervention and course corrections as and when required. Our role as HR business partners is to ensure we provide all necessary support to our employees managing and delivering the projects. Their performance and success is key.
What are some ways you ensure that performance management strategies translate into successful execution on the ground?
In Alstom the focus is on performance enhancement by investing in development of our employees. To support the development, we have a number of programmes designed for different  organisation levels, with clear objectives. Our FMP - Future Management Programme, APAC – for example, develops managers to take ownership of their deliverable responsibilities and support their teams. Pre-COVID, it incorporated a two week residential programme divided between Singapore and Bangalore – we are still running the programme although it is now virtual, and it continues to be very successful. Another key program, Alstom Leadership Programme (ALP) is for our high potential senior managers who will be taking executive positions in the coming years.
We also seek to grow our world-class manufacturing and engineering expert pool: we recognise and develop the key technical talent within the company who are experts in their field. There is a distinct career path for the Experts and Senior Experts. This programme has been designed to monitor the level of Alstom's technical expertise globally, promote innovation, influence the evolution of rail norms and standards, give recognition to the senior engineers, entrust them with tender and project support, and help them transfer their knowledge. The domains include Smart Data and Artificial Intelligence, Robotisation, and Automation.
Another initiative designed to ensure successful execution in the real world is our GREAT programme (Grow Alstom Talent). This targets specific assessments and development action plans for our top talent, readying them to take future leadership roles and responsibility.
Then our Talent Groups are an innovative way to engage the top talent at middle management level to come together and work on global projects. The Group members are called on to provide their expertise to find innovative solutions. These groups have multi-functional representation, which builds a broader understanding of one another's roles and facilitates collaborative working.
We also have our "I Nove You" programme which encourages employees to share their innovative ideas on safety, technology etc.
All these programmes and the philosophy behind them are driven from the very top of the company. There is a People Review Process for everyone from entry level to the President. After the annual review, a structured process is put in place over the year, involving disciplined collaboration, supplementing people's strengths and supporting employees to focus on their areas of development.
At the core of these performance enhancement strategies is the Alstom AIR values that guide our behaviours and decision makings. The "A" is for agile where we anticipate and adapt to changes, and learn continuously to provide relevant and innovative solutions for our stakeholders. The "I" is inclusive where we embrace differences and ensure that every employee is valued, respected, and thrived without bias. Lastly, the "R" is for responsible where we keep our commitments to all our stakeholders, and act responsibly when it comes to Ethics and Compliance, and safety rules. These AIR values are deployed and assessed as part of the  performance management cycle.
With the growing shift towards hybrid and remote work, and especially with the increasing need to manage global teams on a remote basis, how should performance strategies be adjusted to adapt?
Indeed, the new way of working means performance strategy is not about clocking in/out times.
It involves finding ways to measure remote work. We do have a process of task evaluation which allows rapid intervention when necessary, for course correction, but the various programmes our employees follow are designed to match skill sets to roles and give our staff a high level of engagement with their work, along with the autonomy to take ownership.
Crucially, our strategy is dynamic, taking into account employee feedback. We have a formalised collection of feedback through our regular opinion surveys. These are openly published, leading to employee involvement in the development of action plans.
Our experience is that this open, transparent and broad approach to measuring performance produces leaders and teams whose productivity is exceptional.