Employee Engagement
Collaboration for creative ideation: BookMyShow case study
Read this case study to know how BookMyShow launched an initiative to elevate employee experience by building a culture ripe for creative ideation.
BookMyShow is India's leading entertainment destination. And the idea of a community at work is always so important especially in a field such as theirs where entertainment is a creative process and best experienced with a community. How did the firm build a culture of collaboration for creative ideation? 
In an exclusive interaction with us, Shamita Ghosh, Head-Human Resources, BookMyShow shares an interesting initiative undertaken by the company to elevate employee experience by building a culture ripe for creative ideation.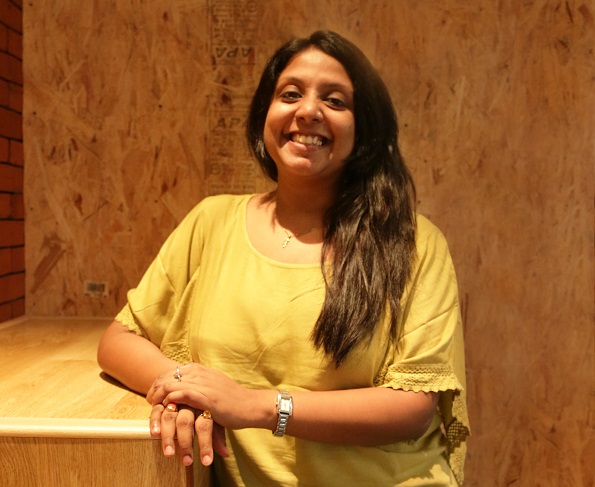 The Problem Statement 
For a long time, the different teams of the BookMyShow family worked out of different physical office spaces until recently (last November) when they all moved into our new, consolidated office building in Mumbai. While they did have enough options to facilitate inter-departmental interaction, and learning through various team-building initiatives, there was a need for a more absolute and seamless collaboration for creative ideation across departments and levels of management. The firm was looking for ways to not only enhance the overall culture of BookMyShow but also instill a sense of community amongst our employees for a better experience. 
The Implementation of 'Culture Canvas'
With this in mind, the firm conceptualized and put together 'Culture Canvas', an initiative that regularly creates and executes employee engagement initiatives. The idea of 'Culture Canvas' is to bring back some of this entertainment to the employees and have some creative activities planned wherein they can take the quotient of having fun at the workplace, higher and let their hair down every once in a while. After long hours at work, it's very natural that they deserve a treat in the manner that they enjoy most. 
Rolling out 'Culture Canvas'
The firm launched the 'Culture Canvas' program in a way that created buzz and curiosity about this new initiative across the workplace. It sent out some interesting notes on various activities that didn't give away the full information but kept it intriguing for employees-displaying them in common areas such as waiting areas, elevators, cafeteria and washrooms. It then created a very visually attractive calendar for the month, informing employees of the various events and sessions that were lined up for that month.
Culture Canvas spans everything from open mics, stand-up comedy gigs, live music performances by bands or artists to board games, table tennis, and other sporting tournaments, dance workshops, drama sessions, movie screenings, mental health and wellness sessions, fitness sessions, masterclass sessions, cooking workshops and much more.
Each week would have a planned initiative that would take place during the evenings within a specific area of the office, where employees would gather together and be a part. 'Culture Canvas' includes activities twice each week, typically on Wednesdays and Fridays. All employees are sent an email and registration form to join in. Employees can register for their chosen activity and they are informed of the event through a calendar invite.
This initiative intended to let the employees break free and explore various creative outlets while at work as also to unwind in the evening with something fun. It was meant to allow them to enjoy their time after a long arduous day at work and most importantly, get introduced and engage with new colleagues each time. As acquaintance builds, so does engagement across departments. This eventually leads to a significantly better and collaborative culture.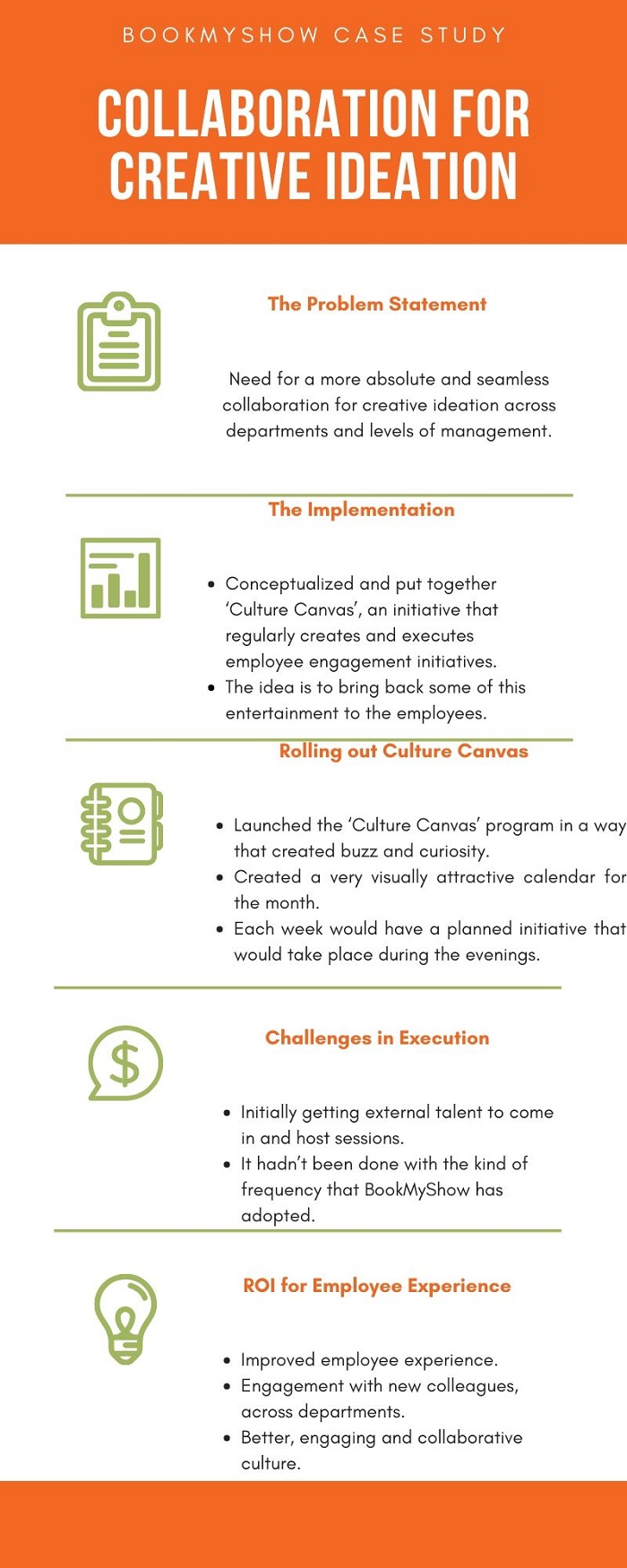 Challenges in Execution
'Culture Canvas' brings in experts and artists from the outside world to BookMyShow for several of its activities. So initially getting external talent to come in and host sessions, when the initiative was newly launched was a bit tough since it hadn't been done with the kind of frequency that BookMyShow has adopted. However, with BookMyShow already being the pioneer in the entertainment space, with so much to offer for users, it was a matter of time before it was able to establish strong and meaningful connections with the creative fraternity for these sessions and drive these activities.
The ROI from 'Culture Canvas' for Employee Experience
'Culture Canvas' has helped BookMyShow improve employee experience in a massive way. It received a lot of positive feedback from employees on how they feel rejuvenated and creatively energized even at the end of a long day. There has been a lot of curiosity and excitement about each event and the upcoming ones that employees can be part of. The firm also received a lot of suggestions from them on the kind of activities that they would like to be included that may be beneficial and enjoyable for them.
Adds Shamita, "'Culture Canvas' has not only brought a breath of fresh air into the way employees engage with the organization but also brought people a whole lot closer than earlier. It has infused a great deal of optimism and positivity into the work culture, which we believe is a fantastic achievement, especially since we tend to spend several wakeful hours at work."
Future plans based on the outcomes of the Case Study
The firm continues to drive 'Culture Canvas' at the same frequency, even during this lock-down period by enabling virtual fitness sessions with experts for employees and specific upskilling courses through secondary learning that range from soft skills to data science and technology. The firm has also started hosting a special break session virtually called 'Chai-Time Quickies', where it creates and curates entertaining contests and video content for engaging with employees, becoming their tea-time companions while they are away. The idea is to continue to bring to employees of BookMyShow, the entertainment they deserve, at work even during these times of a lockdown amidst the global health crisis. 
Taking it further, the firm also recently launched 'BookMyShow Communities', which are common interest groups of readers, travelers, techies, fitness freaks and karaoke lovers. The groups become spaces where people can read a common book together and review it, or create a travel blog about their travel experiences, have coding challenges and tech quizzes together, create fitness programs and share workouts, sing and share karaoke songs and much more. The motive of the groups is to enable people with similar interests to make new friends across departments within the company and engage with many more people than they usually do, through discussions and activities. 
Shamita aptly adds, "As India's leading entertainment destination, BookMyShow is not just for its customers but equally so for its employees who work hard to provide the best of it for millions of users. We hope to be able to get back to the office safe and soon enough to further build on these initiatives."