Employee Engagement
Employee Engagement in the spotlight
A latest research by Steelcase in partnership with Gallup says that, 87% of employed people are "not engaged" or "actively disengaged" at work.
At organizations throughout the world, employee disengagement is like a bad virus—difficult to diagnose, contagious and tough to cure. A latest research by Steelcase in partnership with Gallup says that, 87% of employed people are "not engaged" or "actively disengaged" at work. Disengaged employees have been found to slow down projects, drain resources and undermine a company's goal and efforts.
While many may not be aware, employee engagement is the engine that propels and drives an organization forward. Contrary to popular belief, merely redesigning the workplace or redefining it will not solve engagement issues. Workplace environments that combine comfort, function and emotional satisfaction can inspire people to contribute their best as well as increase productivity, satisfaction and engagement levels. Your workplace should be a place where you feel energized and look forward to coming every single day.
Wouldn't it be great to experience this, at least most of the times, when you are at work? Mentioned below are the must-haves to boost employee engagement at workplace.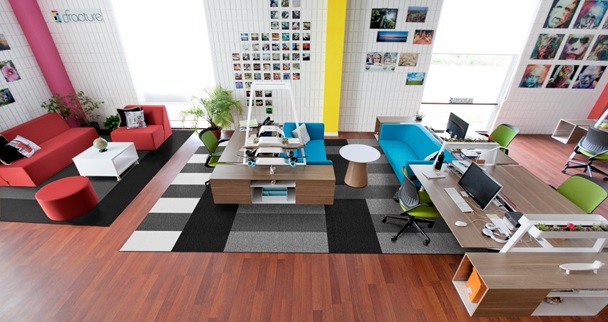 A palette of place, posture and presence
Engaged workers are the engine that propel an organization forward. Unfortunately, they are in limited supply. According to Steelcase's report, only 13% of global workers are highly engaged and highly satisfied with their work environment, this means only about one-third of the global workforce is fuelling the organizational performance and businesses need. In order to increase the engagement levels, a workplace should be designed in such a way that offers a palette of place, posture and presence. This will help to boost well-being at the workplace. Also, Fresh air and natural light are refreshing, and it's been proven that working outdoors or near natural light improves creativity, productivity and engagement.
Create an unplug pod
A space with zero connectivity to Wi-Fi and power which will encourage the employees to have face time with each other, initiate conversations and finish them uninterrupted, share ideas etc. This will also help employees to relax for some time, feel free, rest their eyes from screens and foster a connection with their team mates for better teamwork. According to the study, engaged workers prefer congenial working atmosphere in which they can socialize with colleagues, share their ideas freely and feel a sense of belonging to the organization. Employee engagement can also be achieved by constructing collaborative meeting spaces and natural pathways that encourage spontaneous interactions and engagements.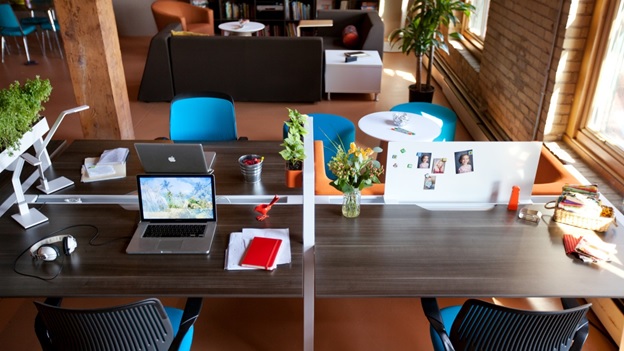 'Space' out the stress
It is critical for the workplace today to help people manage the cognitive overload of their daily lives and allow them to focus throughout the day in order to achieve mindfulness. Due to lack of this experience, the number of disengaged workers are increasing, affecting company's revenue as well as performance. Hence, the workplace needs to be designed in order to reduce stress and help employees think better. The office layouts and design elements play a vital role in rejuvenating the mind and create a positivity about the workplace. According to Steelcase research, highly engaged workers are highly satisfied with various elements at their individual workspace, such as its size, furniture, lighting, ambient noise level and temperature.
Allow to be alone
In many of today's workplaces, it's very difficult for individuals to find moments of privacy. This reality negatively affects stress levels, job performance and engagement. The need for privacy at work is as basic to human nature as is the need to be with others. The harder people work collaboratively, the more important it is to also have time alone—to be free from distractions, apply expertise and develop a solid point of view about the challenges at hand. Hence, there should be spaces at work offering privacy as it remains important in the workplace for confidential discussions, quiet phone calls or times when we need to focus quietly, alone and helps to nurture thought process.
Creating a "Third Place"
During the last few years, work has become dramatically intense and the business tasks today are varied and more challenging. Hence, employees need spaces where they can relax or work undisturbed. To provide such experience, some organizations have embraced the idea of Third Place – an informal working spaces like a cafeteria or a lounge that help people get through the day or allow them to gather, to have stirring conversations. These are essentially common areas not specifically allocated to work but are designed to create a relaxing atmosphere within a workplace. The corporate cafeteria is an obvious place where a company can create a corporate third place and better leverage under-utilized real estate.
People may seek out a third place because of its inherent good qualities like the ability to work without colleagues stopping by, lounge furniture with a home-like feel, the energizing buzz of people, access to good food and an attractive ambience. Third spaces integrated with technology will help employees to boost productivity and innovation.