Employee Engagement
Federal Bank believes in digital at the fore, human at the core
Federal Bank believes in the philosophy of digital at the fore, human at the core. In an interview with People Matters, Satheesh P K, Senior Vice President and Head Human Resources throws more light on how technology will be an enabler to HR.
As automation and digitalization change the face of banking, many banks are experimenting with cutting-edge technologies to up their game. Last December, Kerala based Federal Bank entered into a partnership with Abu Dhabi-based LuLu Exchange to leverage blockchain technology for cross-border remittances. Being the largest traditional private sector bank in India and 4th among all private sector banks in India in terms of footprint, Federal Bank's move is in line with its philosophy of "digital at the fore, human at the core."
While the bank, in the words of its MD Shyam Srinivasan, wants to be 'restless' about technology, at the same time it sees technology as an enabler to HR. In an exclusive interaction with People Matters, Satheesh P K, Senior Vice President and Head Human Resources, with over 29 years of experience, spoke about how Federal Bank intends to do this fine balancing act.
You have spent more than two decades in talent and leadership development. What are some of the talent challenges that are unique to the banking sector specifically?
While earlier HR only had business as a partner, now technology is yet another partner. So now we are looking more into technological skills and are moving from the contemporary, conventional practices-especially in the operational sphere. We are focusing on digital onboarding. I would say that 50% of the skills required in banking will be in digital technology and 50% in relationship banking. This is the combination we are working on in our bank.
We are at the intersection of technology and HR. How do you look at Artificial Intelligence, Machine Learning, big data analytics and bots for driving HR? How will they impact talent acquisition in banking?
All these technologies will make the life of an HR person easier. Especially AI and Machine learning will help HR to take better decisions when it comes to talent acquisition capability and Learning & Development. We will be able to predict both attrition and expected additions through dashboards, which will help in decision making.
Hence technology will be an enabler to HR; it definitely cannot substitute people especially in banking.
In our bank, we have a philosophy which says, "Digital at the fore, human at the core." The same line of thought will continue forward. So digital will be an enabler, helping HR to make more forward-looking decisions. L&D is one area where the bank is working on in using these technologies along with areas like talent acquisition, simplification of processes which will make the life of employees more convenient and comfortable, and employee engagement.
For instance, for employee engagement, we conduct a Hello HR every week on the phone. This initiative can be translated through technology to the new age platforms. Thus by providing more connectivity, these technologies will change the HR structure. Besides, we are also working with startups to be at the forefront of technological advancements in banking. Recently, in association with the Kerala government, we conducted a branded program where the bank was the 'imagination partner' on how banking will look like in the coming years and presented the use of AI and robotics in banking.
Federal Bank is among the first banks to introduce block chain technology in its forex remittances pipeline to India. Could you shed light on the implications of how this technology can be used further for HR and does Federal Bank plan to use the technology for the same?
We have around 12, 500 employees whose documentation we are handling on a different technology platform. All these can be translated to a block chain platform. We are also considering rolling out incentivization on the basis of block chain.
As a technology, block chain can be used in compensation, in record keeping or in predictive analytics. We are exploring different usages of it slowly.
Banking has been undergoing a lot of change under the impact of digitization. How are you investing in your employees in terms of skill sets and industry relevant training?
In any organization, especially in banks, reskilling and upskilling is very important. We have our HR team called 'Scale Up.' It's an acronym where S stands for skilling and reskilling, C for career, A for analytics, L for learning and development, and E for employee engagement.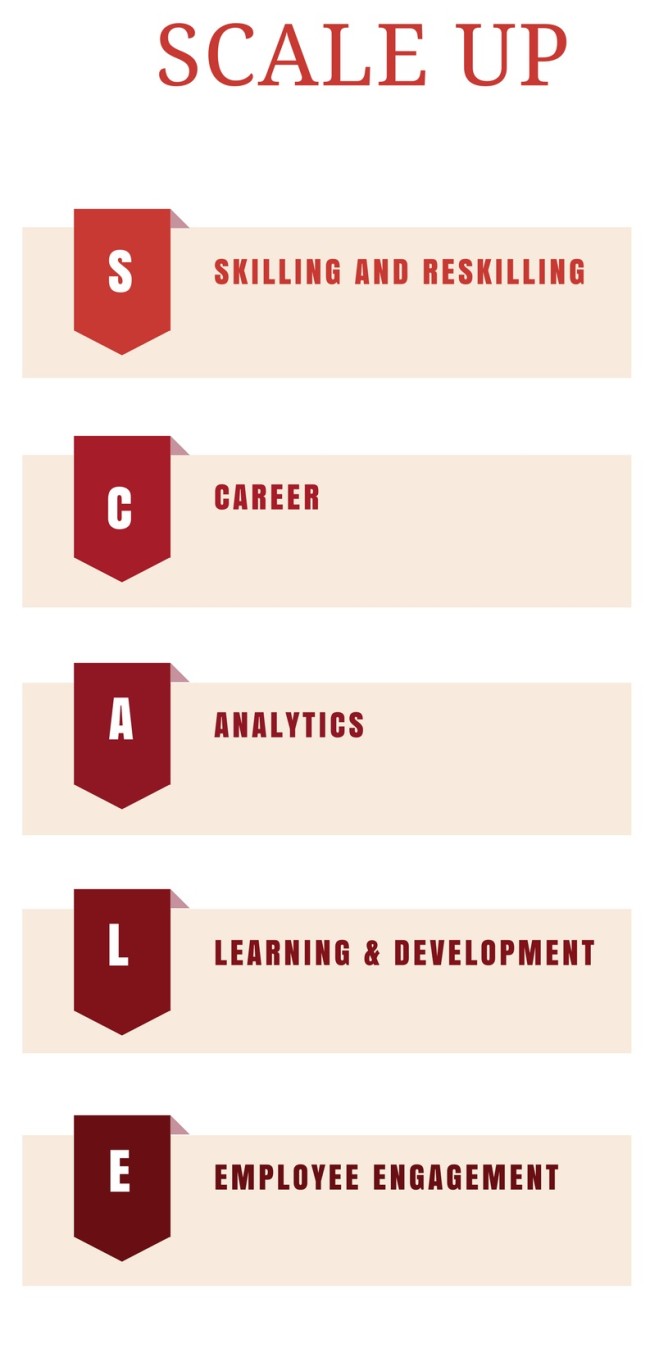 We are investing a lot in L&D-we have many digital ambassadors location wise. We are also planning to put into place internship programmes for students in colleges, who can associate with us to make the digital journey smoother. In turn, interns will also get to learn the digital advancements in banking. We also conduct webinar programmes on credit and implement simulation practices. So wherever there are skill gaps especially in contemporary digital advancement, we are taking care of those.
What are the core values which define the culture at Federal Bank?
The culture at Federal Bank is along the lines of a family culture. We believe in taking care of our employees as one family. Another core value which we hold dear is integrity and ethics. We believe that integrity matters more than merit.
What are some of the radical HR practices implemented by the bank which have benefited employees a lot?
Around 40% of our workforce consists of women. We have instituted programs like Maternity Connect wherein during an employee's maternity leave, we remain connected with her and keep her updated. We also engage a maternity buddy to counsel them.
We recently also introduced a loan assurance scheme. We provide concessional loans to employees. We have partnered with an insurance company which takes care of liabilities in the unfortunate event of a death of an employee. We also have instituted a trust wherein every month the employee and the employers contribute to taking care of compensation to be provided in case of such untoward incidents. We provide 100% medical insurance to the employee's family and dependents.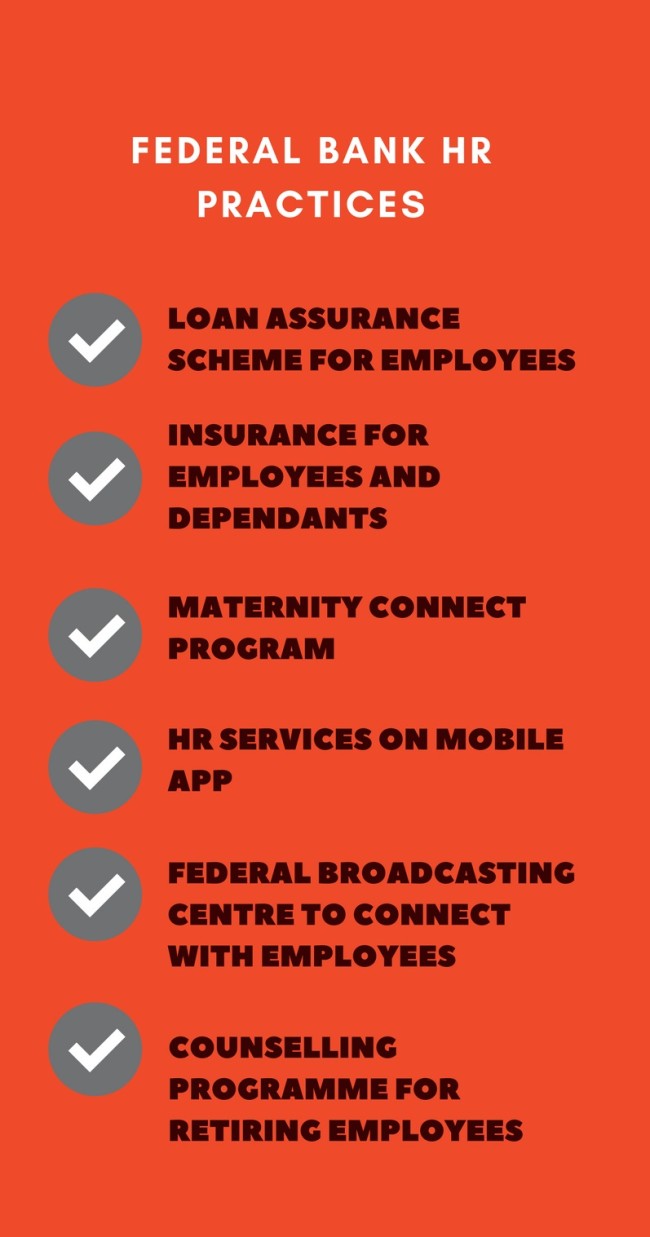 Also, all HR services for the employees are rendered through a mobile app. We also use Microsoft's Yammer for teamwork and collaboration. Recently, we also started a Federal Broadcasting Centre to connect with employees through regular dialogues by leaders. We have also instituted a counseling programme for those who are retiring next month. Plus, we have an insurance scheme for retirees as well.
How will the ongoing automation in the banking sector affect jobs in this space?
The skill sets required in banking will definitely change. So the current, as well as prospective employees, will have to work on acquiring the new skill sets. In this respect, even the curriculum of the colleges and the management institutes needs to change.
Nowadays some banks are only opting for candidates with the knowledge of data analytics. So the skill set requirement for talent is completely getting transformed. There are no such programmes conducted by colleges, which is a challenge they need to focus on. There is a need to redefine the curriculum.