Employee Engagement
How to use employee personas to improve workplace experience
Tailoring your employee engagement strategy to the needs of employee types can help you personalize and deliver a great experience.
'Always put people first; for without them there is no organization'
–David Sikhosana
In an increasingly competitive business environment, companies are conscious of the imperative need for an engaged workforce and do all that they can to ensure that their workforce is happily engaged. To maximize employee experience and drive employee satisfaction, companies need to acknowledge and understand the diverse needs and expectations of their multigenerational workforce, and design and implement innovative, employee-centric practices, enabling an environment and work-place culture geared towards greater success.
A recent trending technique for enhancing employee experience is through employee personas. With its genesis in marketing, the persona is the representation of a segment of customers, aimed at better understanding of the customers. The personas are drawn on the basis of observations from various people, taking in features like desires, expectations, needs, behavioral patterns, objectives, etc. Extending the technique to HR through employee personas, companies not only gain a better comprehension of employees and their expectations, but they are also able to offer superior and innovative solutions and enhance employee experience. To understand employee needs and expectations and the impact of ambition, family, lifestyle, values, etc. on these needs, Sodexo studied employees across five countries, including India. Before we go into the details of the findings, however, here are some details on the WHY and the HOW.
Why identify/create employee personas?
The core of creating an enhanced employee experience is knowledge and appreciation of the employee. Understanding their views and perspectives, and the challenges they face, realizing their hopes and needs, knowing their goals, and then building employee solutions on that knowledge, is the key to an enthused, productive and loyal workforce. But workforces are not uniform. Demography, educational background, language, skill sets, etc. all lead to a multi-generational, diverse group of employees, often with as many varied views and outlooks as the number of people. In such circumstances, suitably designed employee personas can not only enable delivery of better, proficient and cost-effective employee solutions but also provide a focused, empathetic approach to improving the employee experience.
How did we define employee personas?
Identifying employee personas involves a series of steps - identifying the issues and processes to be addressed, mapping the employee journey from hiring to exit, gathering information/data about objectives, goals, challenges faced, motivations, etc. from employees through questionnaires and analyzing the data. Only then can it be translated and designed into personas, based on common patterns such as perspectives, attitudes, frustrations, etc. Since personas are different from roles, employees in similar roles may have different persona, just as employees in different roles can similar persona, depending on the approach and attitude to, say, technological advances for instance.
At work-places, there is often a tendency to typecast employees based on characteristic traits. The fully committed, the complainer, the gossip, the know-all, the team-player, the globe-trotter, the plodder – the list could go on. Employee personas, though represented as specific individuals, are cohesive representations of observations and information from disparate employees. Sodexo's research identified four distinct personas.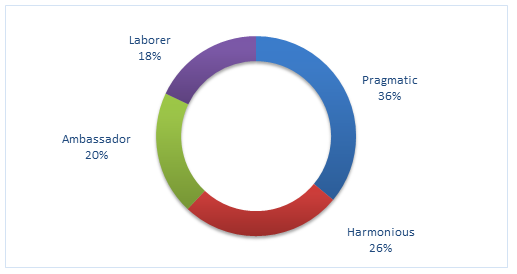 The numbers indicate the percentage of employees in India that fit the profile
The Pragmatic – Employed mostly in large companies, the main needs of this profile set included security and protection for the future and family, freedom to manage own time (personal and professional) and financial recognition.
The Harmonious - Spread across all social categories and age groups, the employees of this profile were mostly in start-ups/small companies. Their main needs were benefits tailored to life stage and interest, simple and straightforward set of internal processes and initiatives to develop an employee and person.
The Ambassador – Connecting with co-workers and feeling part of something bigger, clear support and opportunities to grow with the company, feeling inspired by company vision and values, and receiving benefits which could be enjoyed outside work were some of the chief expectations here.
The Labourer – This profile of employees mainly sought security and protection for self and family, benefits to support them outside of work, monetary recognition for work and care and support for physical wellbeing. Motivating employees to work to their full potential is the main premise of successful management. Using employee personas to drive change can be an effective talent management strategy. It helps HR teams to become empathetic and truly understand employee needs to create a better workplace, which is, of course, rewarding to both the employers and the employees.