Employee Engagement
Why is it important for employers to have a gender pay gap policy?
Nearly 78% of workers in India would look for a new job if an employer didn't have a gender pay gap policy, reveals a new report.
Employers' attitudes to – and performance on – diversity, equity, and inclusion (DEI) in the workplace is fast becoming a make-or-break issue for workers.
If employees feel that their organisation is not taking the right steps toward an inclusive system, it often leads to a loss of interest in their job and ultimately, a loss to the organisation.  
In India, 78% of workers would look for a new job if an employer didn't have a gender pay gap policy, reveals the ADP Research Institute's People at Work 2022: A Global Workforce View.
This report explores employee attitudes towards the current world of work, as well as their expectations and hopes for the workplace of the future.
Further, 85% of young workers between the age of 18 to 24-years feel that there is a lack of diversity and inclusion policies and 82% of them feel that the gender pay gap exists and it's unfair.
Although women have been more vocal about the issue, men are not far behind.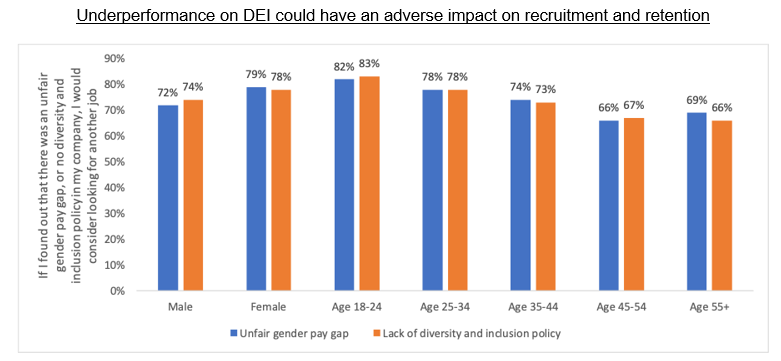 "Employees in India strongly consider factors such as workplace ethics and culture when deciding whether to join or remain with their employer. And they are willing to leave when employers fail to create a diverse workforce and treat them fairly," said Rahul Goyal, MD, ADP India.
Further, nearly 62% of employees in India accept that their organisation has a gender pay equality policy and they do talk about its importance, however for DEI policies it's slightly less (58%).    
"The ramifications could go even further, adversely affecting the way a company as a whole, its values and brand, could be perceived by staff and candidates, as well as customers and shareholders," added Goyal.
While half of the workers globally (50%) say their employer has got better at gender pay equality compared to three years ago and think diversity and inclusion have improved, more than one in 10 believe there has been a decline (11% for pay equality and 13% for diversity and inclusion).
Management teams, company owners, and HR departments are cited as the primary drivers of gender pay equality and diversity and inclusion within companies, but in a third of cases (33%) workers say it is left up to employees, and one in seven (15%) say no one is driving it.
Companies' morals are under scrutiny by current and prospective employees. As such, leaders must demonstrate their commitment to DEI policies to maintain their workforces, especially among younger generations, the report noted.