Employee Relations
3 times social media shook the world of work
In light of the recent event where Tech Mahindra sacked its employee accused of harassing and discriminating on the basis of sexual orientation, we looked into the other cases where social media impacted employee-employer relations.
Social media platforms like Twitter and Facebook have changed the game of business when it comes to employee-employer relations. Issues and discussions that usually remained behind the four walls of the company are now talked about out in the open. Reaching out to the company and senior leadership with complaints against sexual harassment, gender and caste discrimination has become more convenient on the social media platforms. While on one hand, companies have to stand in support of their employees against the accused, the other times there have also been cases where a company had to fire an employee because they displayed ill behaviour on social media with derogatory comments or remarks.
Here are three such recent cases where social media shook the world of work:
Tech Mahindra acted on a public outburst and sacked the accused employee
When Gaurav Pramanik, an ex-employee of Tech Mahindra took it on social media to make public his angst against his former boss, Richa Gautam and accused her of sexual discrimination, Tech Mahindra took immediate action on the issue.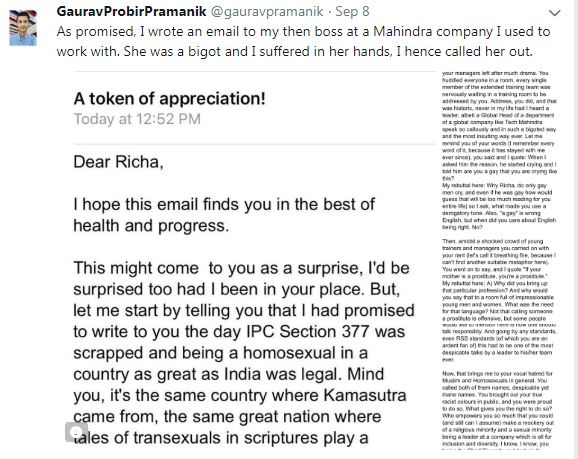 On 11th September Tech Mahindra tweeted that they undertake a thorough investigation to look into the matter and after three-four days of enquiry, they took the final decision and asked the accused to leave.
Tech Mahindra tweeted, "Arising out of an investigation carried out in the matter, the concerned employee has been separated from the employment of the company with immediate effect. At Tech Mahindra, we believe in diversity and inclusion and condemn discrimination of any kind in the workplace."
As soon as the IPC Section 377 got scrapped and being a homosexual in India became legal, Gaurav leveraged the opportunity to bring the issue to the notice of the company and the public. By taking a decision in favor of the gay ex-employee, Tech Mahindra established itself as a company that stands against any kind in the workplace. While Gaurav could never talk about this issue before at the workplace, social media enabled him to share the issue even though he was not the part of the company.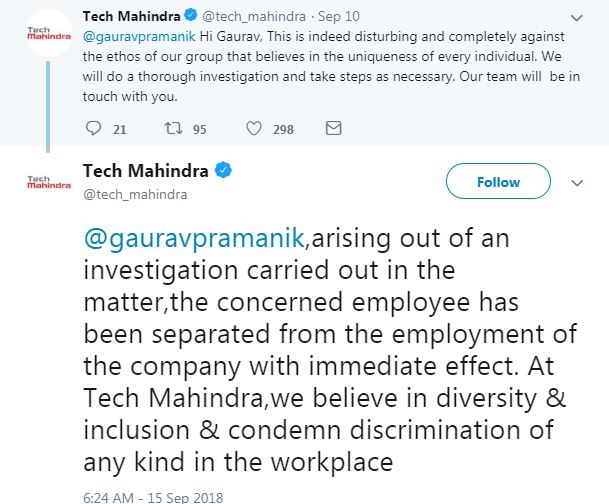 DDI suspended employee after he abused Kashmiri women in a series of tweets
It was in May that international human resources and leadership consultancy Company, Development Dimensions International (DDI) experienced an outrage against it after one of its employees Ashish Kaul, posted a series of tweets against Kashmiri women. DDI was informed about the incident on the 11th of May and immediately, a day after that it suspended the employee and launched an investigation to determine the full scope of the issue.
Later, DDI's CEO, Tacy Byham and President David Tessmann-Keys, in a joined statement stated, "As of May 12, we have accepted the individual's resignation. This individual's opinions were his alone, and do not reflect the values of DDI."
Airtel faced outrage online over religious discrimination
What started with a discriminatory tweet by a customer asking for a non-Muslim customer service provider to answer her queries, soon turned into online outrage against telecom company, Airtel. This is how the story unfolded:
On 18th June, Pooja Singh, an Airtel direct-to-home (DTH) customer expressed her displeasure on Twitter over the behavior of a service engineer assigned by the company. Responding to Singh's query, a customer care executive named Shoaib from Bharti Airtel India, said that the company would take a closer look into her complaint and get back shortly. However, the fact that the customer care executive appeared to be a Muslim from his name, led Pooja to demand a "Hindu representative", for she had "no faith in his working ethics". And hours later, another executive, Gaganjot, contacted the customer, expressing the intent on behalf of the company to assist her. This move prompted the entire Twitter world to believe that Airtel seemingly agreed to a customer's demand for a "Hindu representative".
Airtel did respond to the public outrage after 9 hours, but a lot of damage was done by then. It was only later in the day, after facing criticism for not standing up to bigotry, that Airtel responded to Pooja saying, "We absolutely do not differentiate between customers, employees and partners on the basis of caste or religion. We would urge you to do the same."

The incident had in fact led to Airtel users stating that they would be porting their numbers to other networks.
Social media has dismantled hierarchies in the world of work and brought all the stakeholders in the business environment a lot closer than before. Today, whether its employees, employers or for that matter even customers, everyone is under the radar. Even powerful brands like Airtel, Ola and Starbucks are questioned upfront for religious discrimination and racism. This aptly points out how social media going forward can further level the world of work, enabling employees to stand up against discrimination of any kind. Hence, giving employers an entirely another segment, beyond the workplace to take care of.