Employee Relations
Behavioral Competencies: The coveted attribute for early stage startup hiring
Attrition rates at startups being somewhere between 50% to 80 %, hiring the first few employees and convincing them to believe in the dream is a huge deal for startup founders.
Startup - the very word seems exciting for some and daunting for the many. The idea of working at an early stage startup is not appealing for many as it requires a huge amount for financial and emotional sacrifice. Let's admit, not everyone can pull off with an ambiguous setting & chalk-out things from scratch at startups. Attrition rates at startups being somewhere between 50% to 80 %, hiring the first few employees and convincing them to believe in the dream is a huge deal for startup founders.
What Behavioral competencies do founders need to look while hiring for startup employees?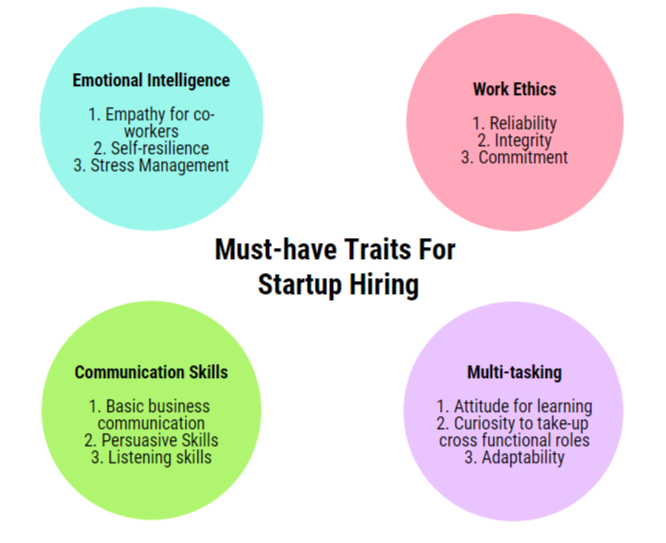 Emotional Intelligence
Startups are an extremely chaotic and ambiguous setting that not everyone can pull off. Hence it is important to recruit people with higher levels of emotional intelligence, empathy for co-workers, people skills. Emotionally intelligent employees are far more likely to thrive in the workplace and sail through adverse storms. Startup employees need high levels of 'self-resilience' - the ability to bounce back after a series of rejections.
Flexible & Multi-tasking
Early stage startups cannot afford specialists, nor are blessed with resources for training and hence prefer generalists - people who can wear multiple hats at once. Your graphic designer may also have to create copy for marketing pieces. The general manager of a winery may sometimes have to work in the tasting room and take care of customers. Look for multi-tasking skills. In order to succeed in a startup environment, employees need to be flexible in terms of their willingness to try new and different tasks and approaches. They must be open to others' perspectives and be able to switch between strategies and methods when needed. 
Communication
Every single day at a startup is a hustle and everyone is expected to wear multiple hats. A typical employee at a startup works cross functionals, assisting sales, solving queries of customers. Hence a candidate is expected to understand, comprehend and communicate ideas with the customers as well as the co-workers. Every single employee irrespective of job role needs to know how to pitch the product and be able to clearly explain what there company does, what product they create, how their product solves customer pain-points
Focus & Customer-centric Skills
You need employees who can really focus on your startup's mission and align in the direction of your vision . Just like founders, they must be able to set long and short term goals with respect to the growth of the company and thyself. Mastering this core competency means being able to effectively visualize, develop, and communicate your mission and goals with your entire team. Seek for customer-centric skills right from the start, establish your primary focus and make sure that your entire team knows how to interact with potential customers.
Work Ethics
Everything else can be trained and learnt in due course, but work ethics is something that your potential employees need to inherently need to possess. Look for moral traits like honesty, reliability, integrity and commitment. Ignoring work ethics in evaluating a candidate can take a serious toll on the company's reputation.
Critical Questions to ask a candidate in interview while hiring for early stage startup
Any sane candidate would come prepared for 'Tell me about yourself' questions. Asking out-of-blue, open-ended questions will bring out critical thinking skills and true colour of the candidate.
If you were to start a company what values do you believe in the most?
Insights: Innate ethics and values. Can judge about work ethic traits like integrity & honesty.
How do you deal with a bad day?
Insights: a candidate's self-resilience to bounce back after adverse situations.
Is it important to create ever-lasting friendship with co-workers? Why?
Insights: Whether if the candidate believes in maintaining healthy relationships with fellow workers and customers, or is he/she likely to create troubles at workplace
How do you ask others for help when in critical situation or punching above weight?
Insights: soft skills and stress management skills. 
How does your ideal workplace need to look like?  
Insights: Early stage startups are scrappy and cannot afford for fancy workplace. Explains whether the candidate can fit-into your organization culture.
Well, then, technical skills?
The ability and mindset to learn things on the fly,greatly outweighs technical skills or professional degree. If the person has the basic technical skill for the job, or has proven experience with the role-related skill and 'the right attitude to learn', get them on board and work on your employee retention strategies.