Employee Relations
Top post pandemic learnings from inFeedo's Tanmaya Jain & Zeta's Abhishek Sen
Take a look at what Tanmaya Jain, Founder & CEO, Amber by inFeedo & Abhishek Sen, Chief Operating officer, Zeta shared about the lessons learnt amid this pandemic, in their keynote session at People Matters EX Conference.
In a keynote session at People Matters EX Conference 2021, speaker duo Tanmaya Jain, Founder & CEO, Amber by inFeedo, Forbes 30 Under 30 Asia leader and Abhishek Sen, Chief Operating officer, Zeta  joined in to deliver a powerful discourse on what it takes to be a people leader, post-pandemic. 
You can also watch the session here.
Tanmaya is the founder & CEO of AI startup, inFeedo and a speaker in the field of mental fitness. He's helping HR leaders of 100+ brands like Tata, Coca-Cola, Airtel, Lenovo, Samsung, and Xiaomi in building stellar remote employee experiences & finding hidden gaps in their culture. Started at the age of 18, today he has grown inFeedo and made an indelible impact in the lives of 300k employees in 50+ countries. He is also Forbes 30under 30 Asia leader.
Abhishek is passionate about people and their ability to create sustainable customer/business impact. With over 17 years of human resource management, operations & management consulting experience with organisations like Myntra, SAP, AON & Britannia, he has a strong passion for harnessing the power of people to create customer delight and long-lasting impact for business delivered with technology at the core.
Let's look at the top lessons shared by Abhishek and Tanmaya during their session.
Employee wellness is most underrated in the world
When the pandemic struck, we realised employee wellness turned out to be the most underrated aspect. Also, it was not just only about physical and mental, it was also about social and financial. Employees felt the need for assistance which was affecting their productivity. For Abhishek, employee wellness is not just good to have, but a must have. Financial wellness became crucial and Zeta thrived to provide the same to his employees. People have been talking a lot about mental wellness, but they haven't really understood the real definition. It becomes really crucial for leaders to ensure that they provide their constant support to the employees.
Being on the driver seat of mental wellness, Tanmaya observes that mental wellness has become a key pillar for all managers and not just HRs. There are various tools and technologies which have eased out the process for financial wellness. "Mental wellness still is the elephant in the room," feels Tanmaya. Similarly, employee recognition is not just about performance but also about how happy employees are, how happy the team is.
HR processes need to be lite and impact-led from start to end in employee lifecycle. Using tech solutions is hygiene now
It is another big realization post the pandemic. For example, a lot of organisations have 6-7 sub processes in their entire paradigm of assessment. With the virtual setup, how do we ensure the process is light and we are getting the right insights? Abhishek shares how at Zeta they have gone back to basics and started using technology and focusing on the impact. For Tanmaya, tech is becoming hygiene. Using basic tools which will help you move things easily. Employers have taken automation to keep a track on the employees' assessment. Keeping a track of your employee's feelings. Managing change the right way. Exit and post exit interview and candidate experience is also now being automated.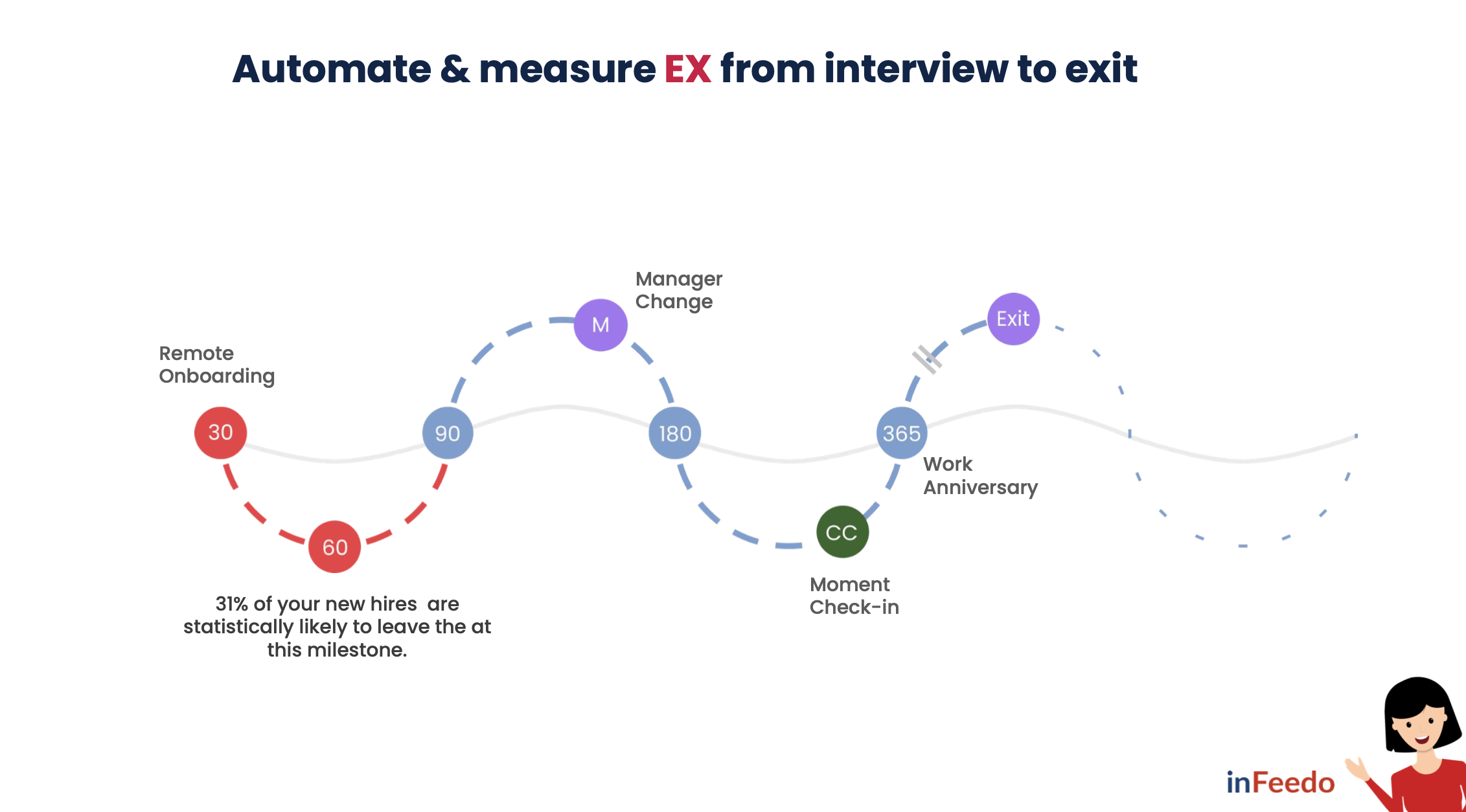 Get-grow-keep talent in a remote / hybrid environment
Moving beyond the basics, Abhishek shared how for Zeta, hiring never stopped. Remote hiring and onboarding became the new normal. Interestingly, they even named their new joinees as 'Covid babies' because they haven't really met them. "We have to ensure that in today's time, the end to end employee life cycle process becomes less complex.," he noted.Technology has an absolutely crucial role to play as it enables them to ease their processes, get the right insights.
Post the onset of the pandemic, borderless talent, as per Tanmaya, have seen a drastic change and it has shown how talent marketplace is all over the place. Reverse change management is also seen as the most talked about concept lately.
How to build remote managers/leaders when understanding sentiment is not easy
Earlier, employees felt that working from home would be easier and would save a lot of time. But slowly, they started to realise they were losing focus, zoning out. Issues of getting crazy at times and seeing a blurry picture of the concept of work-life balance had started affecting employees badly. In all this, how can leaders judge the sentiments of their workforce when you cannot see them or meet them physically. Managing EX was the biggest problem for the employers. For Abhishek, creating managers was also one of the issues as they were used to the physical management of their reportees, were now required to cater to the change and were expected to manage more effectively. Tanmaya adds that instead of asking people what have you done to stay in the team, leaders should ask what they've done to deserve such a wonderful team. Leaders must be answerable to people instead of the other way around.