Employer Branding
2020 outlook: The future of employer branding
Employer branding is a continuous and ever-evolving ballgame with no fixed rules. An organization, especially HR professionals have to be on their toes with out-of-the-box thinking.
With the war for talent going strong, organizations have to work harder than ever to attract the attention of their desired candidates, and this is where employer branding strategy can play a key role. But what does Employer Brand Concepts & Elements mean, to what extent does it affect the behavior of Future Potential employees Vs Current Talent Employees?
The definition of successful organization no longer limits itself to only Financial blue print i.e. profitability or fixed assets but Talent, that has emerged as the newly added element which is weighed and viewed as important pillar to the Organization growth story i.e. Attract & Retain. Therefore, the best organizations today need to think on two aspects, first, how connected an organization is in its approach, and second, the reality of how brands actually play out inside organisations.
A company should look at employer branding from two perspectives – Business Credentials and People Practices which can only happen as a concerted effort of HR, Marketing and Communications for the relative speed in creating unified approach for employer branding. As survey by Robert Half suggests, only 30% of companies intend to adopt employer branding over the next two years, globally, compared with 25% who have no such intention, reflecting a clear space for a lot to happen in employer branding space.
Employer Brand Concept
Effective employer branding elevates an organization from being just one among many similar employers to being an employer of choice. Awareness, recognition and positive differentiation results in attractiveness in the job market, paving the way for the right job seekers to approach your organization.
In an increasingly competitive climate, organisations must focus their efforts on developing their employer brand if they are to be more effective than those around them at attracting, engaging and retaining talent.
Employer Brand Elements: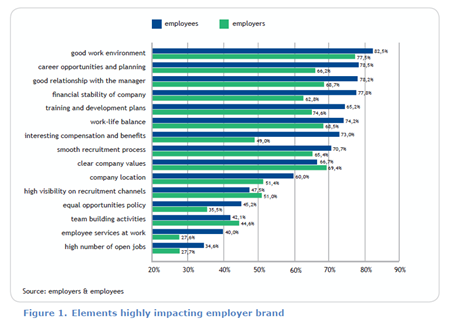 As per Stepstone Employer Branding Survey
Employees
Good working environment
Career opportunities and planning
Good relationship between employees and managers
Financial stability of the company
Training and development plans
Work-life balance
Attractive compensation and benefits
Smooth recruitment process
Clear company values
Company location

Employers
Good working environment
Clear company values
Good relationship between employees and managers
Work-life balance
Career opportunities and planning
Smooth recruitment process
Training and development plans
Organization's financial stability
Location
High visibility on recruitment channels

In general, although there's a slight difference in ranking, the weightage of the various elements is quite similar.
Employers should take account of these slight differences and consider tuning or adapting their employer branding to reflect the elements that really count for employees.
Build up an employer brand in three phases
It is best to follow a plan when building up an employer brand. We distinguish between three phases:
Phase I: What does your organization have to offer as an employer at the moment?
Look carefully at your current situation:
What are your strengths as an employer, how do you stand out from your competitors?
What is your mission and what are your core values?
What makes your organization so special that people want to work for you - Your corporate culture, the intellectually challenging nature of the work or your favorable terms of employment?
What are your weaknesses? What sticking points always come up among your (potential) employees? What (mistaken) impression do applicants have of your organization?

Phase II: What do you want to achieve?
Define where you want to go:
Where do you want your organization to be in the long term?
What image do you want to convey? That of a family-friendly company? A trendsetter in socially responsible business practices? A company where people work with the very latest technologies and are present at the birth of innovations?
Stay realistic as regards your aims.

Phase III: Where does your organization need adjusting?
Set your current situation alongside the aim that you want to achieve and then consider where your organization needs adjusting:
What weaknesses must you be sure to eliminate to achieve your aim?
What strengths should you simply develop further to stand out even better from your competitors?

Employer branding is an ongoing process. That also means that these three phases will be continually repeated. Reassess where you are on a regular basis.
There are Four major New Trends gathering pace in the future based on observations of recent events:
Brand management in the employer brand area - Employer brand is not about projecting the brand to current and potential employees; it is about the nature of the job itself. It's easy enough to tinker with recruitment techniques or HR administration. These are well-defined and established tasks, and real brand management is all about working with other functions, persuading skilled and powerful people to do things differently because, you, the brand manager, have the responsibility to deliver a coherent offer and rationale across the whole customer or employee experience. That can indeed be hard. Like many people working in recruitment and internal communications are not yet stretched across a similar range of areas relevant to the employment experience; they aren't yet truly employer brand managers. Therefore Brand Manager should have the blaze of marketing & people centricity to generate that impact towards Employer Branding.
HR will drive internal communication as part of its DNA – Considering the number of non-HR job titles that are emerging, like People Director, Talent Director, Organizational Development Director, among others,it shows there is an aggressive proactive force trying to get out from under the classic 'HR department' and its essential work on administration, process, regulatory matters, disciplines and compensation. HR will be more communicating considering the active role to what (i.e. agenda) to employee & how (i.e. medium like social media etc.) as a platform. This will also help HR in securing a place at the top table and will respect reality rather than spin.
Tomorrow's CEO will spend more time on their organization's reputation as an employer than with the investment community- For great CEO's,assessment of performances for managers is 50% results and 50% people, and that is reflected in their review too.
Employer Brand Strategy impact - The big 'strategic' consultants will make a formal contribution to employer brand thinking for future. Recruiters, with the great advantage of being closest of all to the muck and bullets of the people marketplace, will add real consulting ability so that they can contribute at a strategic level as well as delivering the warm bodies. Employee researchers who only produce research reports will lose business to good researchers who are consultants as well. To turn employee research evidence into solutions needs knowledge of the organization's culture, priorities and what is politically possible.
Employer branding is a continuous and ever-evolving ballgame with no fixed rules. An organization, especially HR professionals have to be on their toes with out-of-the-box thinking. The end result is to make your employees (current and future) to be able to commit emotionally with your organization by developing a sense of belongingness.