Entrepreneurship
Generating employment through Social Entrepreneurship
Currently, there are nearly 2 Million social enterprises in India and besides assisting in overcoming poverty and achieving social integration, it is also creating productive employment.
Back in the mid-1940s, when the contractors and middlemen were exploiting the milk producers, the establishment of Kaira District Cooperative Milk Producers Union Ltd., popularly known AMUL saved the day for the farmers in that area. The present-day Anand Pattern dairy cooperatives trace its origin to the establishment of a dairy cooperative at Anand in 1946 under the direction and guidance of Sardar Vallabhbhai Patel. The dairy farmers of the then Kheda District of Gujarat organized themselves to form a dairy cooperative to directly undertake sale and processing of milk collected from member dairy farmers of the district. Sardar's vision to organize farmers and have them gain control over production, procurement and marketing were taken forward by V. Kurien. Today, the dairy cooperatives generate employment opportunities for about 12 million farm families.
Amul is one of the finest examples of leveraging the social landscape for creating employment and promoting socio-economic development. As milk production did not require much land but more family labor which the poor had amply, the landless poor could easily and profitably participate in the white revolution, deriving employment and additional income from it. Interestingly, eradicating problems of poverty and unemployment was not the key agenda of operation flood. But its model was such that it automatically impacted millions of landless, marginal, and small farmers. In fact, Amul played an important role in generating employment for women as well.
This is the level of wonders a social enterprise can do. The report, state of social enterprise in India by British Council showed that social enterprise in India is developing fast. It also highlighted that more than half of the social enterprises create direct employment by employing disadvantaged groups in their workforce, nearly two-thirds work with the objective of creating employment, and more than half provide skills training to vulnerable groups. As per the report, social enterprises employ 19 employees on average (17 full-time and 4-part-time).
Based on the very small unrepresentative sampling process, there may be as many as 2,000,000 social enterprises currently operating in India and each one of them is trying to solve varied problems. The report showed that 53 percent of the social enterprises are engaged in skills development activities, 30 percent in education, 28 percent in agriculture/fisheries/dairy, 26 percent in financial services and 26 percent in energy and clean technology. And the most commonly stated objective of social enterprises in the survey was creating employment (62%).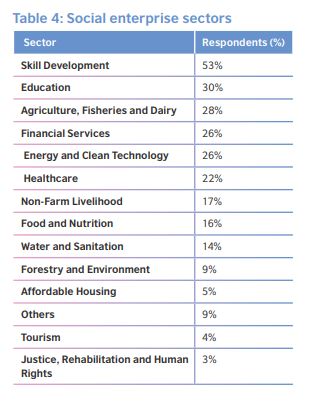 Here are a few examples of social enterprises impacting lives and creating jobs in India:
SELCO Solar Pvt. Ltd
It was established in 1995 to provide sustainable energy solutions and services to under-served households and businesses. It was conceived to dispel three myths associated with sustainable technology and the rural sector as a target customer base:
1) Poor people cannot afford sustainable technologies;
2) Poor people cannot maintain sustainable technologies;
3) Social ventures cannot be run as commercial entities.
Through the provision of solar lights, SELCO has been able to successfully empower individuals to run their businesses without dependence on fuel based products for lighting. It currently employs about 375 employees in Karnataka, Gujarat, Maharashtra, Bihar and Tamil Nadu spread across 45 energy service centers.
Basix Krishi Samruddhi Ltd.
The mission of Basix Krishi Samruddhi Ltd. (BASIX KRISHI) focuses on improving lives of small and marginalized farmers by providing a package of inputs (raw material, skills, credit) and advisory services on sustainable production practices, risk mitigation, and market linkages. It was established in 2010 in response to two issues faced by small and marginal farmers – farmers could not afford technical support services, there was a mismatch between demand (for potatoes) and local produce (fish). Currently, it has around 122 full-time employees.
Rangsutra
It is a community-owned Craft Company of over a thousand artisans from remote regions of India, the deserts of Rajasthan and plains of Eastern U.P and all the way to Manipur in the North East. With a motto "Ensuring sustainable livelihoods and regular employment for rural artisans", it is creating a bridge between artisans and community. The founder and MD of Rangsutra, Sushmita Ghosh started the company about 11 years ago to help rural artisans. Today, it is impacting the lives of 3,000 artisans.
Social enterprise plays an important role in providing growth and employment opportunities to the vulnerable sections of the society through sustainable business solutions. Hence, the possibility of revolutionizing the business practices and integrating them with the social impact is gaining momentum. The 2018 Deloitte Global Human Capital Trends report showcased a profound shift facing business leaders worldwide and highlighted the rapid rise of the social enterprise. This shift reflects the growing importance of social capital in shaping an organization's purpose, guiding its relationships with stakeholders, and influencing its ultimate success or failure. In the survey, 65 percent of CEOs rated "inclusive growth" as a top-three strategic concern, more than three times greater than the proportion citing "shareholder value." This highlights that besides promoting more and more individuals to become social entrepreneurs, existing business enterprises should also work towards becoming a social enterprise.
All the data and examples of companies like Amul suggest that social enterprises provide the organizational means. It not only enables a significant proportion of humanity to take into its own hands the tasks of creating productive employment but also assists in overcoming poverty and achieving social integration. They constitute a model for a people-centered and sustainable form of societal organization, based on equity, justice and solidarity and hence, should be promoted more.
What are your views on this? Share your thoughts with us in the comment section below.