Recruitment
How out-of-the-box hiring has solved talent problems at Qilo?
Fish where the fishes are is the approach that Vipul Mathur, Founder-CEO of Qilo Tech, adopted in a new way while looking for experienced talent for his bootstrapped HR Tech venture
This anecdote is a part of a series from the People Matters June cover: Travails of Team building. The story focuses on learning the first principles of attracting and enabling the core team from entrepreneurs. Read it in two parts Travails of team building: Learning from startups and Travails of team building: Enabling, not retaining.
Startups today require innovative ways to approach skilled individuals in order to build teams that are passionate, aligned to their vision and have the drive to learn. Conventionally, it is not easy to find experienced people (people who have been working for 5-6 years) with certain niche skill sets for your relatively unknown startup, especially when you are bootstrapped. Most of them are already acquired by the top companies which skews the demand and supply ratio. For an early stage startup with limited resources, it is very difficult to get those with relevant experiences by conventional means. If you don't want to compromised on quality of talent, you either keep hunting where you are or you look outside where the demand and supply pressures are moderate. There are many passionate professionals sitting outside the area you are scouting in.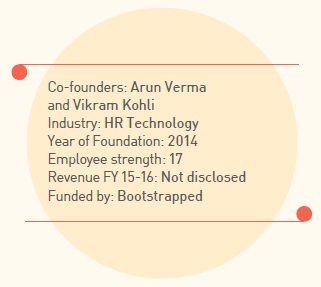 It is also super critical to get people with similar value systems, who are aligned to your vision and have the right passion. If people in the core team are not passionate, then your other team members will never be. The trick to finding them is to think differently and to use technology to aid the search for better talent. One barrier that you have to break is asking likeminded people and these likeminded people are concentrated somewhere —they may be blogging and writing somewhere or they are in some community. In our own example, we required certain niche experts and the people we found were out of the range that we could afford. Since we were in a time crunch, we decided to look outside India for options. Using communities like Stack Overflow, we realized that there are a lot of talented and experienced people who want to connect and can work with us since they are aligned with our vision. Stack Overflow, for example, is a very collaborative place. It is not just about taking, but also about giving. So you can identify the givers and what level of giving they are and connect with them.
One needs to have the outreach and the discipline to reach out to them. I started throwing problems at the community and some very senior people started reaching out to us in response. Some of them would be looking for a change of jobs — part time and full time work. We were very clear from the start that we were not providing a part-time assignment because of the resources invested in getting the hang of product entail a learning curve. So we needed to have our team in place because in a startup environment, time is very crucial. As a result of this process, we ended up recruiting two people from Europe and they work with us full time remotely. This helped us in getting a great team of professionals — with a couple of them being physically absent but virtually very present— whom we could afford with our resources.