Entrepreneurship
Is India heading towards a self-employment trap?
The slowdown in the growth of jobs has been one of the key concerns in contemporary India. A closer look at the kind of jobs being created might just lead to a bigger problem in the coming days.
There has been a pressure on successive governments and policymakers to create enough jobs in India so that the workforce of India can be used better and the population can be self-sustainable by becoming economically strong. The creation of jobs, in addition to ensuring that the working population becomes economically productive, is also a vital avenue for fighting poverty and lack of proper use of intellectual, manual and skill-based potentials of the individuals.
Job growth is a critical component of the equation that seeks to balance strong economic performance and keeping a check on the unemployment levels. The growth in the number of quality jobs that provide assured wages is a key mechanism in modern-day economies to share back the benefits of their growth.
It becomes a problem when any country's government is not able to create enough jobs. Policy makers have been long uncomfortable with the concept of 'jobless growth' and have sought to develop new ways to bridge this gap. This involves taking steps like fiscal support to stagnating sectors, attract private investments, providing skill-training opportunities and promoting the option of self-employment. Many such policies directly aimed at creating shifts in the labor market. The present government has tried to create the self-employment opportunities for the unemployed people of the country.
Understanding the nature of self-employment in India
Self-employment has been a way of creating a larger space in job markets to promote work opportunities for the unemployed people and to empower them financially. It's an effort by policymakers to bring more and more into the fold of mainstream market activities. However, it has been done without giving much thought to the nature and kind of self-employment opportunities that are being created. If done properly and with the right market conditions, self-employment is a great option to bridge the gap that often arises in government efforts to create quality employment opportunities. It helps spur entrepreneurship opportunities and also helps tackle rising unemployment rates.
But the reality in India is often quite far from this ideal situation. The jobs market in India is still plagued with systemic inefficiencies. Most startups or owner managed enterprises end up becoming a part of the unorganized sector of the economy.
Within the Indian context, it's also hard to categorize many self-employed people as entrepreneurs because there seems to be a visible distinction between how the two groups operate and their overall contribution to the economy.
Gurbachan Singh, in a report in Mint, states that an "entrepreneur is someone who is associated with initiative, insight, vision, foresight, fresh thinking, conviction and stamina and with specific concepts like creative destruction. In contrast, a self-employed person is anybody who is working for oneself instead of working for a wage or salary in an organization run by others, which is the case of wage employment."
The other area where self-employment numbers in India play a negative role is when it comes to measuring the unemployment rates of the country. A comparison of unemployment rates in India and OECD countries shows that the unemployment rate in India is far better than that in other developed countries. A latest ILO estimate puts India's unemployment rate at around 3.5 percent, against OECD's 6.1 percent.
At face value, it seems to show that India has done well keeping its unemployment in check. But that's not the real picture. A significant proportion of the Indian labor still faces a high degree of uncertainty when it comes to factors like wages. One of the reasons for this discrepancy can be the fact that when jobs aren't available to an individual, they become unemployed (in the developed countries). But in the case of India, many put up their personal wealth and become self-employed. This trend might help the country keep unemployment levels low, but keeps them in the low-income bracket. Conversely, they often earn a high income but operate only as mediators between businesses or between businesses and consumers. In other words, they are not really producing anything or providing valuable services, but they capture the middle space between businesses and consumers and float on it with a financial gain. This doesn't really help the human resource and business scenes positively.
How to avoid becoming more vulnerable?
Nearly half of the labor force is, as Professor A.K. Ghose reports (), self-employed in India. Self-employment has a comparatively large presence in India also because government policies encourage owner-managed enterprises. This situation, according to A.K. Ghose, arose in last decade which was surprisingly a high growth period for the Indian economy. Although the economy grew steadily, it was primarily led by services industry. This growth led to the creation of many highly skilled jobs. Without a parallel focus on improving skill-level across the workforce, those with low skills were left behind in the economic journey India was undertaking. It was this portion of the workforce which then turned towards self-employment. According to a report in HT, the share of self-employed persons earning less than Rs 3,000 per month, was more than one in five in urban areas and just under half in rural areas.
There has been an explicit focus within the present government to promote self-employment opportunities. But moving ahead, this push needs to be in a manner that balances the need within labor markets to access quality jobs while also ensuring that ample employment opportunities are being created. Given the right environment to operate in, self-employment can actually be beneficial.
To achieve the above, the following are critical requirements: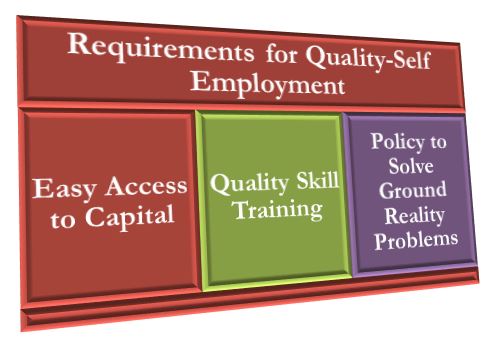 Through a host of schemes, like the MUDRA scheme of providing capital to those within the Medium and Small Business Enterprises sector, the government has sought to provide capital to people who wish to start something of their own. But still, many such schemes are yet to either reach their intended benefactors or are still too small in their ambit to create a significant change. Since the provision of capital becomes vital to transform a self-employed individual to entrepreneurs who contribute effectively to their own wellbeing as well as economic productivity, increasing the access to such capital is vital.
Access to good quality skill-training
The other important factor that can provide some strength to the self-employed community is their access to skill-training programs. These programs can help them to either stop being self-employed and join regular and better-paying jobs or can help them become better at being self-employed. Many states like Punjab and UP have already begun to provide self-employment opportunities. But such policies might as well involve skill building activities under the framework of Skill India Mission that allows self-employed individuals to start more productive jobs.
Policy should solve Ground Reality Problems
More than providing access to capital and good skilling opportunities, it's vital that policymaking can solve the ground reality problems. To sustain a significant proportion of the workforce which is currently self-employed, policies have to ensure that self-employment becomes an option that individuals choose, not out of compulsion but because of their own preference. Policymaking also has to take into consideration the bureaucratic hurdles and systemic inefficiencies that come into play when people are self-employed. India still ranks pretty low in the ease of business index which makes setting up personal ventures even more difficult.
Promoting self-employment is a helpful option till the time it is supported by an overall shift in the economy which makes it productive and suitable to be self-employed. In the event of more and more people becoming self-employed, it's imperative that they get a fair due from their business partners and with whom they have dealings. Thus, prices for their work need to be regulated to their advantage. Besides, they should be able to get a workplace that is healthy and environmentally friendly, with all modern equipment, at a low rate.
Further, they shouldn't have to run from pillar to post and to spend a lot to get their company registered and get an office on rent etc. The government would do well to abolish all registration process. Taxation policy has to be simplified without the self-employed people having to waste a lot of time and resources over this. The government needs to abolish complex taxation system and lower the complex taxation that has become a death knell for the SMEs. Over insistence on digital technology should also be abolished till the government can provide access to the 100 percent population to the digital technology. Banking laws need to be made simple so that people can have a zero balance account and can withdraw and deposit money without having to lose money in the process.