Funding & Investment
Funding & acquisitions in the Indian HR Tech and work space: July-Sept 2018
In this quarter, Leena AI earned the distinction of raising funding twice while Wipro announced the purchase of US-based Alight Solutions India operations for $117 Mn.
The third quarter of 2018 again saw significant activity in the skilling and HR tech space. The quarter saw some seven startups raising over $37 Mn. In these three months, Leena AI was in the news for raising funding twice in such a short span.
As per Deloitte Consulting LLP, the HR technology marketplace is a $400 Bn market globally. Investor interest in this sector is steadily growing globally and in India as well. It is estimated that Indian firms can save at least $600 Mn annually with HR tech. As organizations turn more towards digitization, investments in the sector are expected to grow.
Here's a quick look at the other significant fundraisings and acquisitions in the HR tech space and work space in the second quarter of this year.
Fundraisings/ Investments from July-Sept 2018
In the period from July to September, about 7 startups raised more than $37 Mn in funding from investors and PE firms.
Leena AI: Gurugram based Leena AI received the backing of the American seed accelerator, Y Combinator. The HR tech startup raised yet another $2 Mn in the month of September in a seed round from a bevy of investors including renowned investor Elad Gil, Snapdeal co-founders Kunal Bahl and Rohit Bansal, FundersClub Fund, Quiet Capital (Lee Linden, Matt Humphrey, and Ray Bradford), and Cathexis Ventures along with a few other angel investors.


Eruditus Executive Education: In July, InnoVen Capital announced a Rs 16 Cr ($2.2 Mn) in debt financing investment in ed-tech startup Eruditus Executive Education.


Awfis: Homegrown coworking space provider Awfis Space Solutions raised $20 Mn in Series C funding from its existing investors global venture capital firm Sequoia Capital, The Three Sisters: Institutional Office (TTS:IO) led by Radha Kapoor and Temasek Group company InnoVen Capital.


Shuttl: App-based office bus service Shuttl owned by Super Highway Labs Pvt. Ltd, raised $11 Mn in Series B funding led by Amazon India, Amazon Alexa Fund and Dentsu Ventures. Existing investors Sequoia Capital, Times Internet and Lightspeed Ventures have also participated in the round.


Hush: In the month of August, Indian community workplace discussion app Hush raised an undisclosed amount as part of its first external round of investment. The seed round was led by early-stage venture capital firm Accel and saw participation from Sanjay Nadkarni, country manager at Houzz India and a bevy of angel investors.


Imarticus Learning: Mumbai-based startup Imarticus Learning raised $2 Mn in a Series B funding round from venture capital fund CBA Capital in August. Imarticus Learning offers certified industry-endorsed courses in Financial Services, Business Analysis, Business Analytics & Wealth Management.


Sheroes: The women's community platform, Sheroes raised undisclosed sum from venture capital firm Leo Capital and angel investor Anand Chandrasekaran in September. Lumis Partners, Raghav Bahl and Ritu Kapur's Quintillion Media and the HR Fund also participated in the round of funding.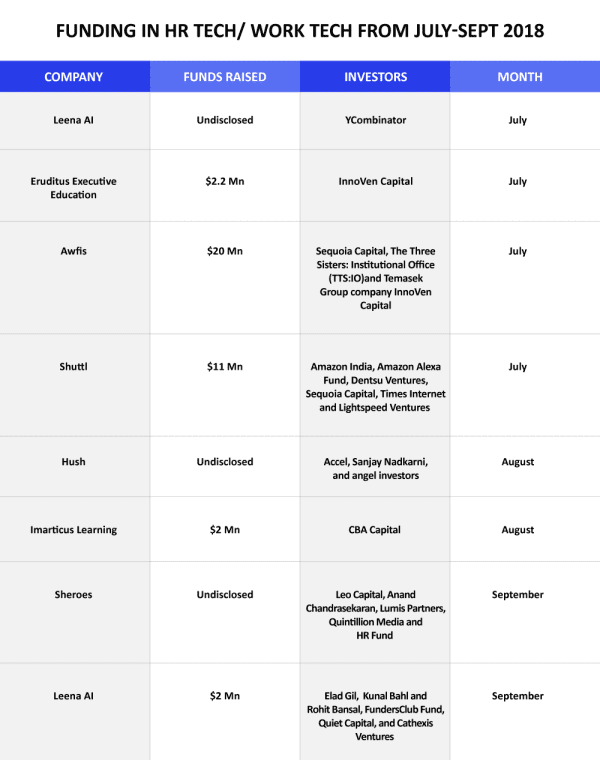 Globally, Toronto-based HR startup League raised a CAD 62 million (about $47.1 Mn) Series B round led by TELUS Ventures in July. The funding round saw participation from Wittington Ventures and returning investors OMERS, Infinite Potential Group, RBC Ventures, and BDC Ventures.
In the same month, New York based people enablement platform Impraise raised $10.6 Mn in Series A funding led by Keen Venture Partners (KEEN) with participation from existing investor, HenQ.
California based Automation Anywhere, a Robotic Process Automation (RPA) company also raised $250 Mn in Series-A funding round led by New Enterprise Associates (NEA) and Goldman Sachs Growth Equity with participation from General Atlantic and World Innovation Lab (WiL) in the month of July.
One of the biggest rounds was however raised by Slack which raised another $427 Mn in a Series H round led by Dragoneer Investment Group and General Atlantic in August. The other investors in this round included T. Rowe Price Associates, Inc., funds advised by Wellington Management, Baillie Gifford, and Sands Capital, along with other investors.
Meanwhile, closer home, in the APAC region, Singapore-based cloud-based software startup EngageRocket, that helps companies build better workplaces using people analytics, raised $640,000 in seed funding led by SeedPlus in the month of September, taking the total funds raised to $1 Mn. The round was led by SeedPlus, with Found.Ventures also participating. Other investors from the previous round include former JobCentral co-founder Huang Shao-Ning.
Acquisitions from July-Sept 2018
In the Indian HR tech space, two major acquisitions were completed in these three months.
Innovsource and V5 Global Services: Private equity firm Samara Capital, along with partners Goldman Sachs and Hong Kong-based investment firm Janchor Partners, acquired HR firms Innovsource and V5 Global Services for about INR 350 Cr. The three partners have formed an investment platform called First Meridian to buy stakes in the HR and staffing companies.


Alight Solutions: In the second deal, Wipro Ltd. announced the purchase of US-based Alight Solutions' India operations for $117 Mn in cash in July. Alight Solutions provides benefits administration and cloud-based HR and financial solutions to 1,400 clients serving 19 million employees and their 18 million family members.


Meanwhile globally, coworking space provider WeWork acquired Salt Lake City startup Teem, a maker of office management software for a $100 Mn.