HR Analytics
Workforce Analytics: How mature are organizations?
The People Matters Workforce Analytics Study 2016 reveals the analytics maturity level of organizations.
74 percent companies are at a very early stage of workforce analytics adoption
Riya was browsing internet search engines for writing a paper on HR Analytics. A mouse click got her to a new webpage. That webpage drew her attention to the other suggested readings. Then she went back to the search engine and started experimenting with some fancy keywords. 19 websites, 43 webpages and 20 bookmarks later, she was stranded in a sea of data. Sourcing the data was not a challenge for her. The challenge was to make sense of it; to use it in the most effective way possible.
Move over data. Make way for analytics
And that is when the eerie similarity occurred to me – Like Riya, every organization has data, an abundance of it. The differentiation lies in the ability to make sense of that data, which in common parlance is called analytics.
Organizations are well-aware of the significance of analytics, as revealed by the People Matters Workforce Analytics Study 2016. According to the survey analysis, 81 percent of respondents agree that analytics is an important competitive resource for any company. More importantly, organizations realize the significance of analytics in elevating HR's strategic role. Another 98 percent respondents agree that 'workforce analytics' enables HR to play a crucial role in driving business strategy. And 99 percent of respondents realize the importance of analytics in addressing strategic human capital challenges.
Clearly, India Inc. aspires to embrace analytics in their human resource function and sharpen its focus on the strategic side of HR. But where does India Corp. stand when the discourse is Workforce Analytics?
How mature are organizations today?
Basis the findings of the Workforce Analytics Study 2016, we have benchmarked the maturity level of organizations surveyed against Gartner's Analytics Maturity Model.

The infants: A majority of 38 percent companies are still at their infancy when it comes to adoption of analytics. They use it only for simple reporting, which is the first stage of the analytics maturity model. About 70 percent of the companies still use spreadsheet based systems for analytics. And this limits them to go beyond advanced reporting, if not simple reporting.


The adolescents: Adolescents constitute the second highest percentage of this population. 36 percent companies have been found to use advanced reporting. The 'what' and 'why' are answered in these 36 percent firms, but the analytics system isn't mature enough to assess patterns and predict the future talent behaviors, or prescribe solutions.

Almost three-fourth (74 percent) of the companies across India Inc. are immature and are not fully utilizing the potential of analytics for strategic HR functioning.


The adults: 26 percent of the companies use predictive and prescriptive workforce analytics. Only these firms can be considered as mature in the field of HR analytics.


What is the talent analytics plan of organizations?
About 23 percent companies have a talent analytics system in place, but 62 percent companies are looking to set up one in the coming years.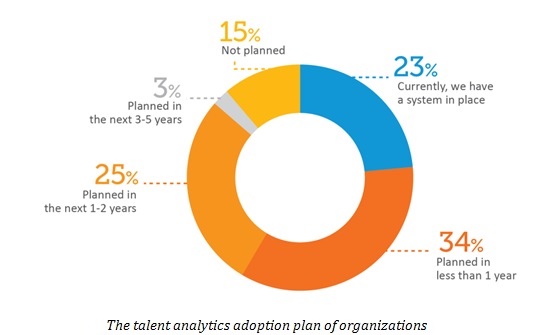 Given the presence of external partners and also the internal capability of organizations to set-up talent analytics, investments need to be made to build a robust talent analytics system – a system that predicts, prescribes, and enables the HR professional to make objective decisions and extract the best from the repository of talent at his/her disposal.
The budget that companies have allocated for talent analytics (per annum) hovers below Rs. 50 lacs for 72 percent companies. 19 percent companies have allocated between Rs. 50 lacs and 1 crore; 7 percent companies have allocated between Rs. 1 and 3 crores; and the budget is over 3 crores for 2 percent companies surveyed.
As companies put in the (not so) big bucks in the talent analytics hat, they need to know:
Where they are putting them: Companies need to choose wisely, given the abundance of options they have to choose from. In the HR start-up space alone, 32 percent companies are leveraging analytics in talent acquisition and talent management; and 9 percent of start-ups in the talent management space are talent analytics systems.

Given that 23 percent of companies surveyed are looking at bringing external partners onboard, they need to invest in a system that is the right fit for the respective organization. The situation is similar to hiring talent, only selecting this costs more money.


How they are putting them: The budgets of only 25 percent of companies are structured. In fact, 20 percent do not have a talent analytics budget at all, and 39 percent have a budget when the need arises. So there is a visible need for companies to prioritize talent analytics and smartly invest in the function to drive business outcomes.

The People Matters Workforce Analytics Study indicates that a business case can be built and additional budgets drawn by showing a return on investment of the analytics intervention, the system's ability to optimize cost, and a targeted business problem the system can solve.


In summation
An average HR professional, since (s)he earned strategic importance and a place in the board room, has been grappling with making compulsive business cases, and supporting arguments with numbers. With the commencement of data, and the added ability to make sense of that data, the HR professional is now empowered to voice ideas vociferously and subsequently make those voices heard.
The C-suite also stands in full support. As many as 80 percent respondents have said that the top management has asked for a talent analytics system. It is now on HR to bring science into the art of HR.