HR Outsourcing
Is your HR outsourcing partner geared for success?
Let's discuss the best practices that talent leaders can use to ensure the success of HR outsourcing delivery partners.
The popularity of the HR outsourcing industry in India started at the turn of this decade, with organizations looking to optimize cost, drive standardization, and provide a superior employee experience. Managing relationships between organizations and service providers have become increasingly complex because both parties may have different desires and agenda when developing and maintaining HR outsourcing relationships. (M. Fikret Ates, 2013)
The success of HR outsourcing delivery is impacted by factors such as:
The rationale for HR outsourcing and the capabilities of the potential vendor 
Complexities and range of HR processes being outsourced
The extent to which processes are automated 
Quality of workforce and attrition levels for the service provider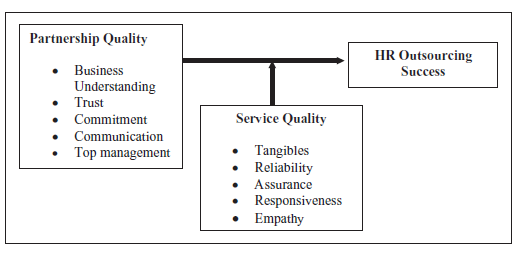 The critical question is what can organizations do to ensure successful delivery by the service provider. Existing research suggests that maintaining partnership quality with service providers is one of the most neglected priorities for HR and this impacts the service quality and success of HR outsourcing. Integral partnership components like trust, business understanding, and communication, which can greatly improve the success of HR outsourcing service providers, is lacking today. In contrast, in general, service quality was found to moderate these relationships partially. (Abdul-Halim, & Ramayah, 2013)
Both the partnership quality and service quality can be easily measured, and suitable interventions can be planned to enhance these parameters. Organizations can further enhance their HR outsourcing success by:
Process re-engineering and use of design thinking
Unfortunately, most HR processes have become phenomenally complex with multiple touchpoints. Outsourcing the process as-is will result in higher complexity as an additional layer of outsourcing vendor gets added. The use of design thinking to make the process simple, human-centric, and agile will help in easier administration by the vendor.
Investing in automation and end-to-end integration
Though benefits of automation by using new-age technologies like chatbots are well-known, the key differentiator is the end-to-end integration between parent HR software suite and add-on suites for recognition, performance, and career management, etc. The use of multiple HR suites without proper and seamless integration will result in manual transactions that complicate work for the vendor.
Changing mindset from vendor to partner
The biggest challenge is changing the mindset of organizations to treat vendors as "partners." The organization can co-create HR processes with the partner for easier implementation. Further, they can invest in building partner's technical and process capabilities and define appropriate recognition mechanisms for joint success.
If organizations can follow the above-mentioned steps, they will be able to make the most of the services offered by HR service providers and integrate them seamlessly into their existing business processes. Eventually, you need to consider your business, talent, and cultural objectives to choose the best service provider and work with them as a partner to achieve the desired goals. 
What do you think? Are organizations geared to engage with outsourcing partners for successful HR transformation? What have been the best practices that you have witnessed in your organizations that have led to a successful partnership in the HR outsourcing domain?
References:
The effect of partnership quality on outsourcing success in human resources functions. International Journal of Academic Research in Business and Social Sciences, 3, 705-731 (M. Fikret Ates, 2013)
Human Resource Outsourcing Success: Leveraging on Partnership and Service Quality (Hasliza Abdul-Halim, Ramayah, Elaine Ee, 2013)