HR Technology
A look at the Indian HR Tech funding and acquisitions: Jan-March 2018
While learning platform Degreed stood out with its big ticket funding, HR tech startup PeopleStrong made two acquisitions in the January to March quarter.
The first three months of 2018 saw a flurry of activity in the skilling and HR tech space. The year started with online adult education and up-skilling startup UpGrad announcing plans to raise about $40 million this year and serial technology entrepreneur Bhavin Turakhia investing an undisclosed amount in leading HR technology company PeopleStrong.
PeopleStrong itself went on to acquire two companies in these three months namely Grownout and Capabiliti. However it was the learning platform Degreed which made headlines with its $42 million funding led by Owl Ventures and Jump Capital.
As per Deloitte Consulting LLP, the HR technology marketplace is a $400 billion market globally. Investor interest in this sector is steadily growing globally and in India as well. It is estimated that Indian firms can save at least $600 million annually with HR tech. As organizations turn more towards digitization, investments in the sector are expected to grow.
Here's a quick look at the other significant fundraisings and acquisitions in the HR tech space in the first quarter of this year.
Fundraisings/ Investments from Jan-March 2018
The first three months of this year saw about six startups bringing in money from investors and private equity firms. The total disclosed investment stood upward of $50 million for these startups.
UpGrad: Online adult education and up-skilling startup UpGrad announced plans to raise about $40 million in its first round of external funding in January. This round of funding is expected to close by the end of the first quarter of the current calendar year. The capital will be utilized for building its global technology platform and investing in courses and content facilities among other things.


PeopleStrong: To provide a holistic offering to enterprises in the HR tech space, Bhavin Turakhia, serial technology entrepreneur invested an undisclosed amount in PeopleStrong, India's leading HR technology company funded by Multiples Equity and HDFC Holdings in January. Bhavin's investment is part of a partnership between PeopleStrong and Zeta, India's leading benefits platform.


Joveo: Hyderabad based startup Joveo raised $5 million in a Series A round of funding led by Nexus Venture Partners in February. Joveo is an AI backed job advertisement platform. The startup is looking forward to using this funding to accelerate its product offerings, expand its partnerships and scale its AI and deep learning layer.


Qandle: Qandle, a cloud-based HR management and employee engagement platform for small and medium-sized businesses (SMBs), raised $1.2 million in pre-Series A funding led by Hong Kong-headquartered venture capital firm Redwood Internet Ventures Ltd in February. Arun Chandra Mohan, former managing director at fashion e-tailer Jabong and ex-venture partner at Rocket Internet, also participated in the round.


Health Assure: Healthcare services provider Health Assure announced raising $1 million in funding from The HR Fund in March. Health Assure is a primary healthcare aggregator, with a network of 2000 plus primary care centers across 800 plus cities. The company helps discover centers and doctors, allow booking appointments and deliver medical reports online.


Degreed: Degreed, a global platform for discovery, learning & certification of skills, raised $42 million in a funding round co-led by Owl Ventures and Jump Capital in March. Co-Founder, David Blake will take over as Degreed Executive Chairman. The funding will fuel commercialization of Degreed's newest product, Skill Certification.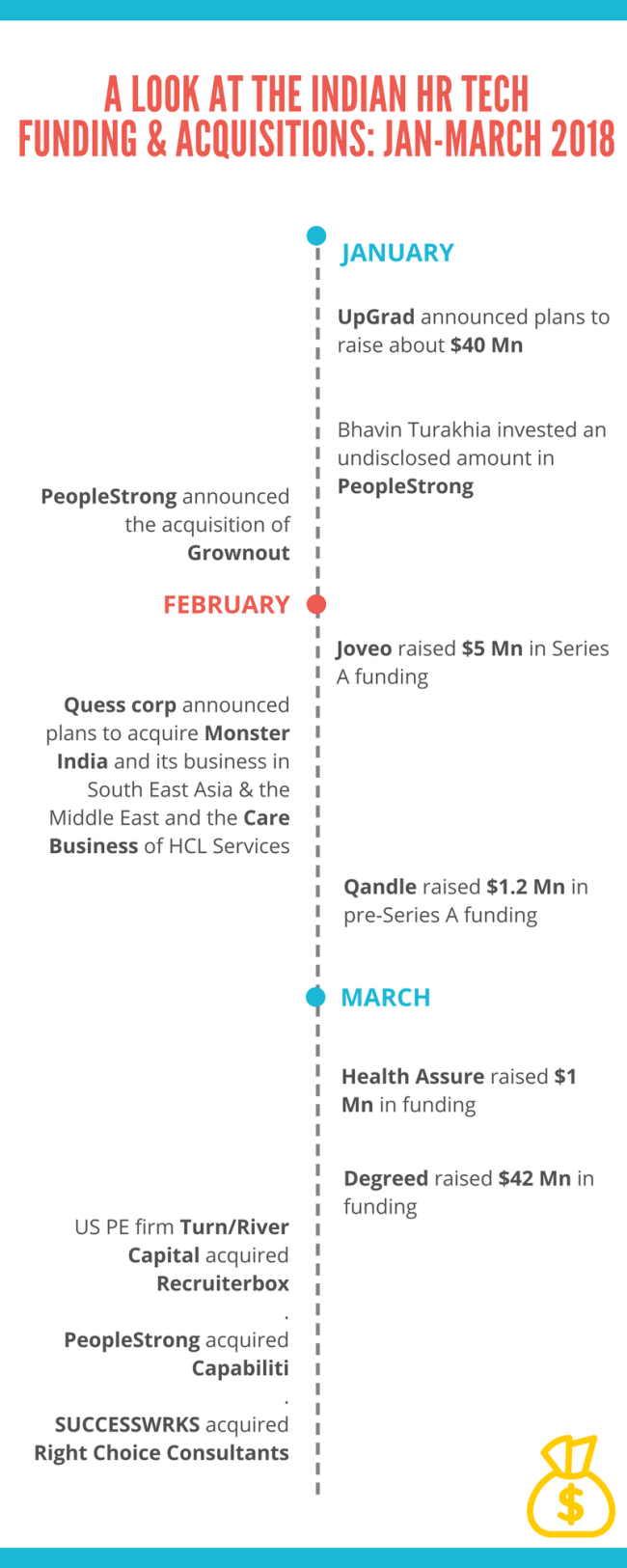 Acquisitions from Jan-Mar 2018
The first three months of 2018 saw a total of five disclosed acquisitions in the HR tech space.
Grownout: PeopleStrong announced the acquisition of Grownout, a B2B SaaS referral platform in January. With this acquisition, PeopleStrong's SaaS HR technology PeopleStrong Alt will become the only global recruitment product from India with a comprehensive offering, right from sourcing, matchmaking to offer generation and onboarding – all powered by Machine learning.


Monster India: Quess Corp, a provider of business services with headquarters based in Bangalore announced its plan to acquire Monster India and its business in South East Asia and the Middle East from Monster Worldwide Inc in February. It also announced its plan to acquire the Care Business of HCL Services from HCL Infosystems.


Recruiterbox: In an undisclosed all-cash deal, Bengaluru based, HR technology platform Recruiterbox was acquired by San Francisco based private equity firm Turn/River Capital in March. Turn/River specializes in growth capital investment, acquisition, and recapitalization of web and SaaS companies. And this acquisition will play a key role in Turn/River's strategy to build a suite of HR Technology products.


Capabiliti: To strengthen the talent management offering and to provide more avenues to its customers, PeopleStrong acquired Capabiliti by Qustn Technologies for an undisclosed amount in March. Capabiliti's mobile-first learning is integrated with PeopleStrong's Alt platform and will be offered as Alt learning to the customers globally.


Right Choice Consultants: Mumbai headquartered HR consulting firm, SUCCESSWRKS acquired the executive search/ selection and staffing company, Right Choice Consultants in March. With Right Choice Consultants onboard, they plan to expand into the areas of Executive Search & Selection.
Note: The report only takes into account the disclosed funding rounds and acquisitions.