HR Technology
Earned Wage Access for engagement & productivity
In a discussion on 'WORKTECH: Earned Wage Access for Engagement & Productivity' at People Matters TechHR India 2021, leaders from Refyne and Rebel Foods highlighted the growing need and impact of earned wage access on employee financial well-being, morale and attrition.
Amidst the mounting concerns around employee well-being, a key wellness aspect that is yet to grab adequate employer attention is financial well-being. Fueled by the pandemic, the space of wellness technology is now witnessing a paradigm shift with the rise of financial well-being platforms. 
In a discussion on 'WORKTECH: Earned Wage Access for Engagement & Productivity' at People Matters TechHR India 2021, Arijit Dey, Head of Growth & Partnerships, Refyne and
Niraj Shukla, Head of HR Operations, Rebel Foods, reflected on Rebel's four month journey with Refyne's EWA platform and explored how it was able to support Rebel through the ongoing crisis that weighed heavily on the financial wellness of the workforce, and the consequent impact on elements like productivity, experience and attrition.
Rebel Foods is among India's biggest cloud kitchens and food tech companies. It is mostly known for brands like Behrouz biryani, Faasos, Slay Coffee, and Wendy's, among others. With an employee base of over 6,000, the organization has been holding onto its core value of people first, which led it to onboard an innovative financial wellness platform Refyne as a technology partner, to address the growing challenge and need for employee financial wellness.
Read on for highlights from the discussion.
What is Earned Wage Access?
In simple terms, Earned Wage Access or EWA is a FinTech solution which gives employees the ability to access their earned salary, real time 24*7. Employers enable this through earned wage access providers who help people manage their personal finances, while staying away from high cost credit providers, money lenders, etc, and reducing their financial stress, giving them peace of mind.
While disruption has been among the most common trends across industries in recent years, Arijit noted that one segment which has not seen disruption in a long time is employee wellness. Adding that EWA does exactly that for employee financial wellness, he said "Earned wage access has helped employee productivity and wellness. Earned wage access, known more commonly as on-demand salary or salary streaming, is probably one of the hottest innovations that has happened in the last couple of years, and has picked pace during this pandemic."
The pandemic fueled a big hit for all industries, and technology has been instrumental in helping organizations revive themselves from the challenges that came along. One such technology that came to their rescue is EWA.
EWA as a platform has played an important role in extending financial assistance to employees at a critical time, boosting their morale, and consequently, helping employers retain their talent.
The burning need for financial wellness technology
Post COVID-19 the need for wellness technology in the workplace has seen a tremendous uptake. The economic challenges that governments, corporations and businesses grapple with across the globe are something that employees struggle with as well. This has fueled the rising employer focus on employee financial well-being.
"One of the biggest problems that they [employers] had was to continuously think about employee motivation levels, their wellness levels, and one main aspect of it is the financial wellness levels," said Arijit. He further shared two findings:
More than 70% of employees across the board and 80% of employees in India have gone through financial stress during these two years
There is a 67% increase in business of all those financial organizations who give high cost credit and are really predatory in lending money 
"These two put together speaks of why the stress levels have gone up. Many forward thinking organizations have paid extra focus on this. They've gone in and looked into the financial wellness aspect of it, and EWA comes in there."
Earned wage access has helped employees access liquidity in some form, so that they have access to money 24*7, without having any prejudice or fear or any kind of risk of being exploited, added Arijit.
Sharing employee experiences through the crisis, Niraj highlighted that whenever people are in need of money, they need money instantly. Be it for salary advances or loans from the company, EWA has supported these transactions, he noted. "People have direct access to their wages, they are applying as per their needs, they could see their eligibility amount and they could put in the request for withdrawal. There was no hassle in the entire process," shared Niraj. He added that there are no additional tasks for the employers in the process either. The entire transaction is completed through the backend from the service provider. 
While the process has been built in a manner that it remains seamless like any other enterprise solution, it still needs the employer, said Arijit. "We need the employer for the simple reason that we believe as an organization that employee wellness needs three people: the employee, the service provider, and the employer; and that's the most important point. If the employer's skin in the game is not there, it will not be successful with the employees."
The impact of EWA on financial wellness and morale 
Sharing how employees have responded to the existence of a platform like EWA, Niraj said that for the lower income segment, having access to even a thousand or two before the month end makes a lot of difference. When the pandemic began, the organization received a lot of requests for salary advances. While the processes are often time-consuming, with EWA, employees were able to gain control of their earned income almost instantly. "They have access to their daily wages, and they are withdrawing money as per their needs, without any hassle. This is how the technology in EWA plays a very important role. It's completely automated and also easy to use for employees who might not have been comfortable using such platforms. EWA has given them control of their earned money, freedom to use their earned money, and this solves a major financial problem for all". 
Adding how the usage of EWA has gone beyond lower income groups as well, Arijit shared that while Refyne aimed to cater to the people at the bottom of the pyramid, which consists of almost 85% of the entire pyramid, they were surprised to see leadership leverage EWA too.
"Today if you have access to your own wages, it's much easier to use that money because within seconds the money is in your account rather than swiping your credit card. People are using this money for buying vegetables, groceries during lockdown, petrol, even to go to a dentist instead of swiping a credit card, paying tuition fees for their children."
Further, the age group of people accessing EWA ranges from 20 years to 40 years, indicating that employees are using the service more frequently as a way of lifestyle and to reduce stress, instead of having to wait for the end of the month. 
Within four to five months, 40% of the workforce at Rebel has already signed up on the platform and around 2,300 transactions have been completed as of now. "We have seen that this is not only solving people's financial issues, but is also helping companies to control attrition. This has helped Rebel bring attrition down to 3% at a company level, at a time when attrition in the market is between 12 - 15%," shared Niraj.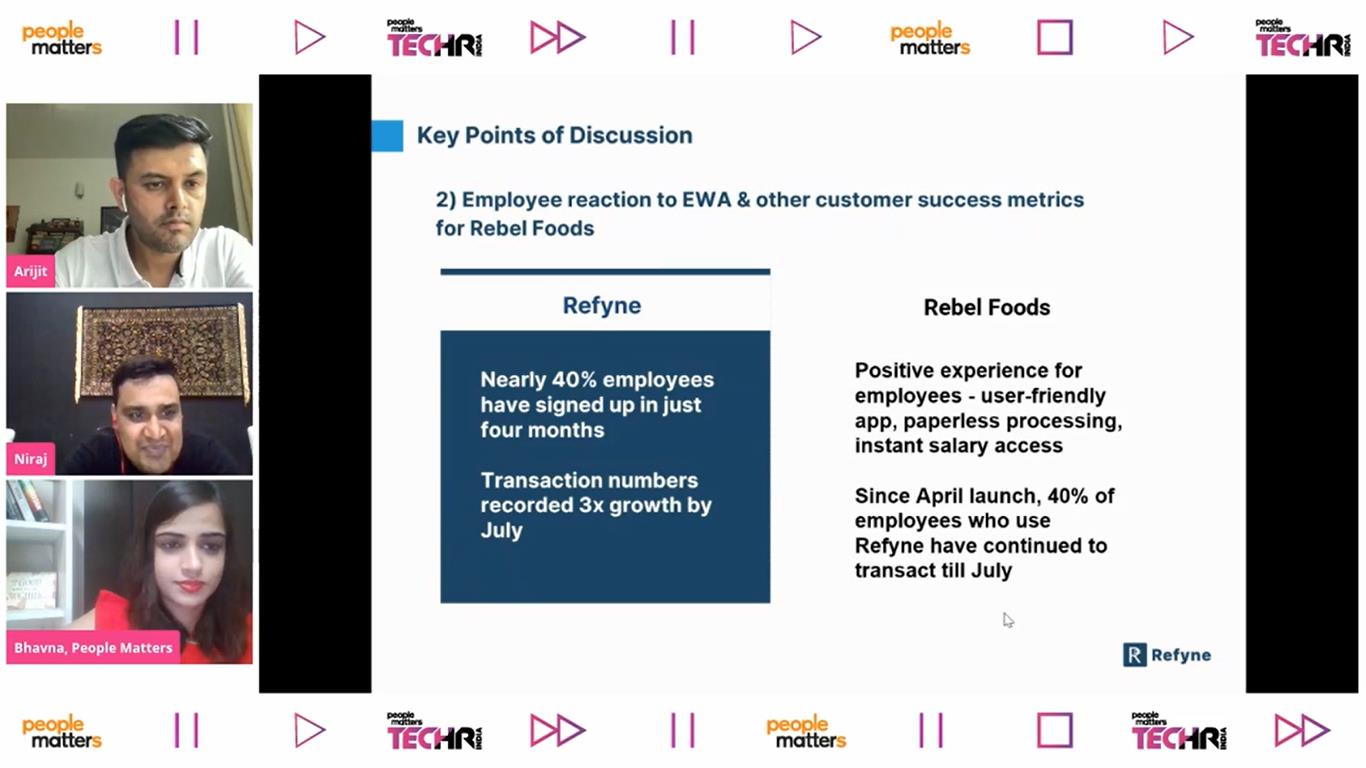 Building a trust-based proactive HR policy with EWA
As leaders think about employee experience, well-being and morale through these disruptive times, providing financial security with easy access in real-time is clearly a core element of it all. The proven correlation between financial wellness, employee well-being, employee morale and attrition is for all to see.
"Finance is the backbone for any individual to work. It gives security to the individual and their family for their survival. And if we are providing freedom of access to their daily wages, employees feel more secure. In the long term, it helps build trust between employer and employee, and trust is equal to money. Where money is there trust is there, and that's exactly how EWA works," stated Niraj.
Echoing Niraj on the importance of building employee trust, Arijit added, "EWA is probably the only proactive HR policy that is available. This is a solution that an employee remembers on a business as usual, day-to-day basis. It matters because it focuses on one single element that is access to money, so employees love it."
The pandemic really made us rethink what employees truly need and what enhanced support they need from employers, especially from a financial standpoint, and EWA is emerging to be a concept that organizations with the "intent" to support employees through these rough waters must consider.