HR Technology
How HR Tech startup CutShort is leveraging AI to revolutionize recruitment
In an exclusive interaction with People Matters, Nikunj Verma, founder of CutShort shares the vision behind the HR Tech startup and how it is leveraging AI to fill the gaps in recruitment.
If there's one word you have heard the most this year, it is AI. Be it robots or retail or self-driving cars, AI is making inroads everywhere. Similarly, in the world of work, be it jobs or recruitment or training, AI is changing the way we work, the way we hire and the way we make decisions.
CutShort is one such HR Tech startup that is leveraging AI to change India's $25Bn recruitment industry.  The recruitment marketplace and SaaS software uses AI to simplify recruitment for modern companies that are looking for quality talent in a fraction of a time at a fraction of the cost. 
Founded by Nikunj Verma in 2015, CutShort uses a powerful match-making algorithm, effective gamification, trusted networks, and AI-powered workflow automation to create an advanced hiring engine. It combines a deep understanding of the modern professional's psyche with accurate data and cutting-edge technology. Like Amazon's Alexa, CutShort also offers its own AI-driven professional assistant Voila, which makes the entire hiring process far more seamless. 
In an exclusive interaction with People Matters, Nikunj Verma, founder of CutShort shares the vision behind the HR Tech startup and how it is leveraging AI to fill the gaps in recruitment.
What was the tipping point that made you decide to start CutShort?
In the beginning, CutShort was known as Social Helpout. The trigger was that the senior section of the professional world did not want to go to a job portal. They wanted to get referred or get a job through networks. They wanted a discreet way of connecting to the companies. LinkedIn existed even then but it was difficult to figure out who was hiring. This is called a referral hiring problem. When we were working on that, we realized people value network referrals but before referrals, they actually want to do a job fitment. Only if that is successful, will the referral work. People don't hire only on the basis of referrals. 
So, when we began exploring this, we began finding answers to how do you find the right people who are meeting the job description. This was a major problem. Then we shifted and diverted from the referral hiring idea to matching and finding the right sector problem. That's when we renamed it from Social Helpout to CutShort. 
If you had to explain in layman terms, how does CutShort exactly work?
For instance, I am a recruitment consultant and you are looking for someone in your team. If you had to explain to me the position you wanted to fill, be it that of a reporter or a correspondent, you would do so in English mentioning the kind of person you are looking for. You would also mention that you want someone who is intelligent and has the motivation to work for a startup. This is how a human communicates and understands.  Now you go to LinkedIn or say Naukri.com, how will you find people given these websites have no filters for smartness or self-driven here. So, now what you must do is translate the information you told me in English into the language that LinkedIn understands. 
Every word is a combination of different variables. So, if we take smart or self-driven, we have to figure out what a self-driven person does, and then you will try to reverse engineer that. You will put the keywords and filters in the resume. You are merely telling a type and this is what the machine tries to understand. Then there is a big gap in what the platforms provide because you will have to understand the UI of every platform and then you have to speak the language and interface. Even then you are unable to find that result, so that is the problem we are trying to solve now. 

Currently, we have started working from the normal data-driven filters to behavior-driven filters. For example, if we take smart, we have some idea what smartness means in the context of the Indian professional world. So it could be someone who has received scholarships through national talent search exams or has some form of presidential medal or is displaying a form of team management on their resume. All this data that we analyze on the people, we try to build these human concepts out of those data. These human concepts are one step closer to what people want to find. So when you add the job function role on CutShort, including the human concepts on top of it, we help you identify those concepts and we help filter between these concepts so that you are able to reduce your search to more relevant people. Also, these people are notified since you are seeking them out and thus, the entire process is much smoother.
How has the journey been like so far in terms of traction and who are the clients you deal with? Also, how do you monetize CutShort ?
The biggest catalyst in the journey was that the problem and the market is so huge, that people will give you a chance here. It turns out, in recruitment what people needed and what was available in the market had such a big gap, that the opportunity became huge. So we didn't have to sweat a lot in terms of getting customers. In fact, we have zero salespeople who work for us. We are cash-flow positive and about 8,000 companies have used CutShort so far in India to place 3,500 people. Most of these companies have been startups. Some of the customers that have been using are Amazon, Media.net, Paytm, Flipkart, Uber, Swiggy, among others. 
The way we are growing, we might start a pay-per-hire kind of a model where the more you hire the more you shall pay kind of a thing. But right now, it is on a subscription basis where you pay a monthly fee to access the platform. 
You mentioned earlier how this space is huge and there are other competitors in the market, what do you think is differentiating you from the others?
In terms of the journey we had, by having a lean team and by having a longer-term perspective of the market we are able to do things that a new competitor who comes with a runway of 6 months or a year is not able to crack. One of the major differentiators for us has been that on account of a longer-term view, we've had the independence to pursue our options. And those options are serving the customer. We are building a company for our customers. This has given us a lot of independence in terms of what is the right longer-term solution that we should go after. This is one of the clear advantages that we have.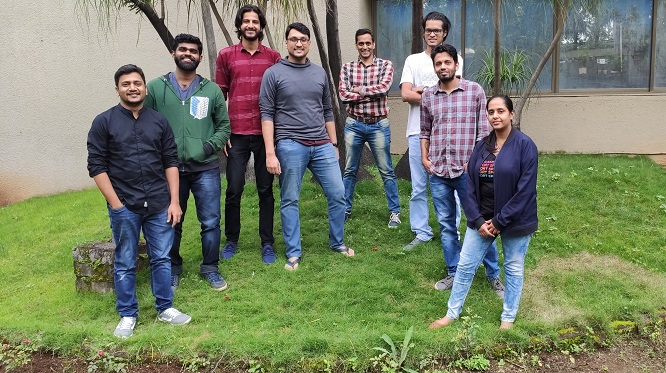 We are 12 of us right now. For most of the journey, we were only 6-7 people and that is across technical, sales, marketing, and customer service- everything put together. We've been able to achieve a dream team. These are some of the key advantages that we've had- being flexible and lean and how to focus on the right problems in a very independent way.
What are your future plans in terms of your product and team? How do the next 5 years look for you?
We are right now at a point of good traction. In terms of success percentage, we've gone up because we now have a good skill. This skill helps us to place more people and we are able to get them more jobs. The success ratio is increasing. The product roadmap will be aggressive now, it will keep on building on the vision I spoke of before. In terms of the expansion of the company, it is a good time for us to go international. We have begun working on plans in that direction as well. I believe what we are creating is not just for India. 
As far as this space is concerned, how do you see it panning it out in India? Do you see any particular trend that is going to change the space in the coming years?
In India, AI is coming in a big way and even so we are at a juncture where the market is evaluating what can be done by AI. There are some companies that are devising ways to tell your personality traits basis your email address. These are innovative ideas. When would they be applicable in a practical environment is still to be tested. But like I said before the language problem that we have of converting the human language into technical ones- is the gap that needs to be filled and is the big trend to look out for.