HR Technology
How HR Tech startup Talent Litmus is betting on gamification of assessments
Read how Talent Litmus is banking on proprietary algorithm grounded in psychology and data sciences to create powerful tools for assessments.
While working at their earlier startup Purple Squirrel, Satpreet Arora and Kiran Wadhwa struggled when it came to hiring the right kind of people for various roles. Satpreet reveals, "We had a terrible strike rate when it came to identifying the right people. We tried psychometric tests but we knew they can be faked easily, are extremely boring to complete, and extremely outdated in terms of technology."
That's where the genesis of their second startup started. Both are avid gamers and while brainstorming the duo realized that gaming is an interesting medium to conduct assessments. The engagement value is high and people are likely to let their guard down while gaming. So one could collect a lot of data points as opposed to questionnaires. That's when the first prototype of Talent Litmus, a platform for game-based assessments and learning, was conceptualized in 2016.
The duo worked with psychologists to build it and ran it through rigorous rounds of testing to ensure it is scientifically reliable and valid. The proprietary algorithm grounded in psychology and data sciences combined with highly-engaging game mechanics, enables them to create powerful tools for organizations enabling an in-depth analysis of an individual's role fit, team management capabilities and motivations. Growing further, the startup is also building engaging games for learning and corporate training, helping people understand skills like managerial ability, customer orientation, and collaboration.
From games to jobs
When companies deploy Talent Litmus, they get access to the dashboard where they set up assessments and send up invites to various candidates to play the games on their phones. Candidates play these games on their phones, which help to map skills like problem-solving, critical thinking, and focused attention, among others. The 40-minute game is able to collect a lot of data about the individual on a wide variety of behavioral aspects. 
So while the game remains more or less the same for the candidates, what actually changes are the reports which measure different characteristics. This is because when the company or the HR is setting up an assessment on the dashboard, it inputs as to what the role entails- is it managerial or entry-level, and what are the opportunities associated with the role.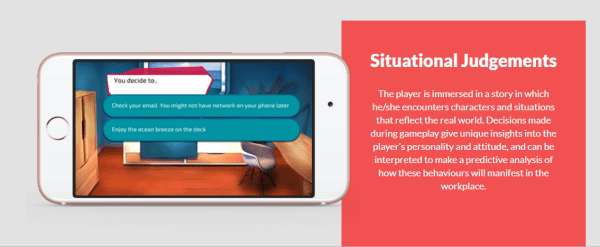 25 Organizations, 9,000 candidates
The steadily expanding list of Talent Litmus shows that gaming is serious business when it comes to assessments. The startup works with around 25 organizations currently, and over 9,000 people have taken the assessments. These companies range from retail, telecom, banking, media, manufacturing, for a wide variety of roles-right from entry-level to mid-management. The company charges per assessment, per person who plays the game. Clients include Urban Ladder, Satchi & Satchi, Ashok Leyland, among others. By the end of this financial year, the organization plans to rope in 50 organizations. 
Recently, the Mumbai-based startup has raised an undisclosed amount of funding from Inflection Point Ventures and Haptik co-founder Aakrit Vaish via Let's Venture. It plans to utilize its funds to invest in R&D, expand product portfolio and geographies served.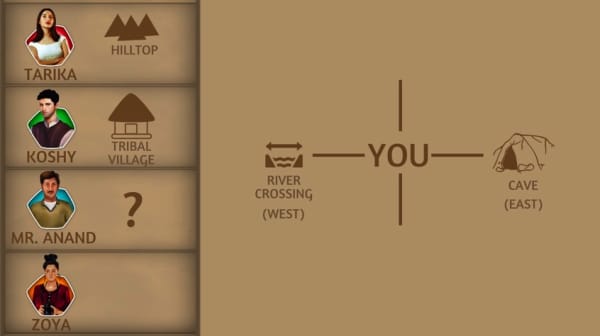 Targeting a $2 Bn Global Corporate Assessment Services Market
Game-based assessments are a global phenomenon and the growing popularity of players such as Pymetrics is a result of the spike in demand. However, when it comes to differentiation, Satpreet adds that what sets Talent Litmus apart is the fact the most of the assessments being built by competitors are focused on entry-level roles. At times, they only measure aptitude and problem-solving skills. However, what Talent Litmus claims to have developed is a far more evolved product that can be used for roles up till mid-management as the platform effectively measures interpersonal skills as well.
In the short term and medium term, the platform endeavours to focus completely on game-based assessments and learning. Satpreet believes that collectively, these two spaces are really big and a fair degree of differentiation is what the startup is banking on to make headway in these two domains.
Moreover, today companies are open to trying game-based applications. The same goes for learning, wherein organizations are struggling to find solutions that their employees will be happy to adopt. Even completion rates of 60%-70% are a dream for companies for courses that are not mandatory. It is this vacuum Talent Limtus hopes to fill, not only in India but also outside of India, given that all its products- whether learning or assessments based- are fairly universal in nature. The startup already has a client in Brazil and is doing pilots with companies outside India. 
Given that in 2018, the global Corporate Assessment Services market size was $2.63 Bn and is expected to reach $4.37 Bn by the end of 2025, with a CAGR of 7.5% during 2019-2025, Talent Litmus has a wide field to cast its net. There is no doubt that the talent war is heating up as organizations race to try more innovative methods to rope in the right talent for their future workforces. However, how much of the space it can garner in the face of other well-funded competitors will be interesting to watch out for.