A Brand Reachout Initiative
HR Technology
How Kotak Life brought HR on the Palm of every employee with Darwinbox– Digital Transformation Story
Here is a case study on how Kotak Mahindra Life Insurance Company (Kotak Life) envisioned to improve the work-life of 16000+ employees by digitally transforming and bringing HR on the palm with Darwinbox HRMS. Mehul Oza, Deputy Vice President at Kotak Life shares his insight on employee experiences and change management best practices on Kotak Life's transformation.
The ongoing disruptions have resulted in a constant change in demands from businesses and stakeholders. It is clear that organizations who get their HR Transformation right and establish a veracious set of capabilities will be able to realize outcomes on an ongoing basis. This will give them a competitive edge as they navigate to the future. They will be able to use a variety of existing and new tools to deliver the changing outcomes as demanded by the business and refine their employee experience constantly.
Kotak Life was quick to understand this business imperative– HR digital transformation. 
The company hastened its investment and efforts in enabling the digitization of HR to enhance the seamless experience for its 16000+ employees across 250+ locations to reinforce and strengthen their capabilities and maintain the same levels of work momentum.
Kotak Life's vision for HR:
As an organization, they have three important constituents - the customer, the employee, and the distributor. The overall brand philosophy is "Hum Hain Hamesha" which means "We are always with you." This philosophy could only be fulfilled through empowering the frontline which manifests itself in three fundamental questions - "How do we empower?", "How do we engage?", "How do we educate?". 
As a company, Kotak Life wanted to move to an advanced form of HR Technology where all HR services are unified and available 'on the palm' of the employee, just one click away. The organization wanted to centralize HR processes and have a mobile-first approach to transactions. 
Mehul shares, "We wanted to create value for our employees.  We launched HR on the palm, which ensured that all our HR services are delivered on the palm of our employees. We're predominantly a field distribution organization, whereby about 70 percent of our employees operate out in the field most of the time. So it becomes very important that while they are on the go - we are able to communicate with them, engage with them, ensure that they complete their transactions from wherever they are. That is how the whole inception of 'HR on the palm' happened."
Selecting the right HR Tech partner
Mehul shares that the end goal of this digital HR transformation was making the life of an employee easy by providing all the service on the palm. To make it possible we were looking forward to the following expectations from the technology:
Deeper Understanding of the BFSI Sector: What was the partner's experience handling other insurance companies
Mobile-first & Great User Experience: Can it enable 100% employee self-service on the palm?
Configurable: How flexible and self-serviceable are the configurations on the system?
Speedy Implementation: How agile will the implementation timeline be?
Integrable: What are the integration possibilities with other subsystems?
Reporting & Analytics: Does the data on the systems auto-update and can it provide system-generated reports?
Commenting further, Mehul shares that Kotak Life envisaged these requirements and wanted to bring together best-in-class systems that offer a depth of functionality but also integrate seamlessly to offer a unified experience. 
Kotak Life shortlisted Darwinbox because of its experience in solving such issues for insurance companies and good customer references in the market. Darwinbox was found to be the closest fit with most of the requirements being addressed by the system. Also, the team's approach towards problem-solving and delivery was a critical selection factor. Whenever a gap was discovered, they were prompt at plugging it with an apt solution. 
"What I also really liked about Darwinbox as compared to other traditional tools was that it has immense local context. It is tailored and personalized to your needs and the location where you operate. Today most of the tools which have been traditionally used have a standard global touch which cannot be personalized to your needs."
The HR Transformation Journey
A number of key practices were designed to lead this transformation.  Here is a glimpse to some of these practices:
Modular Launch Approach: The implementation was conducted in a phased manner, prioritizing the modules that were most beneficial not just for the corporate office, but primarily to people at the frontline.
Change Management at Scale: To ensure smooth and seamless transformation there was HR representation from all the different zones. A two-day training helped them understand the system and also made them play an active role in the transformation by performing UAT. Cross-functional collaboration from Day 1: IT was a cohesive part of the project all the way through. Timely reviews, governance calls, and course corrections were a major part of the planning process and a large reason for the success of the project.
Emphasis on Testing Ownership: Since it is such a large company, they wanted to make sure the implementation was as fool-proof as possible. So they appointed Testing Owners for each and every module to make the UAT process as error-free as can be.
Mastering Frontline Employee Adoption:
The communication strategy was meticulously planned to create alignment with the vision - 'HR on the Palm' through posters, standees, and leadership videos that were shared on Whatsapp groups. Comprehensive artefacts were built and distributed by the HR team explaining how the product works through posters, desktop wallpapers, how-to-guides (WhatsApp snippets & emailers), etc resulting in adoption across the board. 
The New Digitally Empowered Workforce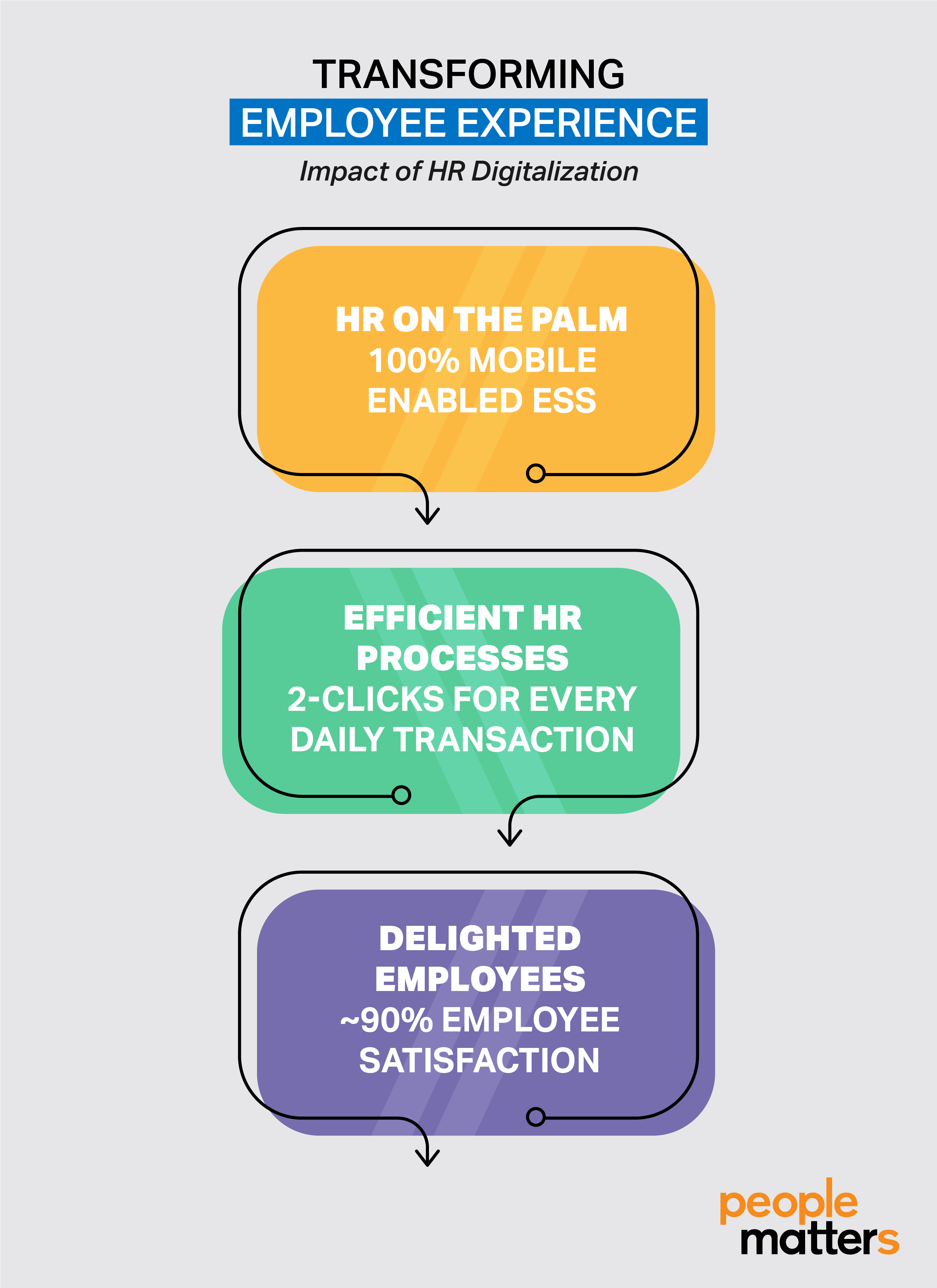 "We've educated, engaged, and empowered our employees such that none of them have had to be dependent on anyone else for any of their HR services - be it attendance, medical insurance, or incentives. By making everything easy and accessible on mobile through Darwinbox," shares Mehul.
Some of the key milestones achieved include:
Mobile-enabled ESS: 100% of employee self-service actions have been enabled on the mobile bringing the power of HR to the Palm of the employees.
Delightful Employee Experience: Kotak Life Insurance delivered a delightful experience through Darwinbox in 3 ways - first by enabling 2-click transactions for simple things like attendance, leaves, etc., second, by bringing everything on mobile, third by having every other application accessible through one single Darwinbox app - 'myHR'.
Fully Integrated Hire-to-Retire Lifecycle: With Darwinbox, entire core employee data and aspects across the employee lifecycle have been enabled and integrated on one single platform.
Secure & Accessible HR on Cloud: As a company that operates in a highly governed and regulated industry, Darwinbox ensured utmost security of critical employee data while enabling access on the cloud.
Central Source of Data & Reporting: With Darwinbox being the central source of data, HR has been able to leverage the flexibility of configurable reporting on the system for better analysis and decision making.
With this transformation, we were improving simplicity, engagement, productivity - the overall employee experience, and by virtue of that, we have set ourselves on the journey to becoming the best insurance company, which is also the company's mission statement. 
Disclaimer: Views expressed are personal and do not reflect the views of Kotak Mahindra Life Insurance Company