A Brand Reachout Initiative
HR Technology
How TATA CLiQ created an 'Unbelievably Happy Place to Work at' with Darwinbox
In this case study, Behram Sabawala, Chief People Officer, Tata CLiQ reflects on how accelerating efforts around HR technology transformation helped Tata CLiQ on its journey towards becoming an unbelievably happy place to work at.
Would you believe it if you were told that the happier your employees are, the more successful your company will be? It may sound like the definition of a "Care Bear" management style, but study after study has shown that employee happiness has a direct correlation to your bottom-line.
For Tata CLiQ, their employees are their first customers, and hence, the aim of the company was not just to build a 'great place to work' but an 'unbelievably happy place to work at.'
In this case study, we get in an exclusive conversation with Behram Sabawala, Chief People Officer, Tata CLiQ who reflects on how accelerating efforts around HR technology transformation helped Tata CLiQ on its journey towards becoming an unbelievably happy place to work at.
Talking about the strongest reason for a digital transformation being based on the goal of building an unbelievably happy place to work at, Behram shares, "We wanted to create an environment way beyond just a tick-the-box / go-through-the-motions approach. Our people are trusted and have earned the right to autonomy, with the ultimate focus, of course, being the delivery of a magical customer experience. And, as our first customers, N=1 applies first to our people, for whom we work towards delivering a customized set of experiences and we are also focused on continuous improvement, which ensures we listen to our stakeholders and adapt constantly."
Talking further about Tata CLiQ's intent behind the HR digital transformation 
Being a digital-first company, Tata CLiQ required a new-age technology platform to enable instant feedback conversations and real-time, continuous performance management to engage millennial talent while constantly seeking to raise the already high bar and being true to the Tata brand.
"Tata CLiQ's unique policies such as unlimited paid-time-off and many more are designed to deliver true autonomy to its people. But to bring this vision to life, it was critical that the HR technology was adaptable and flexible to enable the implementation of these unique policies."
Further, given the setup of the hitherto disparate systems was proving to be not just time-consuming for the People team to administer, but was also, more critically, providing a poor experience for the workforce at large, Tata CLiQ aimed to implement a fully integrated suite for the entire lifecycle. 
"We at Tata CLiQ continually run experiments to up the employee experience and increase the business focus and impact of the People team. We believe that data and analytics were key to better assess and tailor our methods to achieve an unbelievably happy place to work," adds Behram.
How Darwinbox emerged as the Partner of Choice
Tata CLiQ wanted to create a truly unified system that could be the single source of truth for all things people related. A single accessible system would also solve Tata CLiQ's need for real-time performance management and unlock insights from data across modules, that could provide better guidance for decision-making.
"When you're using so many different tools, it is always challenging to get the complete picture of the organization that was needed to manage this area effectively. We needed a unified HRMS platform such as Darwinbox, which checked the boxes for us, from efficient automation to empowering our teams with data for critical decision making. And their engaging, mobile-first experience perfectly fits into our mission to create an unbelievably happy place to work at," shares Behram.
Some of the key criteria that made Darwinbox the partner of choice:
System consolidation and flexibility
Process automation and custom configurations
Scalability to keep up with the company's continuous growth
Mobile-first and user-friendly UX
Seamless integrations with other solutions
Insightful analytics and decision-aiding dashboards
Best in class information security 
Blue-Print of the Seamless Implementation Process
Talking about the overall implementation process, Behram acknowledges that the COVID-19 situation was challenging, however, despite the challenges, implementation was seamless. A number of key practices were designed to lead this transformation.  
 "Thorough and well-planned activities were carefully driven by two clearly identified teams with properly defined roles at Darwinbox and Tata CLiQ, establishing a 'relationship of understanding' that helped us work well together in the best interests of both organizations. In fact, from the initial requirement gathering through to the final go-live, the two teams worked with coordination and precision, backed by a strong review mechanism that ensured frequent check-ins to take stock of progress and ensure deadlines were met." shares Behram.
The team followed a module-wise go-live process, which ensured that any challenges that arose during the implementation were promptly addressed and any integrations with the existing architecture were fault-free and thorough, one at a time.
On landing the milestones that matter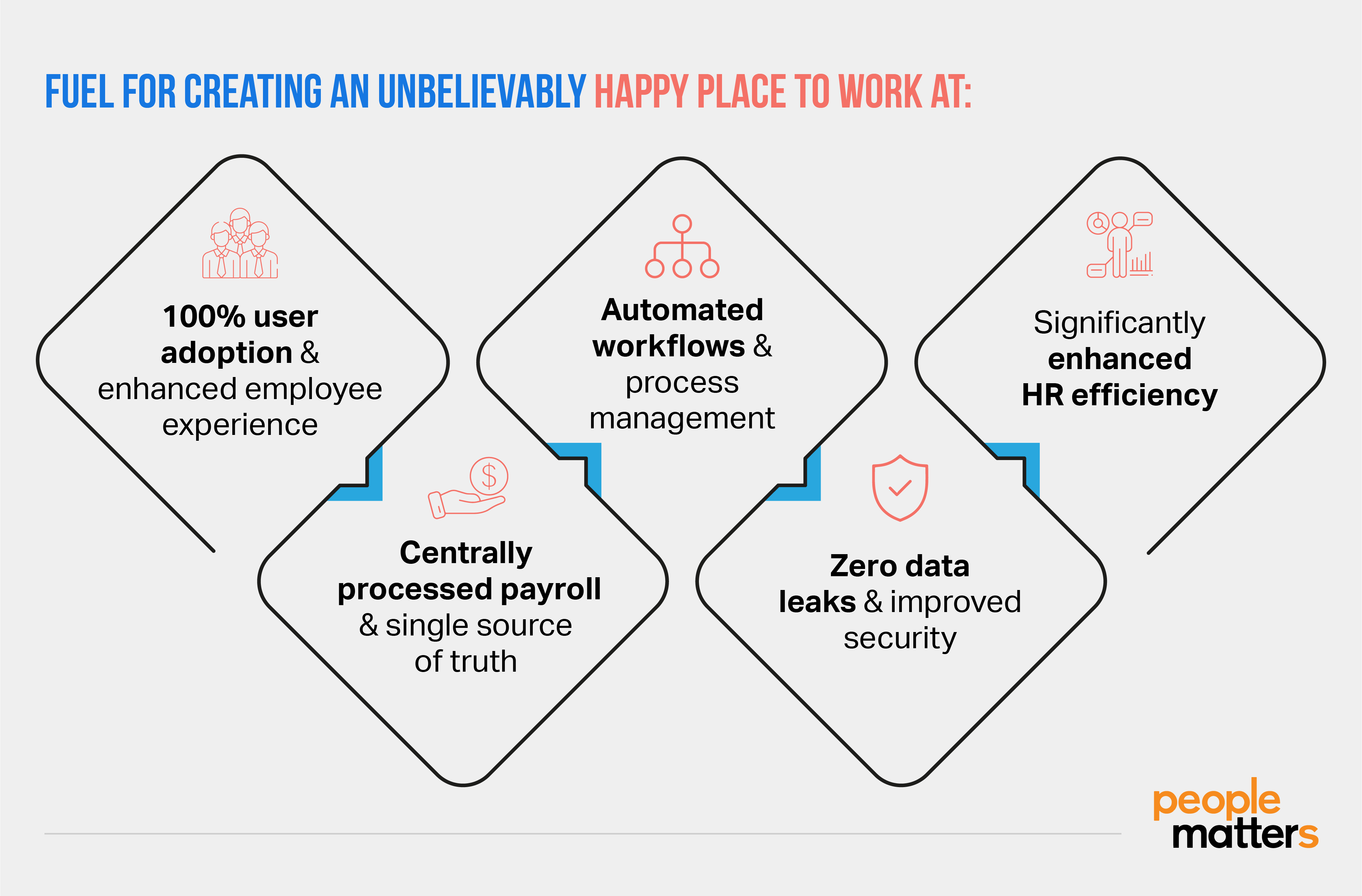 "One of the biggest compliments we received at a meeting with our senior leadership, while we were finalizing our People strategy for FY2022, was that they had never seen a PowerPoint deck with so many metrics on People strategy. We have metrics for everything across HR and we base our core metrics for the People team across three key areas – Perfect Hire, Employee Engagement Score, and Retention of high-performers", shares Behram.
A digital transformation of this scale was a step in the right direction when it came to maturing the HR tech landscape at Tata CLiQ, and the organization saw several positive outcomes for the entire workforce. Some of the key milestones achieved include:
Happy employees: After a successful go-live, Tata CLiQ achieved 100% user adoption on the new Darwinbox HRMS platform within just a few weeks. The mobile-first system enabled employees to easily access information on the go, be it viewing their payslips and work history or knowing their peers and sharing instant feedback or recognition.
Efficient & equipped people teams: The easy automation and flexibility in terms of configurations have empowered the People team to create the time to focus on more value-added tasks. A centrally processed payroll significantly improves efficiency and accuracy, eliminating errors and omissions. Furthermore, the analytics capabilities of the system and its availability to managers ensured that it was possible to measure, adapt and improve business-critical metrics such as Tata CLiQ's unique 'Perfect Hire' metric, backed by data.
"Cultural Fit, I believe has been the single biggest reason for the success of this transformation, which both the Darwinbox and Tata CLiQ teams have ensured. What we have achieved would not have been possible without the empathy and understanding that both sides have exhibited. We are now well-positioned to move onward and upward – together," says Behram.