HR Technology
HR Tech and Startups in 2018: The year that was
How was the year 2018 for startups in the HR tech space in India when it comes to adoption and talent? Read on to find out.
December is a time to look back and take stock-where did we start from and where have we reached after 12 long months. And when the startups in the HR Tech space look back, they will mostly say it has been a good year. From the degree of adoption to the amount of funds flowing in, the startup space has generally seen an increased awareness around technology in HR. With the talks of AI, automation, technology dominating the whole year around, HR Tech saw a definite uptake both in India and globally.
So if in the first quarter, Degreed, a global platform for discovery, learning & certification of skills, made news by raising $42 Mn in a funding round, back home, in the second quarter, Indian corporate social responsibility and sustainability management technology platform, Goodera brought raised around $12 Mn. Similarly, employee focused HR tech app Hush also saw itself raising three funding rounds in the year, a major thumbs up for employee engagement apps. 
The space also saw major consolidations taking place in the HR Tech space this year. Globally, US-based job review and job hunting website Glassdoor was acquired by a Japanese human-resources and consumer-information provider, Recruit Holdings Co. Similarly, global consulting firm Mercer acquired India based HR tech startup Mettl.
Which brings us to the first trend in the space-awareness, fund flow, and consolidation.
A good year for HR Tech- more awareness, more funds
We talked to a number of startups in the HR Tech space such as game-based learning platform Quodeck, employee engagement startup Hush, sustainable credit provider SalaryFits, HRMS provider Zimyo, talent discovery platform Vyre, on-demand video platform Monjin, and Zeta which digitizes employee benefits, HR talent marketplace Noble House, among others.
Majority of the startups agreed that globally as well as in India, there has been a huge spike in interest and fund flow into the HR Tech space. 
Quodeck's co-founder Kamalika Bhattacharya says, "There has been a marked increase in awareness for the need for technology-enabled employee engagement amongst the HR community and companies. For the HR tech startups that have kept up with the evolving needs of our clients, this year has been good, steadily moving up the value chain of the requirements for our clients."
Most of the startups believe that the major acquisitions in India and globally point towards interest as well as consolidation in the space.
Kumar Mayank, co-founder of Zimyo believes that HR Tech startups had a great year in 2018. "From Recruit's $1.2 Bn acquisition of Glassdoor to Mercer's $40.5 Mn acquisition of Mettl in the Indian subcontinent, HR Tech is now drawing the long due attention it deserved. Incidentally, Mettl's acquisition is not only one of the biggest HR tech acquisitions from the country but also one of the biggest SaaS acquisitions too thus making it the joker in the pack for drawing international investors' attention to Indian SaaS startups."
Ashutosh Dabral, Co-founder & CEO, Hush reiterated the same belief that it was a good year with multiple startups in the space raising one or multiple rounds of funding.
"This industry is poised to be a $400 Bn dollar industry so the funding activity reflects this assumption."
Aye for adoption, aye for technology
The startups agreed that early-stage startups too have quite been successful in making inroads to mainstream HR with many of them raking in early customers and investments. 
Sudev das, co-founder, Vyre shared, "From an adoption perspective more organizations specifically the ones which are growing have a larger appetite to try out newer HR Tech solutions to support rapid business growth and efficiencies."
This was reiterated by Kunal Kapoor CTO, Monjin who believes that HR tech is gaining importance in the era of skilling and tech-based recruitment and employee management services. 
Another major trend was that hiring has seen a big surge in adopting technology to screen and assess candidates. There has been an increase in off-premise interviews assisted by use of tech to shortlist resumes, online assessments, and video interviews. Similarly, there has been a significant uptick in interest shown by teams within large organizations and SMEs including startups for simple, attractively priced and quick to deploy Learning Management Systems. 
"More than hiring, we believe that companies are taking definitive steps to enhance engagement and productivity in the workplace as a retention tool," says Guilherme Mota, Head of Operations, India, SalaryFits. 
Referral hiring has also become a preferred route but companies don't find it easy to run effective referral programs, avers Ashutosh.
Then again, adoption of video in hiring, learning and engagement has significantly increased and will increase significantly in the next couple of years. This would be largely driven by Gen Z as we go forward. In fact, organizations from a hiring perspective will have to focus on Gen Z as they would significantly change the landscape of a workplace and drive change significantly as they become a part of the workforce. 
Hiring talent in the non-tech world will become a major focus for organizations across the board, adds Sudev. Consumer-facing roles will be in demand but the supply will always be shorter. The current way of hiring this talent will go through significant change. 
Moreover, recruiters will have to move beyond the traditional job board and platform sourcing to actually embed themselves in the real-life contexts of the candidates and attract them. 
This leveraging of technology will only ramp up as the volume and quality of data increases and AI improves. While awareness of AI and acceptance of AI in the HR Tech has increased, however, it would take a couple more years for us to see the real benefits of AI as systems and tech matures in the AI world. 
Challenges ahead: A dearth of talent, funds and market access
Notwithstanding how highly hopeful and happening the year 2018 was for startups and HR Tech, there are still many significant barriers they have to cross before they can scale greater heights of success.
For instance, hiring talent itself in the space is a problem. Mayank of Zimyo shares that it is becoming difficult day by day to hire quality talent. He revealed,
"We floated over 20 openings during the year, each carrying a 40%+ hike & ESOPs and yet we failed to generate good interest among potential candidates. Many of our partner HR Tech startups (from our HR marketplace) complained of the dearth of quality talent too; especially, at senior levels."
The same thoughts are shared by Sanjay Lakhotia, Co-Founder, Noble House Consulting Pte who reiterated that a significant challenge for HR tech startups is a scarcity of talent in the market, across all functions, technology, sales, operations etc. He also added that price realization continues to be a big challenge for most HR tech startups.
Bhavin Turakhia, co-founder of Zeta feels that a major challenge with HR Tech companies is that the user interface has mostly not been built from the standpoint of easy adoption, which is what makes ready adoption difficult. The real challenge he feels is creating that HR tech mindset among companies where the goal of HR Tech is beyond managing operations all the way to empowering and enabling people to be their best. With that as an objective, the scope expands 10X for HR Tech.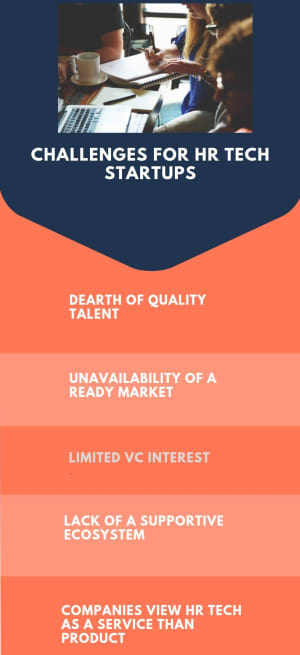 Unavailability of a ready-market they can sell their business to is another challenge, adds Mayank. For SaaS based HR Tech startups like Payroll or AI Chatbots, it is the lack of cloud adoption in the Indian subcontinent; for Niche HR Tech startups like Compensation and Benefits it is the lack of domain knowledge. Being enterprise solutions, HR Tech startups have to undertake a lot of shoe and leather cost to make every sale happen.
"While the market is there for the taking, quite a few of us in the HR Tech space find it difficult to get across to potential customers. We are not great at selling the product or even marketing or engaging customers. Even platforms which could help us do that are limited and very costly, adds Sudev.
The same is reiterated by Kamalika who shares that HR departments in companies face hurdles in getting business buy-in for tech products. A significant percentage of product/service acquisitions are led by the business teams rather than the HR team. Moreover, companies in India, view HR tech as a service rather than a product. This leads to delays in deployment due to discussions on feature additions and customizations. Ironically, companies still adopt an extrinsic motivation approach (reward vs punishment) as against intrinsic motivation approach (micro-learning, immersive experience, casual game-based learning), which hopefully should shift majorly in 2019.     
Then there are global big incumbents in this space and for startups, it's difficult to build a competitor. So most startups are looking at working on niche areas that can make them an acquisition target for the behemoths, shares Ashutosh.
Interestingly, though the year 2018 saw a lot of funds pour in, yet the number of VCs interested in investing in HR Tech startups are still far and few.  Hopefully, the startups believe that in the next 1-2 years, HR Tech will hit the tipping point where investors users and businesses will invest significantly in HR Tech. 
For now, some feel there need to be more cost-effective platforms where Tech HR startups can come together meet learn and share experiences, where seasoned HR leaders, tech leaders, and founders come together on a regular basis. An ecosystem that supports startups at a fledgling stage would be more than helpful in the current scenario. A little guidance in sales and early client acquisition would go a long way for the startups. 
While technology (AI, video, automation) will definitely push up adoption and increased interest from both buyers and investors up the ante for HR Tech startups, we will have to wait till 2019 to see if the dreams and hopes of HR tech startups will materialize.