HR Technology
HR Tech landscape: The growing ecosystem of service providers
This HR tech market map is classified into various solution providers in categories with an aim to help HR buyers identify the various providers available in this space.
A lot has happened in the last 12 months and some of the noticeable changes in the HR technology landscape are:
The expanded definition of HR Tech
"HR tech space has now expanded and sees a wider range of tools than which sit within the traditional HR realm. While primarily, tools within the traditional definition of HR functions are what one would see dominating the HR tech space, workforce collaboration tools like Slack, Workplace by Facebook and similar other tools also find its place."
With Microsoft's acquisition of Linkedin in mid-2016, the possibilities of integration with MS Office and Microsoft dynamics are being explored and launched. With players like Google and Facebook also making their presence felt in HR technology space, the overall dynamics is likely to change over a period of time.
Emergence of continuous feedback
Continuous feedback has emerged as a way of life in many organizations and this has given rise to essentially two types of tools – one that helps you capture employee feedback on a daily, weekly and monthly basis, while other tools that help you provide feedback to employees via continuous performance management.
There are tools that integrate with your office email systems like MS Outlook and some tools integrate with your workplace collaboration tools like slack to "nudge" employees to provide feedback or appreciation in real time.
The wellness category
The increased focus on employee wellbeing at workplace has given rise to this new category of solutions that move between financial wellness to physical wellness to a holistic view of the wellbeing being taken by various companies and solution providers. The HR technology market now boasts dozens and dozens of tools, platforms, training programs and analytics systems designed to measure, monitor and improve employee wellbeing at work. This rapid growth has attracted well-funded insurance companies, training providers, and technology companies.
The rise of Analytics and AI
HR for many years focused on providing dashboards of information, while very few organizations focused on Data-based decision making. With the emergence of technology tools that make correlation and analysis of information easier than earlier, HR Analytics has firmly established itself as a category and is growing. Along with Analytics, we also see increased use of Artificial Intelligence (AI) in almost all HR applications across talent acquisition, talent management, and talent development. These tools are helping HR leaders build predictive models thus making more effective and efficient decisions.
The gig economy
With the rise of a digital economy more and more individuals are choosing to do their own independent work with or without any full-time work assignment. This rise in such "gigs" means that employers can now tap into a larger pool of talent and not necessarily engage them beyond a particular project or assignment.
"The challenge remains to find and evaluate such talent, with this trend predicted to increase to even occupy up to 40-50% of the working population in organizations, HR technology tools have started to emerge to help solve this problem."
The organization network
As organizations will depend on "gig" workers, while the internal silos are broken, new organization structures are likely to emerge. One of the trends in this direction is the understanding of the organization as a network and not as the organization chart. The organization network analysis (ONA) as a category of solutions has already emerged and progressive organizations have implemented the same.
The Landscape
Here we present the updated version of the HR technology landscape. We have taken utmost care to ensure that the solutions are categorized correctly. However, these categorizations are our own understanding and interpretation of the solution set. The other challenge is that there are solutions that do only 1 task, while there are some others that do more than 1 task. We have attempted to classify them in the most relevant category if they are doing more than 1 task.
A list is given below of Indian and other global solution providers. As more than 50% organizations today use SaaS (Software-as-a-service) based HR technology tools, the country where the solution has originated does not really matter, but one can look at the relevance of the tool and its pricing for deployment.
In the earlier map, we had covered a total of 120+ HR technology companies, while in this updated and revised map, we have about 400 HR technology companies. However, this does not mean that all these companies have come into existence in this period of 12 months, but simply means that we have expanded our research to include a wider section of companies and categories.
Click the link for the earlier article on this topic.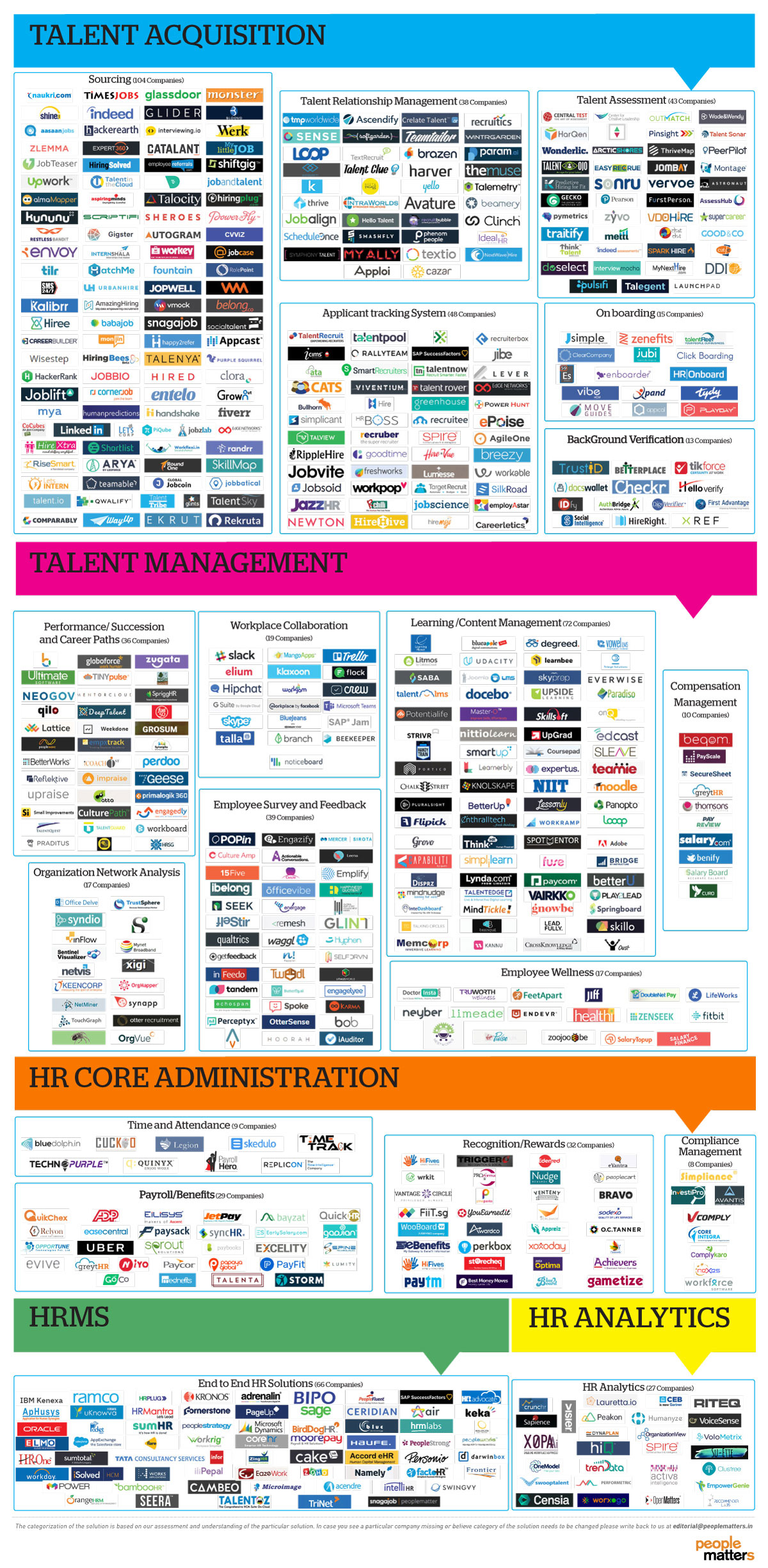 Disclaimer: This list is not exhaustive and there is no particular order. In case we have missed any names, please email us at editorial@peoplematters.in
As you can see from this representation, HR Tech is bursting with activity and has many niche players that are vying for customer attention. This makes HR Tech decisions extremely complex and challenging for HR leaders, especially when you have to ensure that this 1 piece of tech works with at least a dozen other pieces for it all to make sense.
As the HR technology space continues to evolve, we are likely to see more action in the Wellness category, while also experiencing more HR Analytics players. The compensation and compliance management are two areas where we expect increased action from HR technology solution providers over next 2-3 years, simply because these niches are not yet sufficiently staffed with solutions.
In the years to come, HR technology solution landscape is likely to evolve further and is ripe for consolidation. We expect HR technology buyers to create innovative solutions working with their chosen solution providers. We also expect solution providers to form alliances to stitch together unique solutions to solve customer business challenges.
In a nutshell, the days and years ahead signal for a lot of exciting action in the HR technology space and provide ample entrepreneurial opportunities. The journey seems to have just begun!