A Brand Reachout Initiative
HR Technology
On making HR easy and employee-centric: Emcure case-study

SmarterWorkLife Read similar articles
Know how a rapidly-growing pharmaceutical firm leads HR technology transformation within 70 days and with zero deviation.
Emcure is a rapidly-growing Indian pharmaceutical firm engaged in developing, manufacturing and marketing a broad range of pharmaceutical products globally. Incorporated in 1981, their name emblematizes their purpose and core belief to make Effective Medicine for Cure. Being India's 12th largest in domestic pharmaceutical sales, it has its subsidiaries in Dubai, Brazil, South Africa, Singapore and Nigeria, and have offices in Russia & Morocco.
The Wishlist & Vision for HR Tech
Emcure aspired to bring about a Tech Transformation to nurture talent from within rather than hiring laterally. They wanted to have not just a world class system, but one that fits their pace of growth and a diverse set of employees. They wanted it to be centralised, simple and functionally deep at the same time; one that not just solves automation of HR processes but is also scalable, global and configurable. Most importantly, one that ticks the four boxes of SMAC - (Social, Mobile, Analytics, Cloud).
The Business Challenge 
Earlier, Emcure was using a cloud-based HCM by a Global ERP provider. However, there was little adoption and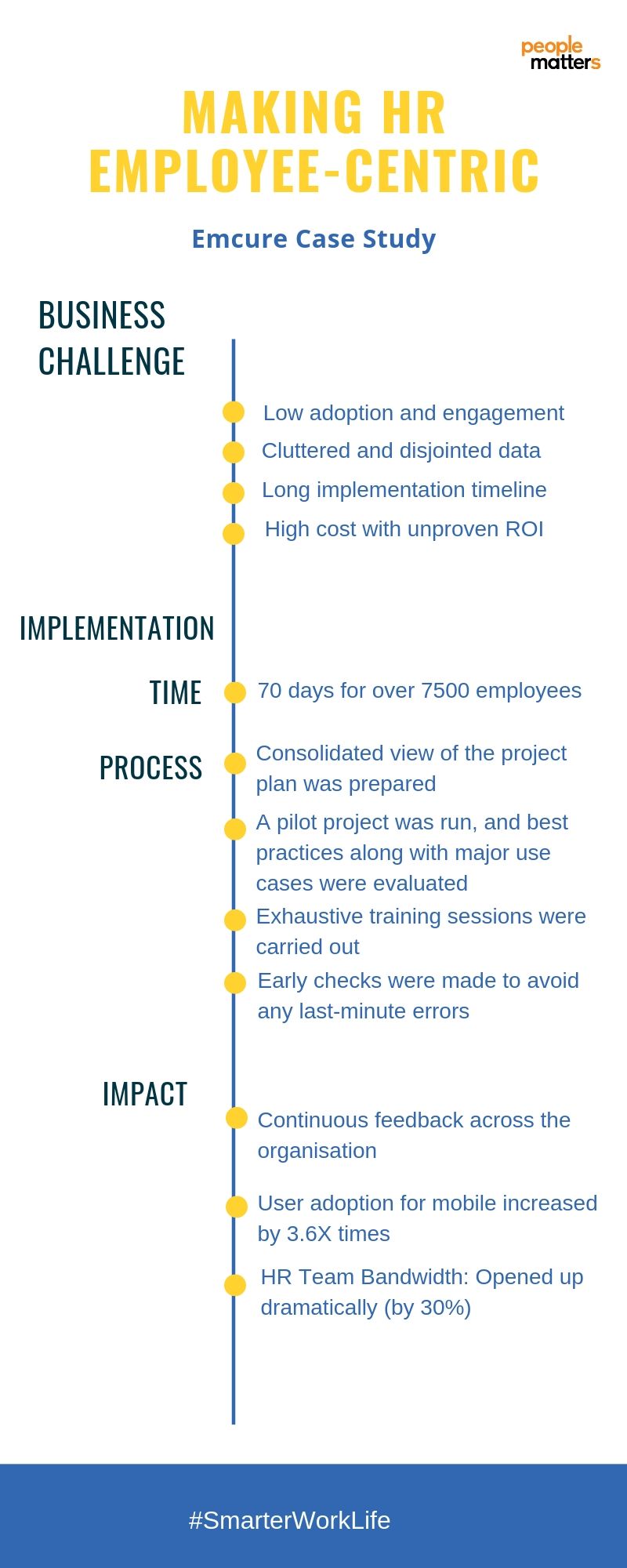 adherence to processes due to the complex and rigid user experience of the system. It was only acting as a system of record whereby the data being captured was scattered. It was more a system for HR than for employees and the organisation at large. Apart from having a robust HR process, the leadership at Emcure desired for a 360 degree view of talent data which was missing in the system. There was a strong need for value-added insights and process reimagination. Emcure wanted to move away from the notion that HR is a transaction partner to a more focused strategic contributor. And they knew this could only be made possible by way of one unified platform that ties all HR functions together and encourages seamless adoption across the organisation. 
The Primary Objectives for Driving Change:
Low adoption and engagement 
Cluttered and disjointed data
Inability to integrate easily 
Long implementation timeline 
Different partners per module for implementation
Effort-intensive to maintain the solution 
High cost with unproven ROI 
Complex and rigid to configure HR processes
Why Darwinbox became the brand of choice?
Emcure implemented Darwinbox since the platform understood the enterprise level of complexity, and helped them reimagine their talent management, processes and structures. The platform was most aligned with Emcure's HR Tech roadmap. The visibility along with the insights that the system provided was highly desirable. Furthermore, Darwinbox's mobile-first approach could enable employees at Emcure manage their time efficiently and focus more on the strategic pieces of the business.
Leading the transformation from the front
A simplified user experience along with efficient execution allowed implementation to be completed as fast as 70 days for over 7500 employees. Exhaustive process deep-dives ensured the processes were mapped perfectly to the solution abilities and also facilitated standardization of processes. The complete process of implementation was thoroughly structured and systematic, keeping everyone across ranks aligned. A consolidated view of the project plan was prepared in ten days. A pilot project was run, and best practices along with major use cases were evaluated with an intent to achieve a seamless implementation experience - because technology and change needed to go hand in hand. Exhaustive training sessions were carried out for the entire leadership team and early checks were made to avoid any last-minute errors.
The ROI & Impact of technology adoption
Performance Management: On the system has enabled continuous feedback across the organisation.
Single Source of Truth: Migration from 3 disjointed systems to one unified system has led to heightened efficiency. 
Adoption: User adoption for mobile increased by 3.6X times over the first three months post-go-live. 
HR Team Bandwidth: Opened up dramatically (by 30%) to leverage the same on strategic aspects.
Best Practices From Emcure's Journey of Technology Transformation:
To mobilize a transformation of such a wide-spread scope and scale is no mean feat. But, Emcure has been able to achieve it with zero deviations and within 70 days owing to these implementation best practices followed by the HR team. 
Exclusive team to champion the transformation - A team of three internal functional experts with significant experience on HR tech have been put together as a project team with single point focus on the transformation. Avoiding daily operational responsibilities helped the team keep the project on track and engage multiple stakeholders. 
A time to standardize & reengineer processes - For Emcure, this was not only a technology transformation project but also an opportunity to reengineer and standardize processes. Being open to change at this stage allowed the team to identify & eliminate process redundancies which were only a result of previous system's limitations or due to different approaches that entities within the organization were following in the past. 
Early & planned stakeholder engagement - A tightly-run  ten day process mapping exercise involved every single HRBP and business stakeholder in the organization to review all the processes. Deviations were debated and processes were collectively ideated and designed for the future. This stage of the implementation ensured every one of these stakeholders came onboard with the change and helped others in the organization adopt it post the launch. 
Transformation planned to the T - From conference room pilots to staggered change management communications for a month preceding the launch the transformation was planned to the minutest detail. Stakeholders were informed in advance of the time they had to spare ensuring nothing came in the way of delivering the outcomes and delivering them on the day it was planned for. 
To know more about how organizations are evolving their HR technology agendas and unleashing smarter possibilities in HR, follow #SmarterWorkLife